Trump Embraces Weird Conservative Media Habit Of Fabricating Crowd Sizes
@EricBoehlert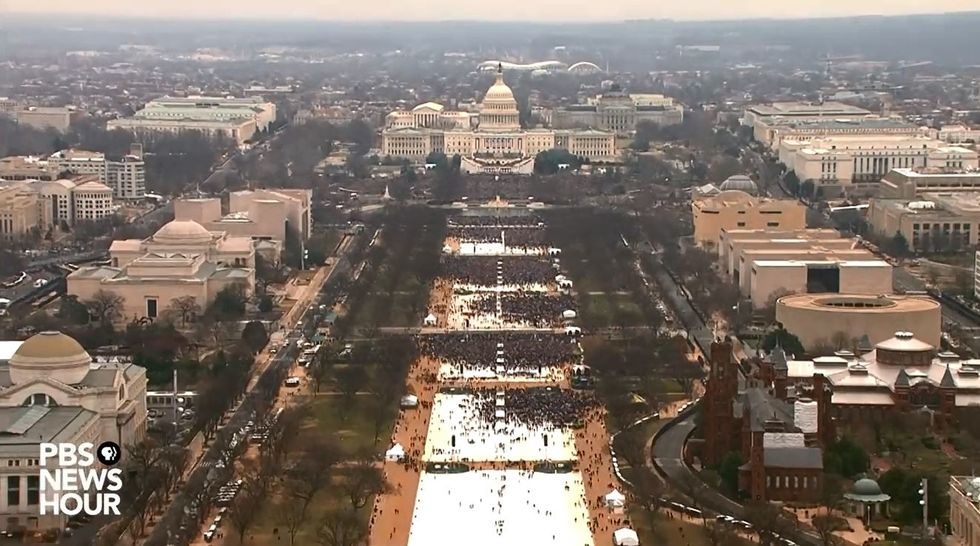 Reprinted with permission from Media Matters for America.
When President Trump claimed that as many as 1.5 million people had attended his inauguration, and when Trump's press secretary categorically announced that Trump's swearing-in had been the most-watched "both in person and around the globe," the new Republican administration set off a firestorm — not only about the crowd estimate, but about "alternative facts" and truth-telling.
That Trump and his communications team would begin his presidency with such an easily debunked falsehood about the size of the inauguration crowd stunned plenty of Beltway observers. Even days later, the topic was still gnawing at Trump, as he reportedly bragged to congressional leaders yesterday about how enormous his inauguration crowd was.
But in truth, the pattern of lying about how many people assemble en masse to support conservative causes enjoys a long history within the right-wing media; a history Trump has revived. (Note that lots of pro-Trump propaganda outlets gladly propped up the inauguration crowd lie.)
Most famously, when former Fox News host Glenn Beck sponsored an anti-Obama rally in September 2009, the conservative media was awash in wild, unfounded claims about how massive the protest crowd was. Blogger Michelle Malkin even announced two million people had assembled. (That would be a bigger crowd than Obama's 2009 inauguration.)
According to one aerial estimate that day, Makin's quote of two million was only off by about 1.9 million.
More recently during the presidential campaign, conservative outlets routinely propped up Trump's phony claims about crowd size. Breitbart even got caught publishing a photo from a CNN.com news report about a massive gathering of Cleveland Cavs fans celebrating their home team's NBA championship, and then presented the image as being from a Trump rally in Florida.
It's one thing for dishonest bloggers to make up crowd size estimates for political purposes. It's obviously quite another when the White House takes that tact and turns it into official government policy.
What's so strange about the obsession over crowd size is that conservatives often make fantastic, unbelievable claims about crowds that are already respectably large.
Nothing made that point more clearly than the Beck-sponsored march in 2009, the so-called 9/12 Project rally. Riding the wave of the burgeoning Tea Party movement, conservatives wanted to send a message that American was suffering from Obama buyer's remorse and that all the good will he had earned the previous year was gone because Americans were appalled by his agenda.
Tens of thousands of activists showed up. But all day long, conservatives online insisted (or fantasized) that the anti-Obama crowd had swelled to astonishing, historic, unimaginable proportions. In a weird game of telephone tag, a Tea Party activist first claimed ABC News had reported the 9/12 crowd was 1.5 million strong, even though ABC did no such thing. Another activist then tweeted that ABC was reporting the crowd at 2 million. (False.) Malkin then embraced the baseless 2 million figure to spread it.
From there, the phony figure ricocheted around the right-wing blogosphere.
Also that day, conservatives bloggers passed around a photo that supposedly proved the march was one-million strong. But the photograph was actually from a rally that took place 12 years earlier. Even after the 9/12 rally, Beck still claimed his rally had attracted nearly 2 million anti-Obama activists.
Two months later, Fox News' Sean Hannity had to apologize after Comedy Central caught him using footage from the 9/12 rally to tell the story about a much less-well attended D.C. rally, the Super Bowl of Freedom. "The effect was that the latter event seemed like a much bigger deal than it was," Mediaite noted.
Fast forward to the Trump campaign and the Republican candidate seemed to take the bogus crowd size strategy right off the shelf and put it in play, while supportive conservative media outlets pitched in. "Trump has routinely exaggerated the already large numbers" at his rallies, noted the Washington Post.
Back in July 2015, Trump tweeted out that 12-15,000 people had attended his rally in Phoenix, even though the local police put the number closer to 4,000. Nonetheless, the phony 15,000 figure was embraced by media outlets friendly to Trump. Not to be outdone, right-wing blogger Gateway Pundit upped the ante: "20,000 PATRIOTS TURNED OUT TO SEE DONALD TRUMP IN ARIZONA!!"
That's five times what the local police estimated the actual crowd to be.
On the surface, Trump's weird post-inauguration obsession with puffing up the numbers of his celebration might seem like a baffling, insecure tick. It is — he's just advertising that insecurity via an established right-wing media tactic.
IMAGE: PBS