Conservatives Do Chris Christie A Huge Favor By Not Inviting Him To CPAC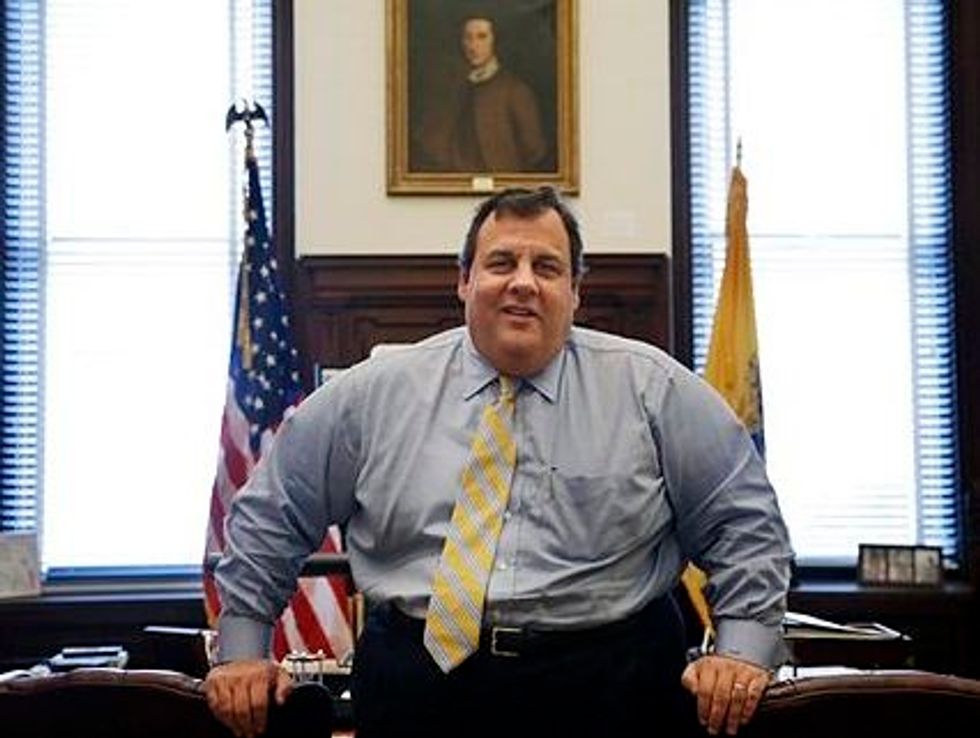 If you were New Jersey governor Chris Christie's campaign manager for his potential 2016 presidential run, you would count a CPAC snub as the first massive donation to your campaign.
Former McCain advisor Steve Schmidt called CPAC "the Star Wars Bar Scene Of The Conservative Movement." And while Christie — whose approval rating is now in the 70s — wasn't invited, Sarah Palin, the NRA's Wayne LaPierre and Mitt Romney all were.
An anonymous source told National Review Online that Christie had a "limited future" in the Republican Party — unlike Palin, LaPierre and Romney?
On the same day Christie received the best snub of his life, he also upset conservatives by joining Republican governors Jan Brewer (R-AZ), John Kasich (R-OH), Rick Snyder (R-MI) and Rick Scott (R-FL) in saying he wants his state to accept the Medicaid expansion that begins in 2014 as part of the Affordable Care Act.
This pragmatic move, along with his genial praising of President Obama for his handling of Hurricane Sandy, his blasting of Speaker Boehner for delaying hurricane relief and his nods toward gun control has resulted in heaped scorn from the far right, who now apparently want to punish him by not inviting him to their ComicCon.
However, Republicans, especially the far right, have an extremely damaged brand. Chris Christie doesn't.
Distancing themselves from Christie hurts conservatives and only helps the former U.S. attorney by distracting the media and voters from the real story: Chris Christie is "a surprisingly standard issue Republican," as The Guardian's Ana Marie Cox noted.
Cox points out that Christie plays up his Springsteen fandom and regular-guyness while vetoing same-sex marriage legislation, promoting the Koch brothers' anti-union agenda and defunding Planned Parenthood.
Stephanie Schriock, president of the pro-choice group Emily's List, summed up "The case against Chris Christie" Wednesday in Politico.
"Who does he stand for?" she asks. "Not for New Jersey women!"
Schriock notes the Christie veto of a budget that would provide funding to family planning organizations and goes on to attack his opposition to equal pay legislation, along with his cuts to tuition aid grants and programs for abused children.
Recently, Christie vetoed a hike in New Jersey's minimum wage and he opened his term by letting a tax on the richest residents of his states expire. Basically, his record should have CPAC on its feet as Mitt Romney applauds his "severely conservative" credentials.
The lurking conspiracy theorist in me sees Christie's CPAC diss as a huge favor to help him cruise to re-election over Democratic state senator Barbara Buono. Then he'll be back at CPAC in 2015, reminding conservatives why they were begging him to run in 2012.
Some suggest that Christie will be the Rudy Giuliani of 2016, meaning he'll be the frontrunner until it's time to vote. Except Giuliani was actually pro-choce. Christie isn't. He can campaign in Iowa and won't be facing an opponent beloved in New Hampshire as John McCain was.
And unlike Giuliani, Romney and any of the invitees to CPAC, Chris Christie actually knows how to campaign.
Photo credit: AP Photo/Mel Evans