Conservatives Support Moore Even If Guilty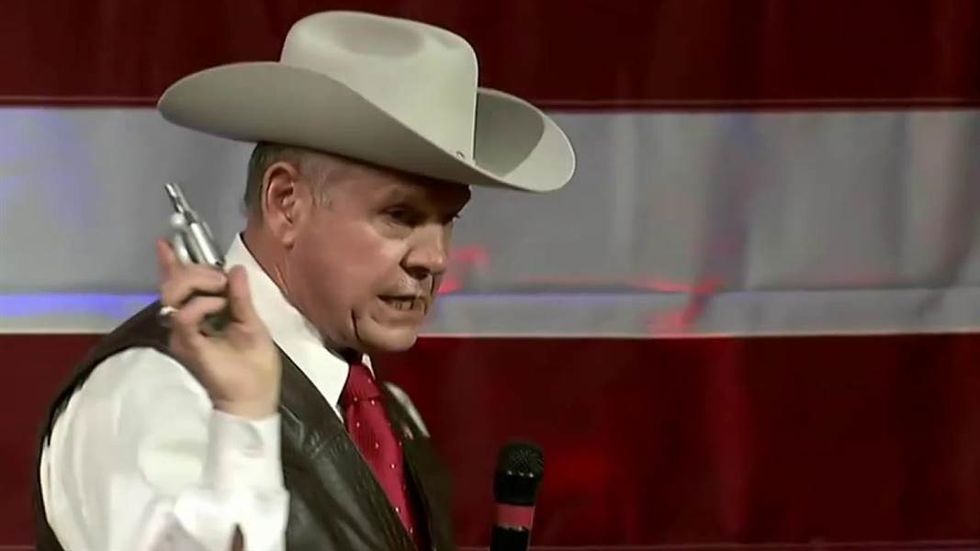 Reprinted with permission from Uexpress.com
Are the supporters of Roy Moore getting desperate?
As his U.S. Senate campaign has been swamped by credible accusations of egregious sexual misconduct, Moore and his allies have taken the usual route toward undermining his accusers. The women, now middle-aged, have been denounced as liars, attention-seekers and tools of an unlikely alliance between liberal Democrats and the "Republican establishment."
But the effort to smear those courageous women took an unexpected turn recently, when an ultraconservative crusader cooked up a convoluted plot to damage the credibility of The Washington Post, which first reported that Moore, as a prosecutor in his early 30s, had allegedly sexually molested a teenage girl. The plot to damage the Post involved Jaime Phillips, who went to the newspaper alleging that Moore had impregnated her as a teenager and insisted she have an abortion.
Phillips, who was secretly recording her conversations with Post reporters, was trying to con the newspaper into publishing false charges that would be easily disproved. She was working with the infamous right-wing pseudo-journalist James O'Keefe, who has made a name for himself with doctored tapes and false allegations aimed at discrediting liberal organizations such as Planned Parenthood.
Hmm. It's unclear why O'Keefe and other Moore supporters would believe such shenanigans are necessary. Moore, a former jurist with a long history of violating civil rights and ignoring the U.S. Constitution, is popular in Alabama. He is a right-wing moralizer who masquerades as a committed Christian, all the while working to advance a racist, sexist and homophobic white nationalist agenda that is the antithesis of the New Testament.
Here in my home state, that's a recipe for political success. So Moore is quite likely to win the December 12 special election to fill the seat left vacant when Jeff Sessions was appointed attorney general. His opponent, Doug Jones, has run a very good campaign, but Jones is still a Democrat running statewide in crimson red Alabama. Three polls taken in the last several days show Moore comfortably ahead.
If that surprises you, it shouldn't. As the barrage of allegations of sexual misconduct continues to take down famous and powerful men, now including NBC's morning news star Matt Lauer, you may have noticed that President Donald J. Trump has remained untouched. Trump's pattern of gross sexual misconduct was documented during the campaign, when he was caught on video bragging about grabbing women's genitals. (Although Trump admitted during the campaign that the video was authentic, he has recently claimed to aides that the video was faked, according to news reports.)
Trump was elected anyway, with his voters finding various reasons for excusing his outrageous conduct. Perhaps the most interesting — and most troubling — excuses came from members of the so-called religious right, who have claimed that Trump's support for conservative judges overshadowed any moral or ethical deficits he displayed in his own conduct.
Moore's past conduct, if the allegations are true, is even more disturbing than the president's. The discredited judge would qualify as a pedophile, based on the charges lodged by Leigh Corfman. She told Post reporters that Moore, who was then a 32-year-old, took her to his secluded home more than once in 1979, when she was just 14. On one occasion, she said, he undressed her down to her underwear and stripped down to his undershorts. He proceeded to touch her through her bra and panties and guide her hand to touch his genitals, she said.
In the immediate aftermath of the disclosures, a couple of polls showed Jones, a former U.S. attorney, pulling ahead. Best known for prosecuting two of the Ku Klux Klansmen who bombed a black Birmingham church in 1963, Jones has run a moderate campaign that focuses on jobs and education. He has used the charges against Moore in ads, but mostly to highlight the small group of moderate Republicans who have fled Moore and his sordid past.
But Moore's avid fan base has rallied, some to castigate his accusers as liars, others to announce that they will support Moore even if the reports about his sexual conduct are accurate. After all, Moore is a member of their tribe, and that's all that really matters.