Documents Reveal Scott Walker's Racist, Offensive Staff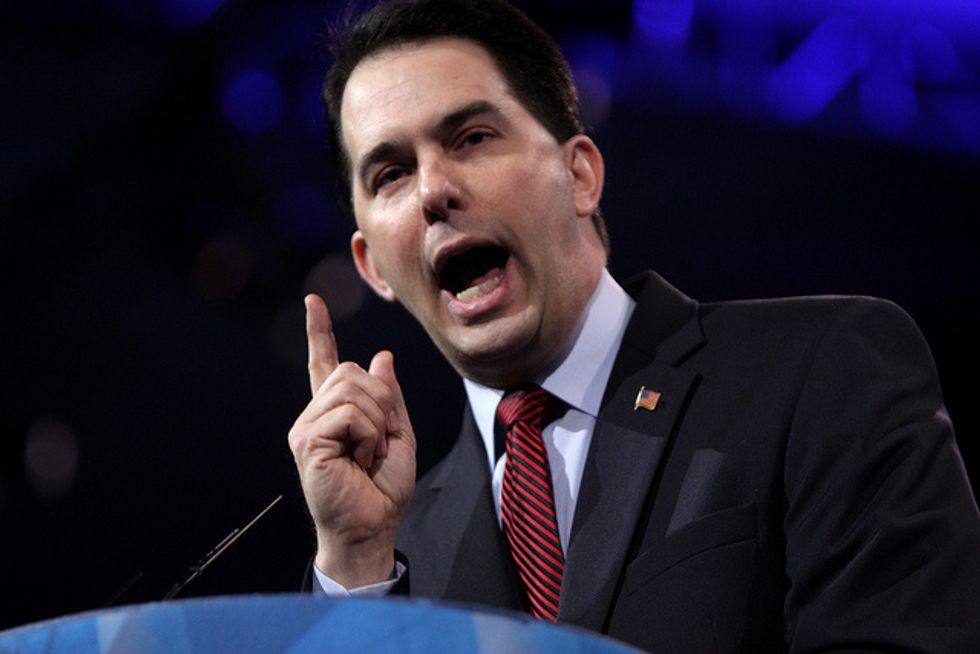 A day before Republican Scott Walker was elected governor of Wisconsin, law enforcement authorities served search warrants at his office in Milwaukee (where he served as county executive), his campaign office and the houses of his top aides.
After assuming office in 2011, Walker pushed through his conservative platform, which included limiting public sector unions and implementing broad tax cuts. As Walker's policies gained him national attention from the Republican Party, questions about his campaign were pushed to the back burner.
Until now.
On Wednesday, the first documents giving context to the investigation into Governor Walker were made public. They haven't explicitly linked Walker to illegal activities, but they have provided a behind-the-scenes look at the offensive conduct of the governor's staff.
Perhaps most shockingly, the documents show that Walker staffers traded emails making fun of horrific conditions at the Milwaukee County Mental Health Facility. News reports at the time showed workers there filed false claims to hide mistakes, and let a patient with a history of violence and sexual assault move around the facility unsupervised. Staffers weren't worried this would hurt Walker in the polls, however. "[N]o one cares about crazy people," one staffer wrote to another.
The mentally ill weren't the only minority group used as a punchline by Walker's aides.
Kelly Rindfleisch, Walker's former deputy chief of staff, received an email that compared welfare recipients to dogs. The paradoxically ungrammatical email explained that dogs should be allowed to receive welfare because they are "mixed in color, unemployed, lazy, can't speak English and have no frigging clue who the r [sic] Daddys [sic] are." Rindfleisch responded: "That's so hilarious and so true."
Other top aides to Walker also shared their offensive sentiments.
Thomas Nardelli, Walker's former chief of staff, forwarded a chain email that makes light of a "nightmare." In the nightmare, someone wakes up to discover he is "black, Jewish, disabled, HIV positive, and gay." The joke ends when the person in the nightmare realizes he is a Democrat — the worst affliction of those described in the email.
Ironically, Scott Walker was concerned about county employees with a "varied lifestyle."  A doctor who was previously an underwear model received scrutiny from Walker's administration, for example.
The doctor, who worked at the Milwaukee County Behavioral Health Division, had her past career as a thong model discovered after Nardelli "MySpaced" her. Nardelli wrote to Walker that it was recently discovered the doctor "has a checkered past and has done some modeling work." Nardelli continued: "It isn't pornographic, but it is quite suggestive (I'm told — I don't know her name). He [sic] apparently models thongs and wasn't forthright in sharing that with staff prior to her hire as an hourly paid MD."
"Get rid of the MD asap," Walker wrote back.
And finally, the emails suggest that Walker knew his staff was breaking the law during his gubernatorial campaign. An investigator for the Milwaukee County district attorney testified before a secret hearing that email evidence proves Walker knew staff members were using personal computers and a secret WiFi network, while being paid by the county.
They set up the secret network so they could work on their personal laptops to plan his campaign for governor — all while being paid by taxpayers as staffers to the county executive.
Cynthia Archer, Walker's administration director, said in an email that she uses her "private account quite a bit to communicate with SKW [Scott Walker] and Nardelli."
Photo: Gage Skidmore via Flickr