A Conspiracy Flourishes On The Web: Is Clinton 'Fit' And 'Stable' Enough For Office?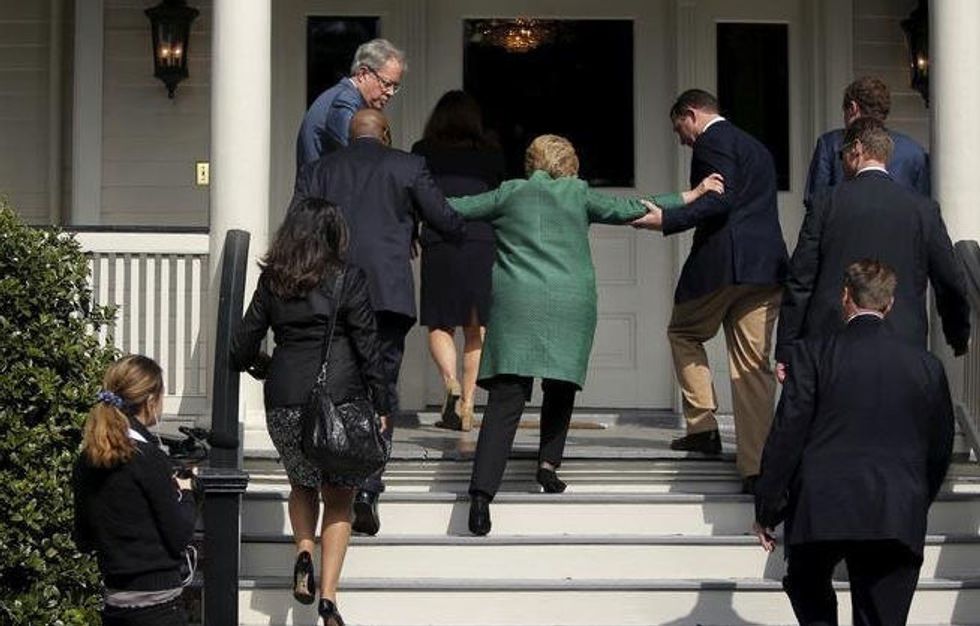 It started with a photo taken… six months ago. It shows Hillary Clinton summiting a set of stairs with the help of two aides, one on either arm, after reportedly slipping on her way up.
But to read commentary by internet users — and eventually by right-wing websites — on Saturday, you'd be forgiven for thinking Clinton was facing some imminent health crisis in August, 2016.
The American Mirror ran the photo with a brief story about "unstable" Hillary Clinton, though it did not mention the photo's origin. The Drudge Report ran the photo above a series of articles similarly questioning Clinton's health over the years.
Claims that the photo is evidence of Clinton's failing health have been debunked: It's a set of stairs. She slipped. Attempts by the right to post-date the photo to August are purposefully misleading.
The former secretary of state's doctor attested to her mostly clean bill of health last July, though Dr. Lisa Bardack did include, per the New York Times, "Mrs. Clinton's history of treatment for a brain concussion, blood clots affecting her legs and brain on separate occasions, an underactive thyroid gland and a family history of heart disease." Those conditions have not been kept secret.
The right has been similarly obsessed with Clinton's "coughing fits." The Washington Post has a helpful rundown the non-story:
Let's get a few things straight here: Clinton does have a condition called hypothyroidism, which hinders the thyroid's production of a hormone that regulates metabolism and can cause fatigue. And she is prone to coughing spells when speaking for extended periods of time; according to NBC News, she drinks tea and uses a humidifier to combat the problem. These non-secrets have been noted by Politico, Mother Jones, Salon, the Hill and many other outlets that Clinton haters would like to believe are engaged in a cover-up.
It all reads, frankly, like an attempt to match the left's freak-out over Donald Trump's mental stability. Much has been made of Trump's theoretical mental issues. He says he's never seen a therapist, so assuming anything about Trump's inner life, if there is one, is irresponsible. But a growing chorus of psychoanalysts have been raising concerns from the electoral sidelines. In The Atlantic, Dr. Dan P. Adams pinned Trump on perhaps his most obvious character trait:
For psychologists, it is almost impossible to talk about Donald Trump without using the word narcissism. Asked to sum up Trump's personality for an article in Vanity Fair, Howard Gardner, a psychologist at Harvard, responded, "Remarkably narcissistic." George Simon, a clinical psychologist who conducts seminars on manipulative behavior, says Trump is "so classic that I'm archiving video clips of him to use in workshops because there's no better example" of narcissism. "Otherwise I would have had to hire actors and write vignettes. He's like a dream come true."
But if Trump's supporters aren't convinced by his behavior alone that the businessman is unfit to be president, it's hard to believe a diagnosis would add much.