Constantly In An Angry Frenzy, Trump Is An Out-Of-Control Chief Executive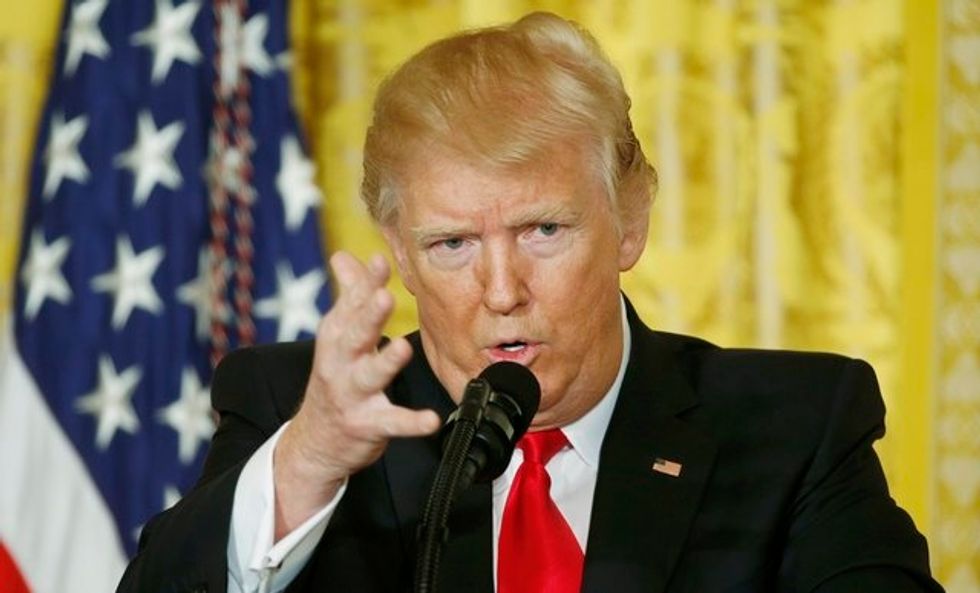 Reprinted with permission from AlterNet.
Once upon a time, President Trump was capable of sublimating his rage and bluster into actions that seemed presidential, at least occasionally.
His address to Congress in late February, while oversold as the "moment he became president," was at least a competent execution of an ancient Washington ritual.
His decision to bomb Syria in April, while repudiating his campaign rhetoric of non-intervention, attracted rare expressions of support from the usually hostile liberal foreign policy establishment.
His visit to France earlier this month, while marred by an offensive comment to the wife of French president Emmanuel Macron, temporarily downplayed political differences for the sake of a good military parade.
No more. Trump's antic megalomania has entered a new phase where fear drives his anger, self-absorption, grandiosity, and toxic masculinity into behaviors that dominate the increasingly surreal news cycle and preclude him from achieving a even semblance of normality, even for his supporters.
The centrifugal force of Trump frenzy is spinning off allies in Republican and conservative elites who have been clinging to his coattails since November in the hopes of enacting their agendas. Not only is the president losing his insurance policy against impeachment, he is losing his capacity to sell himself to the sympathetic.
Turning Point
In the first months of his presidency, Trump operated in two modes: as a still-active candidate holding forth in campaign-style events, and as a passive chief executive willing to rubber-stamp the agenda of the Republican Congress.
Today, Trump has doubled down on his candidate mode—demanding the prosecution of Hillary Clinton and haranguing the Boy Scouts—but in the process he has cast the rubber stamp aside to beat his own chest.
It was impossible to see at the time, but Attorney General Jeff Sessions' decision in March to recuse himself from the Russia investigation was a key—maybe the key—moment of the Trump presidency. Ever since, the president has been controlled by fear. Without Sessions at his side, Trump feared FBI director James Comey would conduct an independent investigation of the Russia affair. He demanded Comey's loyalty and when he didn't get it, he fired him, which he thought would relieve the "pressure" he felt.
It didn't. Instead, Comey's firing and dramatic Capitol Hill testimony quickly led to the appointment of special prosecutor Robert Mueller, which only increased the pressure. Trump considered firing Mueller, but feared the consequences so he didn't. When the New York Times reporting on his son's June 9, 2016, meeting with a Russian government attorney implicated his own family in the investigation, he expressed fear that Mueller might investigate his family business—a "violation" he said would be "unfair" to the presidency.
That fear was justified. When Mueller made it clear that he would look into the Trump family business, Trump made clear his intention to get rid of him.
Fear Feeds Frenzy
Trump's bizarre passive-aggressive attacks on Jeff Sessions are understandable only as an expression of fear that he has no sure defense against Mueller. His stream of tweets denigrating Sessions, who was his first supporter in the U.S. Senate, make clear that he cares more about self-preservation than personal loyalty or Sessions' aggressive efforts to escalate the drug war and disenfranchise Democratic voters.
Advancing these crusades are more important to the alt-right than serving as Trump apologists, which is why Breitbart News is now criticizing Trump and defending Sessions as the "man who embodies the movement that elected Trump."
Trump's sporadic interventions in the health care debate made clear that he wanted a "win" more than he wanted Republican unity necessary to ram through unpopular legislation. When Trump called the House health care bill "mean," he killed its chances in the Senate.
As Senate Republicans struggled to come up with new legislation, Trump demanded they send him something, anything, to sign. When nine Republicans voted with Democrats to kill a draconian bill, he singled out Alaska's Lisa Murkowski for denunciation. His fear of losing, expressed with sexist pique, was no favor to Mitch McConnell as he scrambles to assemble 50 votes for anything that can be depicted as Obamacare repeal.
Then, fearful of his growing image as an ineffectual leader under investigation, Trump suddenly tweeted that the 2,400-plus transgender people in the U.S. military are no longer welcome to serve. As a candidate needing to mobilize his shrinking base of cultural conservatives, the decision made a certain cynical sense. But as a chief executive, it further undermined his own team. In two tweets, Trump overturned Defense Secretary James Mattis' quiet decision to study the issue for six more months.
This rash style is not only a gift to the Trump resistance, which has always depicted him as an impulsive bully, it is also corrosive to the loyalty of people who took a chance on joining his government. Secretary of State Rex Tillerson, whose decisions on the Iran nuclear deal and the Saudi campaign against Qatar have been undercut by the White House, has started talking about leaving his job even sooner than he planned. When Tillerson's doubts were reported in the press, he took an unannounced vacation.
Like most Americans, the poor Secretary of State just wanted a break from the Trump frenzy, which shows no sign of abating.