Cotton, Republicans Struggle To Balance Threat With Defense Cuts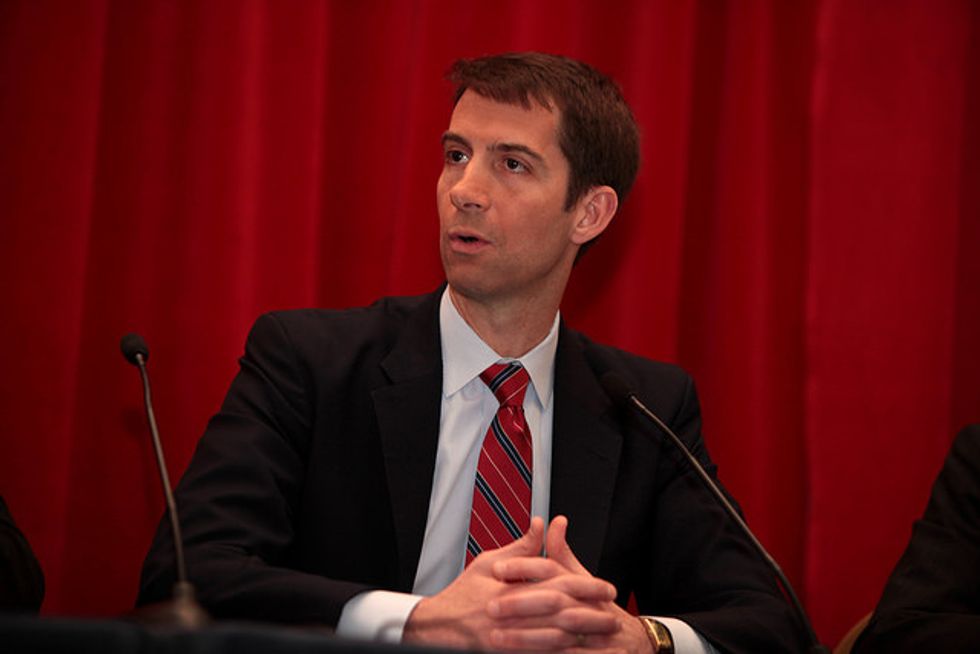 By Heidi Przybyla, Bloomberg News (TNS)
WASHINGTON — Senator Tom Cotton of Arkansas says the U.S. should go on the offense against terrorists around the world. He also voted to retain deep cuts in defense spending set for later this year.
For many Republicans like Cotton, reconciling those conflicting goals will be among their biggest challenges as House and Senate Republicans release budget proposals next week.
A group of Senate Republican defense hawks led by John McCain of Arizona and Lindsey Graham of South Carolina want to ease across-the-board spending cuts enacted in a 2011 budget agreement. Senate Budget Committee Chairman Mike Enzi of Wyoming made clear this week that he intends to keep those cuts, which were achieved after a hard-fought standoff.
"They've got themselves wrapped around the axle," Steve Bell, a senior director at the Bipartisan Policy Center in Washington and a former Republican Senate budget staff director. "It's going to illustrate dramatically at some point the split in the party."
Enzi and House Budget Chairman Tom Price, a Georgia Republican, plan to release separate budget proposals early next week and begin committee consideration. The goal is to reach a unified plan, with both chambers now under Republican control for the first time in eight years.
The cap on defense spending is to be cut by about $35 billion in the 2016 fiscal year starting Oct. 1, allowing for little growth. The limit was enacted as part of the 2011 Budget Control Act, intended to cut $1.2 trillion in domestic and defense spending through 2021.
Congress voted to ease those reductions for the past two fiscal years, though, and the question is whether lawmakers will do the same for 2016. While some Republicans want more defense spending, Democrats are insisting any defense increases must be matched by higher spending on domestic programs such as education, scientific research and aid to the poor.
"When you pull on the string it all comes undone," Bell said. The Bipartisan Policy Center's website says it seeks to encourage lawmakers to overcome political divisions.
Cotton, who served as an Army officer in Iraq and Afghanistan, led 46 other senators in sending an open letter to Iran's leaders this week suggesting that any deal they make with Obama on limiting nuclear weapons could be revoked after the president leaves office.
Hostilities in Ukraine, the beheadings of Americans in Syria and a bigger U.S. military footprint in Iraq may sway lawmakers to support more defense spending. McCain has repeatedly said he won't vote for a budget that maintains the scheduled defense cuts.
"Every Republican is highly concerned about military readiness, the fact that we are hollowing out our military," Wisconsin Senator Ron Johnson said at a Bloomberg breakfast Friday with reporters in Washington. "We're just not ready to meet the challenges we're going to face."
Yet some Republicans not only oppose increased funds for domestic programs needed to win Democratic votes, they demand even deeper cuts to offset any relief for the Defense Department.
"It's very, very important that we preserve the overall spending caps which have been the only success we've had in fiscal discipline in a long time around here," said Pennsylvania Senator Pat Toomey. In order to pass the House, such an approach will "be required," Johnson said.
The debate may lead to a new political bind for House Speaker John Boehner of Ohio, who last week had to abandon much of his Republican conference and rely on Democratic votes to pass a spending bill for the Department of Homeland Security.
Republicans aligned with the small-government Tea Party wanted to use the Homeland Security bill to block President Barack Obama's immigration policy. On the budget, they support keeping the 2011 spending limits in place.
White House Budget Director Shaun Donovan said Thursday that Obama won't accept a budget that locks in the 2011 spending caps in defense and non-defense spending. Obama's budget proposal in February offered a $38 billion increase for national security programs over current budget caps, as well as $37 billion more for domestic programs.
Some Republicans including Graham are proposing a compromise — a reserve fund in the budget that would allow negotiations over defense spending to be held later. Enzi's proposal may include such an escape valve, said lawmakers briefed on the plan, including Tennessee Senator Bob Corker.
Corker sought to play down the tensions, noting that a budget is a non-binding policy statement anyway.
"The only way to affect military spending is through changing a law," Corker said. "That's a detail a lot of people are missing."
Democrats are making a case for ending the automatic spending reductions.
"I will do my best, as I think every member in our caucus will do, to end" the spending cuts, said Senator Bernie Sanders, a Vermont independent who is on the Budget Committee.
Neither party likes the 2011 budget-control law, which lawmakers enacted to force themselves to reduce spending after Obama and Republican leaders couldn't reach a bargain to rein in the national debt.
The spending cuts were intended to be so unacceptable that, to replace them, Democrats would finally agree to trim entitlement programs such as Social Security and Republicans would accept tax increases they ordinarily oppose.
No such deal came about. Instead, the bipartisan budget agreement in December 2013 used offsetting spending cuts and revenue measures, leaving few remaining areas for action outside of the entitlement-program cuts and tax increases that Democrats and Republicans can't agree to address.
Cotton, 37, a freshman senator, told CNN that month that the U.S. needs to "get back on offense all around the world" against terrorists, including by sending military troops if necessary. During his previous term in the House, he voted against the 2013 budget deal, saying at the time that it "busts the spending caps that took effect just months ago."
His spokeswoman, Caroline Rabbitt, said he opposed a spending measure in early 2014 in part because it cut military pensions. She said in an e-mail Thursday that Cotton supports easing the defense cuts before October.
The 2011 Budget Control Act was modeled after an earlier attempt by Congress to force itself to reduce spending, the 1985 Gramm-Rudman-Hollings Balanced Budget Act.
In the five years the law was in effect, it was frequently skirted as government officials changed economic assumptions to avoid imposing cuts that would be required if the deficit- reduction targets weren't met.
___
With assistance from Erik Wasson and Roxana Tiron in Washington.
Photo: U.S. Senator Tom Cotton of Arkansas speaking at the 2015 Conservative Political Action Conference (CPAC) in National Harbor, Maryland. (Gage Skidmore via Flickr)