Could Pope Francis Be Donald Trump's Undoing?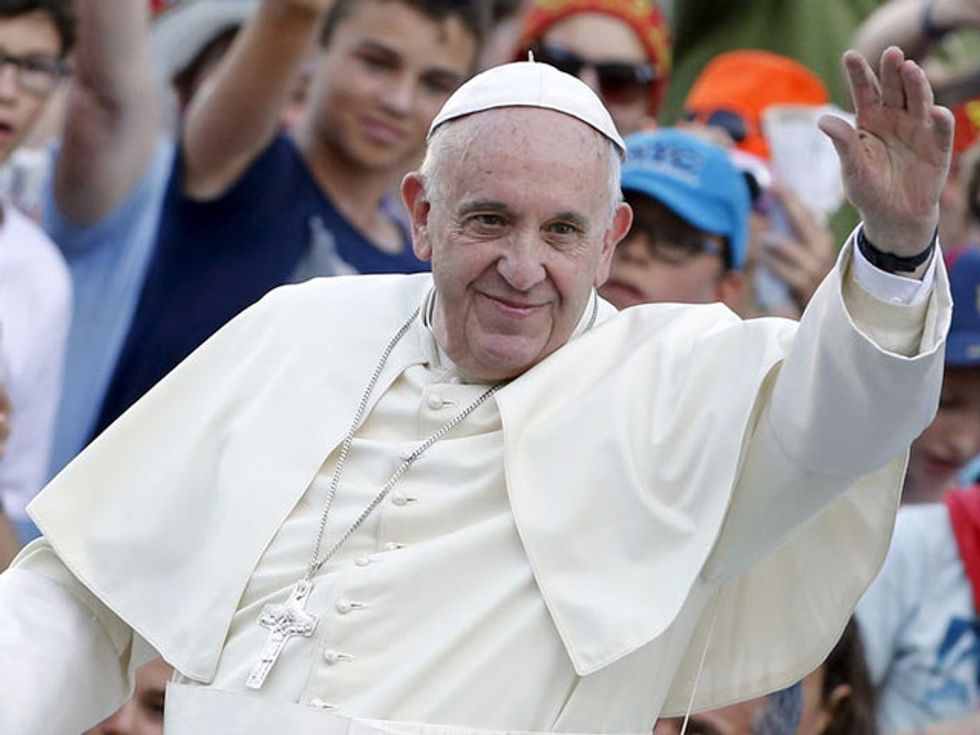 If he hasn't faded from the news in a few weeks, Donald Trump will have some serious competition for headlines from a person who represents everything he does not. That would be Pope Francis, who arrives in Washington on Sept. 22 for a six-day visit to America.
The pope's schedule — a meeting at the White House, a service at the World Trade Center, addresses to a joint session of Congress and the United Nations General Assembly — is world class, as Trump might put it. The pope himself is, in Trumpspeak, yuge. He is also a living reproach to Trump, raising the enticing possibility that his visit — just six days after the next Republican debate — will prompt reconsideration of Trump in a new context.
Both men are celebrities and both like to be provocative. But no one is lifting the political dialogue higher than Pope Francis, and no one is driving it lower than Trump.
It's not that the pope is a milquetoast. Far from it. His encyclical this year on climate change, for instance, uses vivid, muscular language to convey his harsh analysis of failed stewardship and class oppression. The Earth increasingly looks like "an immense pile of filth," he wrote, blaming "reckless" human behavior that he said would take a cruel toll on the poor in particular.
When he speaks of individuals and groups affected by Vatican policies, the pope raises interesting questions and acknowledges profound chasms — all without casting stones. He would not allow women to be priests, but softens that by saying women should have a more significant role in Catholicism. He does not favor divorce, but he says that sometimes a marital separation is "morally necessary." Nor does he support gay marriage, but he has been nonjudgmental about homosexuality ("we must always consider the person"). He has said the Church should focus less on abortion, contraception and homosexuality, and more on a message of love.
A message of love? Ha. Trump would be the Don Rickles of presidents, the king of insults and insult comedy. The name-caller-in-chief. The baiter-in-chief. That guy who likes to rate women by their looks and men by their heights. The one you teach your kid never to be like. Except that as president, he'd be a role model to a generation.
Conservatives got mighty exercised when Bill Clinton proved to be, shall we say, not a terrific role model. Liberals weren't too happy either. Al Gore alluded to family values a half-dozen times in announcing his presidential candidacy in June 1999. "I say to every parent in America, it is our own lives we must master if we are to have the moral authority to guide our children," he said.
Trump is a different kind of lousy role model — a bully with zero self-awareness, who enjoys starting fights and holding grudges, and who can't or won't stop speaking in generalizations and stereotypes that make the phrase "some of my best friends are Jewish" seem like a sophisticated declaration of open-mindedness. "Do you know how many Hispanics work for me? Thousands. They love me," he says. And evangelicals? "Incredible people. They're really smart. … I love evangelicals."
As for those Trump decides have not been "nice" to him, be they reporters, rivals or perhaps leaders of other nations, he has this to say: "When people treat me unfairly, I don't let them forget. And maybe we should have more of that in this country and maybe the country wouldn't be pushed around so much."
If the full-spectrum Trump were not on display every day, from TV to Twitter, the Dubuque, Iowa, news conference at which he made all of those comments would be immortalized as a day of political infamy. Trump refused in advance to let the Des Moines Register attend and had Jorge Ramos of Univision ejected for asking questions without being called on. "This man gets up and starts ranting and raving and screaming, and honestly being very disrespectful to all the other reporters," Trump explained Wednesday on NBC's Today Show.
Disrespectful? Of reporters?? The nerve.
The Donald of course has raised disrespect to an art form, particularly on Twitter. He goes after everyone, even rivals polling at 0 percent who pose zero threat to his polling leads. He also relishes the bon mots of his fans, retweeting their references to "Tacky Pataki" and "bimbo" Megyn Kelly, to Scott Walker ("How dare he criticize you. You would fire him in a second") and Jeb Bush's ability to speak "Mexican" ("this is America, English!!"). "I retweet for a reason," he says.
Seriously, think about what we try to teach our children, and then think about four years of trying to explain away a President Trump. Maybe the contrast with Pope Francis will jump-start the process of scales falling from eyes. Nothing else has worked so far.
Follow Jill Lawrence on Twitter @JillDLawrence. To find out more about Jill Lawrence and read features by other Creators Syndicate writers and cartoonists, visit the Creators Syndicate website at www.creators.com.
Photo: Pope Francis waves as he arrives to attend an audience for altar servers at St. Peter's Square in Vatican City August 4, 2015. REUTERS/Giampiero Sposito