Republicans Battle Over The Future Of Their Party At CPAC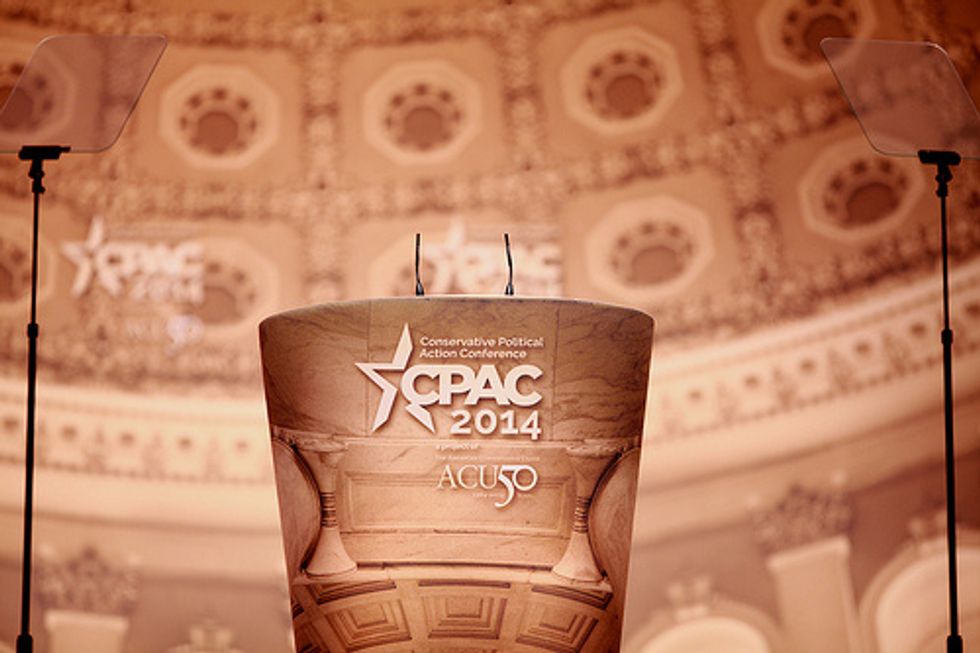 Short skirts, high heels, and optimism abound at this year's Conservative Political Action Conference (CPAC), an annual gathering of thousands of conservatives in Washington, D.C. Right-leaning people from across the country are here to debate a wide range of issues. Some, like bashing President Obama and his health care law, are agreed on by all participants. Others, like gay marriage and marijuana legalization, receive less homogeneous support.
Certain characters stick out from the mostly young, sleek crowd. Take the cowboy hat-sporting older man whose shirt says "Legalize Marijuana! Ask Me About It." People do, and he spends much of the conference in the hallways, conversing with supporters and debating those in disagreement. The kilt-wearing, round-bellied senior who spent CPAC's first evening sporadically waving his "Don't Tread on Me" flag attacts similar attention.
While few African-Americans are present, Kevin Blanchard, author of Black Man with a Gun, sticks out, although his pro-gun rights views don't. There are a handful of veterans, and many young servicemen. "Radio Row," set up in the conference's main hall, hosts conservative talk-show hosts. Hasidic Jews find relatively quiet corners to pray in. Booths offer free conservative merchandise like "Amazing America" bags, which promote Sarah Palin's new show, and pamphlets promoting the power of prayer and healthy eating in battling cancer.
Some of the young participants are here to meet and greet potential employers, and many more making their first inroads into politics. "I just really wanted to get a firsthand perspective of things," says 19-year-old Mike Jones, a first-time CPAC attendee from Fairfax, Virginia. He's hopeful about the direction conservatives are moving in. "I think there's momentum. Especially seeing all these young people come here. I see a lot of enthusiasm."
University of Michigan law student Jiesi Zhao sees a marked change from last year's CPAC (this is her fourth time attending the conference). "Last year we were healing our wounds, after the [2012 presidential] defeat. This year it's much more exciting and forward-looking," she said.
While there is alignment on some issues, Zhao notes serious debate between libertarians, Tea Partiers, and everyone in between. "There are so many diverse opinions. There are a lot of different ideologies," she said. "I think it's great."
In addition to the usual issues, like lowering the government deficit and strengthening the military, education is quietly integral to many CPAC conversations. Michael Brickman of the Fordham Foundation, a D.C.-based conservative education policy think tank, is at CPAC to gain support for the controversial Common Core State Standards initiative.
"We want higher standards, accountability, and school choice," he argues, adding that more conservatives support the standardized curriculum program than ever before. "Everybody's interested in what we can do to make schools better."
But Jordan Bosstick, a San Diego resident who runs the political website volkalize.com, says the fight is elsewhere. "People want to be able to send kids to charter schools, not public schools," he says. "They're fighting for more charter schools. And they're really, really against Common Core standards."
Debates aside, participants recognize that a united front is needed in the run-up to the 2016 elections. As such, the CPAC ambiance is one of a high-school dance, in which everyone's looking to see who will ask the prettiest girl to tango first. Will Rand Paul win CPAC's support, giving him the momentum to run for president? Has Chris Christie lost his gusto? Is Paul Ryan still a viable candidate? And which faction will hold the biggest sway over the future of the Republican Party, the libertarians or the Tea Partiers?
Bosstick says that while the Tea Party has impacted conservative rhetoric and policies, its activists do not have much of a presence at this year's conference.
"I see 'Stand with Rand' much stronger," says Bosstick. "I've seen a Tea Party guy waving a flag, but I haven't seen a Tea Party booth. They've influenced the movement as a whole, but they're not a big influence here."
Brenden Gault, a 21-year-old student at Boise State University, says that libertarians are much more visible. "They are extremely popular, especially among young people. It's great for the younger generation. It spreads the word. It teaches values to young people." But he's worried the libertarian trend may split the party. "Some libertarians, if [a candidate] is too far right, they just won't vote for them."
The popularity of libertarianism was seen in Paul's star turn on Friday. After the first-term senator spoke in the morning, "Stand with Rand" signs and t-shirts scattered the hallways, dominating the sprinkling of "Cruz Crew" stickers, and flyers for the far less viable but still visible "Draft Ben Carson" campaign.
"Rand will stand for what he believes in," says Bosstick. "Republicans need someone on both sides, and a lot of Democrats like Rand Paul. People like Ted Cruz. People still like Chris Christie, but they're more cautious about him now. Paul Ryan is not talked about as much because of the budget [deal]. I think he needs to lay low for a while."
"Based on this conference, [Paul's] the frontrunner," says Gault. "I've never seen someone get five standing ovations before."
The candidate is not yet chosen, but the attendees are excited for the coming campaign."I think people are cautiously optimistic [about 2016]," says Bosstick. "I think they're excited. In 2012, they thought they could win and people were shellshocked. So now they're not going to underestimate their opposition. Everyone's got their eye on the Senate. Everyone's focused on working hard."
Photo: Gage Skidmore via Flickr