Creationists Who Built Failing Noah's Ark Park Blame Media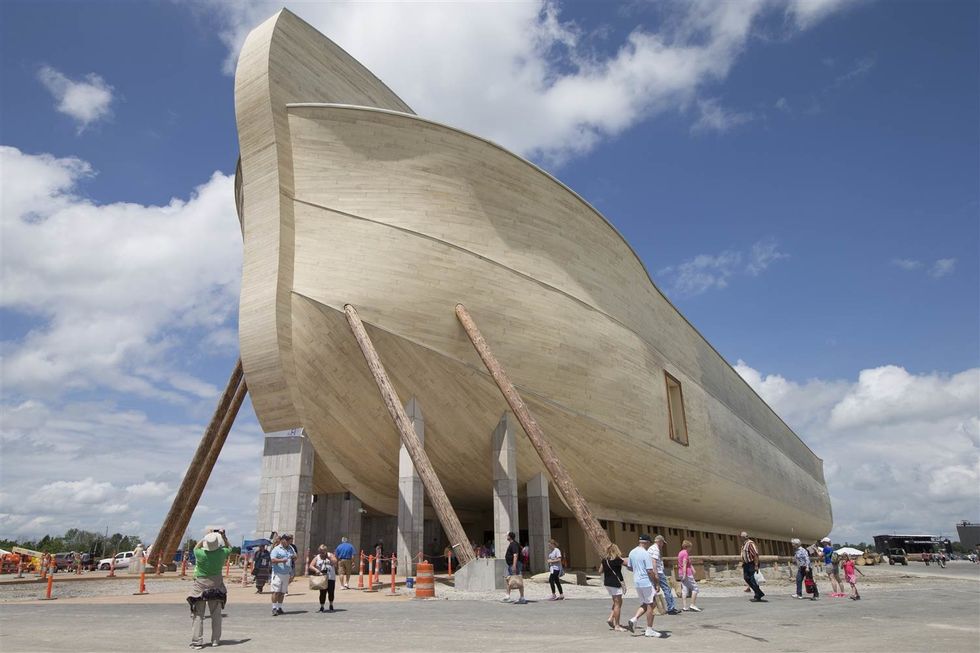 Reprinted with permission from Alternet.
A Noah's ark-themed museum in Williamstown, Kentucky was supposed to bring in a deluge of tourists to flood local businesses and leave owners awash in profits. Instead, a local news outlet reports business proprietors overwhelming say their bottom lines have remained unchanged. That's particularly bad news considering that Answers in Genesis, the ministry behind the Ark Encounter, was given huge financial breaks, from state tax incentives to generous reductions in property taxes. Now Ken Ham, the Creationist head of AiG, says the blame for the park's failures should be laid at feet of atheists and the press.
"Recently, a number of articles in the mainstream media, on blogs, and on well-known secularist group websites have attempted to spread propaganda to brainwash the public into thinking our Ark Encounter attraction is a dismal failure," Ham wrote on his blog earlier this month. "Sadly, they are influencing business investors and others in such a negative way that they may prevent Grant County, Kentucky, from achieving the economic recovery that its officials and residents have been seeking."
"Nowadays, it seems very few reporters in the secular media actually want to report facts regarding what they cover as news. When it comes to reporting on theologically conservative Christians like those of us at AiG, whose ideology they strongly oppose, many writers have an agenda to undermine Christianity as they file their stories."
The "fake news" angle used by Ham doesn't exactly hold water. As Patheos notes, while one recent article did err on two small points related to the Ark Encounter, local business owners haven't challenged accounts that their profit margins haven't been raised by Ham's project. Estimates for the park's annual draw were between 1.4 and 2.2 million visitors annually. Now approaching the one-year anniversary of its grand opening, park co-founder Mike Zovath said visitor tallies will hit 1 million as of July. But that figure can't be confirmed by outside sources.
The Daily Kos points to an article in the publication Church & State that notes Ark Encounter was given "$18 million in state tax incentives to offset the cost of the park's construction; a 75 percent property tax break over 30 years from the City of Williamstown (a town of about 3,000 near where the park will be located); an $11-million road upgrade in a rural area that would almost exclusively facilitate traffic going to and from the park; a $200,000 gift from the Grant County Industrial Development Authority to make sure the project stays in that county; 100 acres of reduced-price land and, finally $62 million municipal bond issue from Williamstown that Ham claims has kept the project from sinking."
"It's a really bad deal for taxpayers," Steve Wood, a judge-executive from the area told the Lexington Herald Leader. Wood took office after the incentives were granted. "It was a shock for me because I didn't really know all the details. Maybe I should have."
The park says it provides jobs for roughly 900 people, all of whom have to "confirm agreement with Ark Encounter's Statement of Faith," according to the Ark Encounter employment website. The requirement demands applicants "must profess, interalia, that homosexuality is a sin on par with bestiality and incest, that the earth is only 6,000 years old, and that the bible is literally true in order to be considered for the job."
Kali Holloway is a senior writer and the associate editor of media and culture at AlterNet.
Header image source.
This article was made possible by the readers and supporters of AlterNet.