Creators Of Iran Situation Should Stay Out Of It Now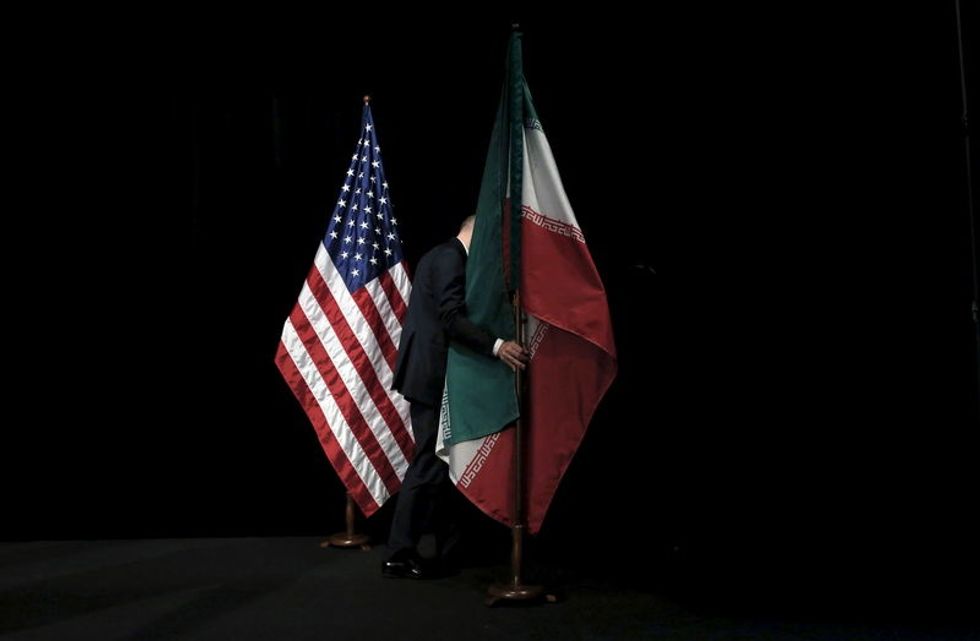 Last Wednesday, in a thoughtful and persuasive speech on the merits of the Iranian nuclear agreement, President Barack Obama chastised Dick Cheney and his ilk. He didn't mention the former vice president by name, but few in the audience would have missed the reference.
Noting that many critics of the Iranian deal also supported the invasion of Iraq, President Obama said they "seem to have no compunction with being repeatedly wrong." Tellingly, the former vice president, who still insists that deposing Saddam Hussein was a good idea, has been among the most vociferous critics of diplomacy with Iran. "(The agreement) will in fact, I think, put us closer to the actual use of nuclear weapons than we've been at any time since Hiroshima and Nagasaki in World War II," Cheney recently told Fox News.
He's not the only one. Those curiously unselfconscious denunciations of the Iranian agreement continued in last Thursday's GOP presidential primary debates. Former Arkansas governor Mike Huckabee said the deal would make the world "an incredibly dangerous place." (That was at least less hysterical than his assertion a few days earlier that Obama was "marching Israel to the door of the oven.")
Wisconsin governor Scott Walker pledged to rip up the deal on "Day One" of his hoped-for administration. In the earlier debate for second-tier candidates, former business executive Carly Fiorina said she would telephone "my good friend, Bibi Netanyahu, to reassure him we will stand with the State of Israel."
Given our history with Iran, it's no surprise that this deal has attracted many skeptics — including some from the president's own party. New York Sen. Chuck Schumer, prominent among Senate Democrats, has announced his opposition.
But it is the Republican Party that remains a refuge of historical revisionism, full of prominent politicians who refuse to admit that the Iraq war left the Middle East worse off. Indeed, the toppling of Saddam Hussein significantly bolstered Iran, giving it more power in the region.
After all, Saddam was an enemy of Iran's ayatollahs, a counterweight that kept them in check. That's why the United States was a tacit ally of his for many years, supporting Baghdad in its eight-year war against Tehran. (Remember that 1983 photo of Donald Rumsfeld, then President Reagan's special envoy to the Middle East, shaking Saddam's hand?)
Even if the GOP wants to pretend that its military adventurism hasn't had a downside, many voters remember anyway. A college student had the gumption to confront Jeb Bush at a campaign stop last May as he blamed President Obama for the rise of the self-proclaimed Islamic State. "Your brother created ISIS" when he disbanded the Iraqi Army, said 19-year-old Ivy Ziedrich.
So it is simply mindboggling to watch the politicians who've done the most to empower Iran denounce Obama's diplomatic efforts to limit its nuclear power. They were wrong when they rattled their sabers to gin up public support for the invasion of Iraq, a strategic misfire with consequences that will ripple for decades. And they're just as wrong now. Why would anyone listen to them?
Prominent Republicans are quite aware that the American public is weary of war, wary of any armchair hawks who would insist that U.S. military strength would carry the day in any conflict. Even core Republican voters are reluctant to use force; only 21 percent of GOP voters — and 14 percent of voters across the board — support military action against Iran rather than a diplomatic solution, according to an April Washington Post poll. So Republican leaders insist that they're not pushing for military strikes against Iran.
"That's never been the alternative," Sen. Majority Leader Mitch McConnell told the Post. "It's either this deal or a better deal, or more sanctions."
But that's a far more naive proposition than depending on the inspections regime to limit Iran's nuclear program. President Obama persuaded China and Russia to join sanctions against Iran, but they're ready to ink this deal. They won't be pressed into tightening the financial noose around Tehran. And without their cooperation, sanctions won't work.
Because America's military might has limits, diplomacy ought to always be the first and second options. History makes that clear; the war in Iraq was merely a reminder.
Photo: A staff member removes the Iranian flag from the stage after a group picture with foreign ministers and representatives of United States, Iran, China, Russia, Britain, Germany, France and the European Union during the Iran nuclear talks at the Vienna International Center in Vienna, Austria, July 14, 2015. REUTERS/Carlos Barria