Crimea Moves To Join Russia As West Readies Sanctions
@AFP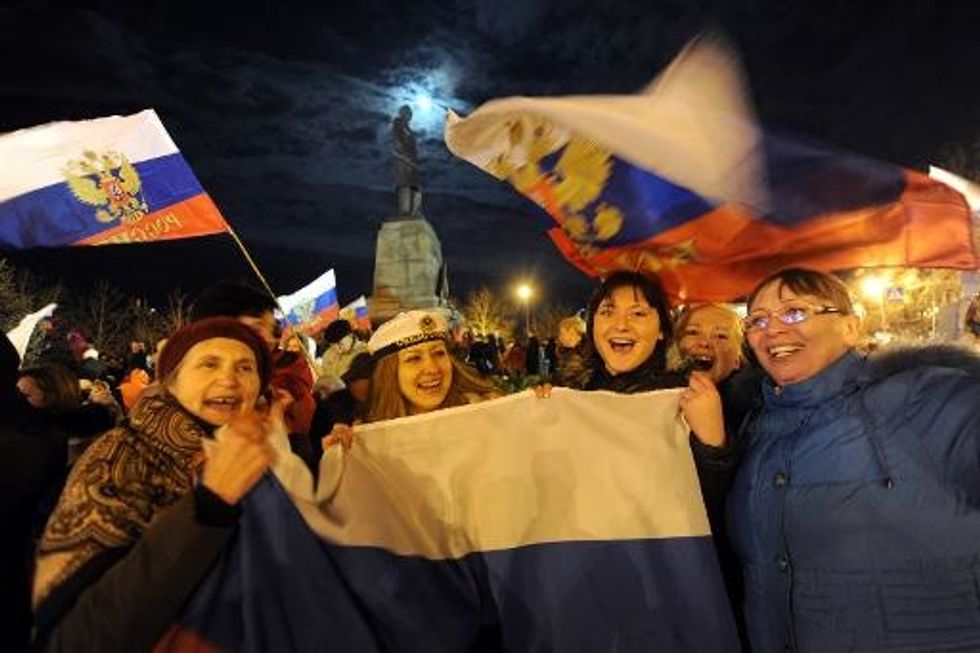 Simferopol (Ukraine) (AFP) – Crimea was due to formally apply to join Russia on Monday after voting to split from Ukraine, as Europe prepared to hit Moscow with a wave of sanctions in the worst East-West stand-off since the Cold War.
An overwhelming 96.6 percent of voters on the mostly Russian-speaking peninsula chose to secede from Ukraine, according to final results from Sunday's referendum, which the Kremlin is accused of orchestrating.
Crimea's regional assembly will meet early Monday to apply to merge with Russia, a process that could take months and is mired in uncertainty for a region that remains heavily dependent on the Ukraine mainland.
There was sharp international condemnation of the vote, which could see the most radical redrawing of the map of Europe since Kosovo's 2008 declaration of independence from Serbia.
The European Union said the referendum was "illegal and illegitimate" and its outcome would not be recognized.
In Brussels on Monday, European foreign ministers are expected to unfurl sanctions including visa bans and asset freezes against leading figures in Moscow. However, members of the Russian government are not expected to be affected.
U.S. President Barack Obama phoned his Russian counterpart Vladimir Putin on Sunday and told him the vote "under duress of Russian military intervention, would never be recognized by the United States and the international community."
Obama threatened "additional costs" for Moscow after the United States last week imposed visa bans targeting those blamed for threatening the sovereignty or territorial integrity of Ukraine.
Crimea has emerged as the epicenter of a crisis that erupted when the splintered ex-Soviet nation's Russian-leaning president Viktor Yanukovych was ousted last months after months of bloody pro-EU demonstrations in Kiev.
The downfall of Yanukovych's regime prompted Russia to move forces into Crimea where pro-Moscow officials declared independence and hurriedly organised the referendum.
Alcohol-fueled celebrations swept cities across the Black Sea peninsula, where thousands waved Russian flags and sang Soviet-era songs
"We're free of the occupation!" Lucia Prokorovna, 60, said in Sevastopol, strategic home to Russia's Black Sea fleet. "Ukraine was attached to Crimea like a sack of potatoes."
Crimea's self-declared premier Sergiy Aksyonov hailed the referendum as an "historic moment".
"We're going home. Crimea is going to Russia," he told those gathered on Lenin Square.
However, not everybody in the peninsula, which Russia annexed in the late 18th century and which a Soviet leader transferred to Ukraine in 1954, was happy at the prospect of a return to Kremlin rule.
Crimea's indigenous Muslim Tatar community — deported to Central Asia en masse by Stalin — largely boycotted the referendum.
"Of course we won't vote," said Dilyara Seitvelieva, the community's representative in the historic Tatar town of Bakhchysaray.
Ukraine's interim President Oleksandr Turchynov — who is not recognized by Russia and will be replaced after May 25 elections — said the results had been "pre-planned by the Kremlin as a formal justification to send in its troops".
The choices facing voters were either to join Russia or go back to a 1992 constitution that effectively made Crimea an independent state within Ukraine.
Retaining the status quo and remaining an autonomous region within Ukraine was not an option.
What this means for the economically devastated region — which relies on the mainland for electricity, heating and water — as it waits to join Russia, is unclear.
"Crimea's access to gas, electricity, water and food staples is in danger — and Russia will not be able to compensate," said Penta institute analyst Volodymyr Fesenko.
Seemingly unmoved by the torrent of international condemnation, Putin told Obama that Sunday's poll fell "completely in line with the norms of international law," according to the Kremlin.
Moscow also said Putin intended to "respect" the outcome.
British Foreign Secretary William Hague called the vote a "mockery" of democracy while France's Foreign Minister Laurent Fabius criticized a referendum "that took place under the threat of Russian occupation forces."
Japan's top government spokesman Chief Cabinet Secretary Yoshihide Suga said the country "does not approve the result" of the referendum.
Russian press hailed the results of the vote, lauding Crimea for "returning" to the Russian fold.
Meanwhile tensions remained high in the mainly Russian-speaking southeast of Ukraine, where thousands rallied in the flashpoint industrial city of Donetsk and the town of Kharkiv to demand their own Crimea-style referendum.
Russian lawmakers are on Friday expected to debate legislation that would simplify the process under which the Kremlin can annex a part of another state.
AFP Photo/Viktor Drachev