Behind 'Critical Race' Hysteria, Right-Wing Dark Money And Murdoch Minions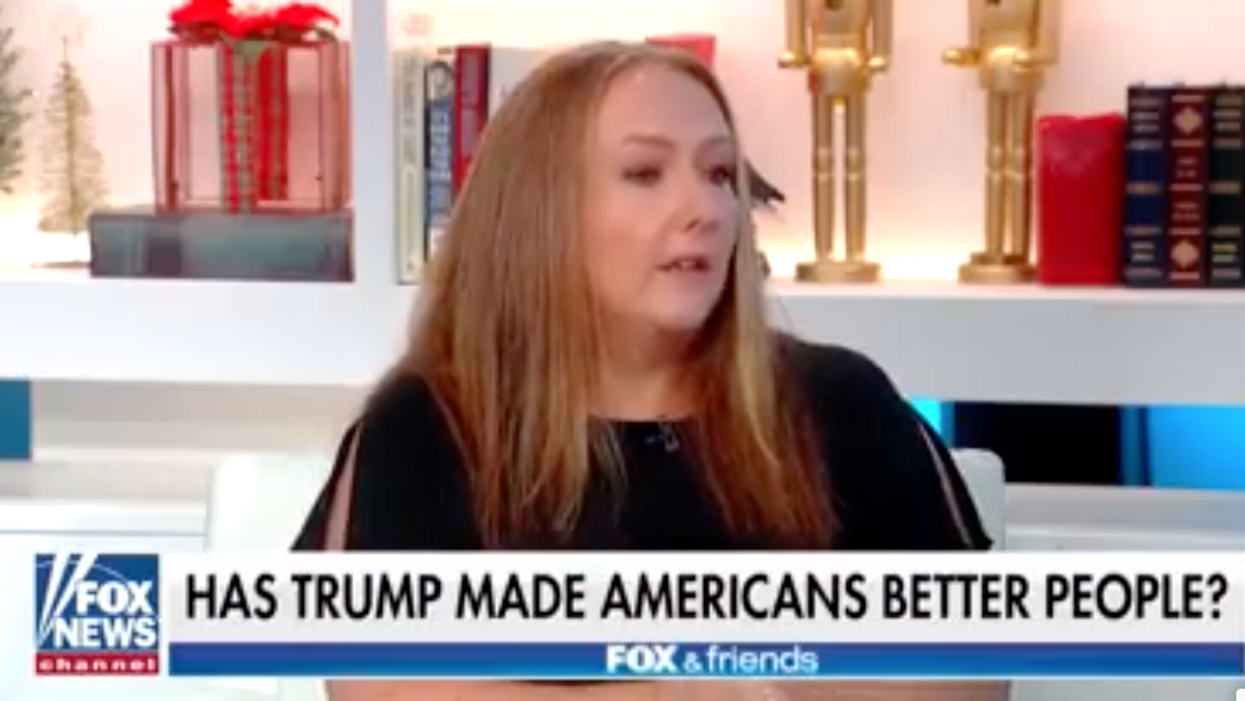 Screenshot from Fox & Friends Facebook page
Reprinted with permission from Media Matters
A recently released IRS filing for the right-wing activist group Parents Defending Education (PDE), which was founded to promote the ongoing scare campaign against the supposed teaching of "critical race theory" in schools, reveals the symbiotic relationship between the right-wing media echo chamber and conservative political activists stoking a cultural panic.
The group's president, Nicki Neily, has appeared on Fox News as part of the network's dishonest coverage of efforts by school board officials and the FBI to respond to threats and harassment. But Neily is not just a parent defending education, as she has a long history of managing right-wing organizations funded by the Koch brothers and Bradley Foundation networks.
Among the list of directors of PDE is Karol Markowicz, a columnist at Fox's corporate cousin the New York Post. Markowicz has publicly disclosed her involvement with PDE on her Twitter account, but she and the Murdoch media outlets have not been so upfront during education-related stories.
For example, Markowicz wrote columns in the New York Post ostensibly related to the Virginia gubernatorial election to promote PDE's political agenda, such as piece on October 31 titled "There's nothing fake about parents' outrage in America's culture war," as well as a November 14 column headlined "Now that school parents are finally being taken seriously, here's what's got to change." Neither piece contained any disclaimer about her leadership role with PDE.
Markowicz also appeared on the November 10 edition of America's Newsroom. In a segment about critical race theory, the network's purported "straight news" program identified her as a Post columnist but not as one of the leaders of a right-wing activist group pushing an agenda for public schools. During the appearance, Markowicz falsely claimed that "Democrats have spent a week calling parents racist" for identifying supposed "problems with their schools," while the segment also ran b-roll images featuring various anti-CRT content.
From the November 10, 2021 edition of America's Newsroom
Markowicz has appeared on Fox News weekday programming at least 31 times in 2021, according to Media Matters' internal guest database, during which she has often railed against policy choices made by public schools including COVID-19 public health responses as well as instructional content.
Fox has also promoted another figure from PDE, former Wall Street Journal reporter Asra Nomani. Nomani appeared on Fox & Friends on the morning of the Virginia elections last month, as part of the network's specially curated panels of concerned parents in the state who are often Republican activists. The chyron identified her as a parent, a former Journal columnist, and as part of PDE. Co-host Ainsley Earhardt also remarked that Nomani had helped start the group — which made this piece of Fox opinion programming more honest than the "straight news" segment a week later.
From the November 2, 2021, edition of Fox News' Fox & Friends
Another director of PDE is Edward Blum who has a long association with right-wing funding networks that have backed his challenges to civil rights laws. These challenges include a successful case in 2013 in which the conservative majority on the U.S. Supreme Court struck down key protections of the Voting Rights Act.
Meanwhile, PDE introduces its mission statement in its 1023 filing, a document required for tax exemption as a 501(c)(3) organization:
Parents Defending Education (PDE) is a national membership nonprofit organization formed for the purpose of defending human and civil rights secured by law and open to all parents of K-12 students, education faculty and administrators, and members of the public who share a common concern about preserving student's civil rights. Specifically, PDE is formed for the purpose of defending and protecting students' rights to freedom of speech and due process guaranteed by the U.S. Constitution, and ensuring that students are not subject to discrimination on the basis of race, color, national origin, or sex, as guaranteed by federal and state law.

These statements might seem somewhat ironic, given the actual political fruits of the anti-CRT panic. Thus far, the overall effort has been based on attacks against diversity in education, opposition to the inclusion of transgender students, efforts to ban books, and even moves to promote a both-sides narrative about the Holocaust. In fact, the whole project is a political campaign against decades of civil rights progress.
And indeed, PDE's claims to be "defending human and civil rights" are somewhat questionable. One of its actions this year was to complain about a Massachusetts school district's emotional support meetings for Asian-American students and other students of color, following the high-profile killing of six Asian women in Atlanta and other racist violence over the past year. Neily alleged that such meetings for Asian-American students amounted to "racial segregation" against white students. (The school district said in a statement that white students were not excluded, and several did in fact attend, though it also added that language in the event invitation was "imperfectly stated.")