Crude-Oil Train Wrecks Raise Questions About Safety Claims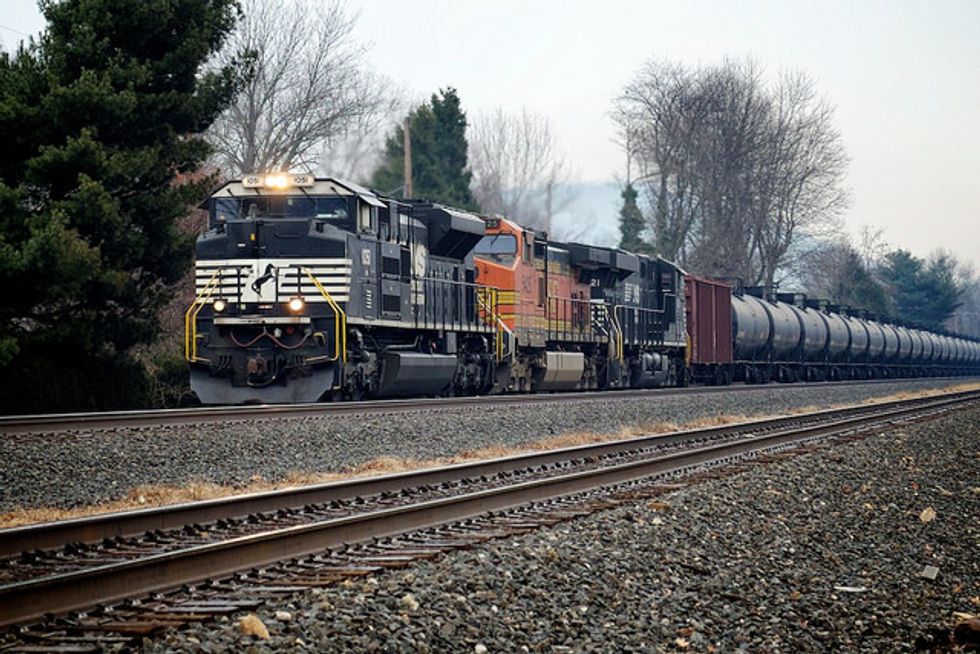 By Ralph Vartabedian, Los Angeles Times (TNS)
Four accidents in the last month involving trains hauling crude oil across North America have sent flames shooting hundreds of feet into the sky, leaving some experts worried that public safety risks have been gravely underestimated.
Crude trains have crashed in Illinois, West Virginia and twice in Ontario, Canada, forcing evacuations of residents and causing extensive environmental contamination.
The industry acknowledges that it needs to perform better, but says the trains are involved in derailments no more frequently than those hauling containers, grain or motor vehicles. Although the public doesn't pay much attention, about three freight train derailments occur every day on average.
Critics, however, say the industry's position misses the point. All it is going to take is one major accident to change the entire calculus.
Jim Hall, former chairman of the National Transportation Safety Board and among the top safety experts in the country, believes the government has misjudged the risk posed by the growing number of crude-oil trains.
"We have never had a situation equivalent to 100 tank cars end to end traveling through local communities," Hall said. "This is probably the most pressing safety issue in the country. The industry has turned a deaf ear."
Crude shipments have skyrocketed from 29,605 cars in 2010 to 493,126 in 2014, though the growth rate appears to have flattened out over the last 12 months.
As the shipments have grown, so has the number of accidents. The Association of American Railroads says there have been seven accidents that resulted in a spill of more than 5 gallons of oil in the last 18 months.
The Los Angeles Times, based on public records and news accounts, found a total of 13 accidents in the U.S. and Canada since the July 2013 catastrophe at Lac-Megantic, Quebec, in which 47 people died when a runaway oil train crashed into the center of the city.
The crashes have occurred on bridges, along rivers, near downtowns and in the middle of farms, but none of them have caused the loss of human life since the Quebec accident.
The key question is whether the industry is playing a game of Russian roulette, betting the trains will keep crashing in relatively safe rural sections of track.
As long as the crashes do not threaten public safety, the economic losses to the petroleum companies do not appear to be a deterrent.
Each tank car carries about 682 barrels of oil, worth about $33,000. A used tank car may be worth as little as $30,000, based on rail equipment broker websites. Thus, a derailment and loss of 15 cars with their crude could impose a loss of less than $1 million.
Thomas D. Simpson, president of the Railway Supply Institute, a trade group that represents tank car and other manufacturers, said the rail industry doesn't have a lot of choice.
Under federal law, it must carry any rail car that meets federal specifications. It means that when the petroleum industry fills a tank car with crude, the freight lines don't have the option of telling them to take their business elsewhere.
"They are betting their railroad that they are not going to blow up Los Angeles," Simpson said.
He said the industry had committed to a significant improvement in safety, in which tank cars would have heavier shells, crash shields and stronger valves. And it would retrofit existing cars with stronger shields and thermal protection that would delay fires or explosions.
Simpson is confident that there is nothing about tank cars that makes them more likely to derail than any other type of rail car. "Tank cars don't slosh and start rocking back and forth," he said. "I asked that too."
The question remains why the crude-oil trains are crashing and whether they are crashing for the same reasons as other freight trains.
Brigham McCown, former chief of the federal agency that sets tank car rules, said he believed the string of recent accidents had resulted from extreme weather this winter. The introduction of continuous welded track has made rails more vulnerable to expansion and contraction during temperature swings, experts say.
Another big unknown is human error, which accounted for 38 percent of all accidents in 2014. The Federal Railroad Administration is still investigating the specific causes of many recent crude train accidents, but it appears so far that none in the U.S. has involved a clear-cut case of human error.
Bill Kibben, a rail safety consultant who has worked for major railroads and government agencies, said accidents seldom occurred at a statistically even rate. "It is going to happen and it is going to be catastrophic," Kibben said.
Historically, human error accidents have accounted for some of the most serious losses of life.
A decade ago, human error resulted in a train hauling chlorine gas to crash into a parked train on a siding, releasing poison gas that killed nine people and injured 250 others in Graniteville, S.C. In 2008, human error caused a head-on collision between a Metrolink train and a freight train in Chatsworth, Calif., in the San Fernando Valley killing 25 people and injuring 135 others.
Kibben said that train crews were often affected by health concerns and fatigue, as well. In 2013, four people were killed in the Bronx, N.Y., when a train engineer sped into a curve, an error he later attributed to being in a daze.
"We recognize the public's deep concern," said Ed Greenberg, spokesman for the railroad association. "We acknowledge we need to work with other stakeholders."
Under a deal worked out last year with the Federal Railroad Administration, the rail industry agreed to operate crude trains at a maximum speed of 50 mph and slow down to 40 mph through some urban areas.
Greenberg said the U.S. rail industry had driven down its accident rate by 42 percent since 2000, making 2014 its safest year on record.
But environmentalists say safety rates for explosive products should not be compared to other merchandise.
"There should be a moratorium on crude trains until sufficient protective measures are in place at the federal level," said Mollie Matteson, a scientist at the Center for Biological Diversity.
Photo: A train ships oil west of Harrisburg, PA (Cody Williams/Flickr)