Cruz Campaign Forges Photo Of Rubio And Obama Shaking Hands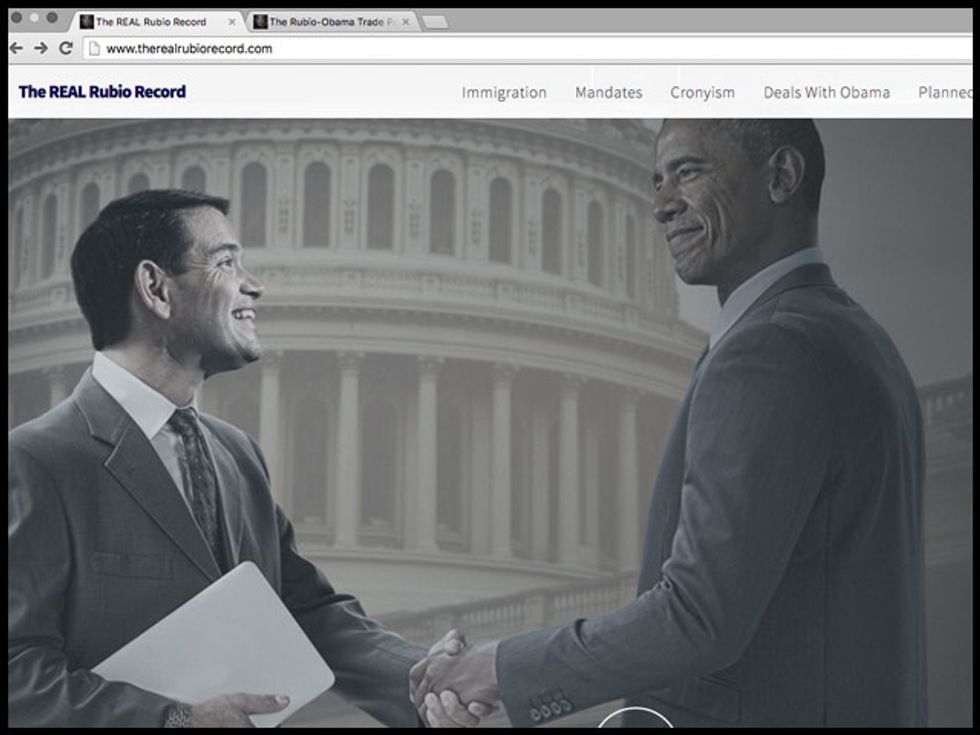 Ted Cruz's campaign has found a way to connect his lead (non-Trump) rival Marco Rubio to President Obama: Photoshop.
Rubio's campaign cried foul Thursday morning, at the discovery that a Cruz campaign site set up to attack Rubio, "The REAL Rubio Record," contained a doctored photo appearing to show a beaming Rubio and Obama shaking hands, with the Capitol Dome in the background. The site calls out Rubio's vote for authorizing President Obama to negotiate free trade deals such as the Trans-Pacific Partnership — dubbing it "The Rubio-Obama Trade Pact." (A notable example of right-wing fever against Obama is that even free trade can become a diabolical socialist plot, when it's Barack Obama who is pushing for it.)
"They photoshopped Marco's face onto somebody else," Rubio senior strategist Todd Harris told reporters. "This is how phony and deceitful the Cruz campaign has become."
At first the Cruz campaign denied that any forgery had taken place, reported Teddy Schleifer of CNN:
But then a funny thing happened: Conservative news site The Daily Caller found the original stock photo — a piece of clipart onto which Obama's and Rubio's smiling faces had been superimposed:
So what now, after the Cruz campaign has been caught not only forging photos, but having lied when they denied doing it? Well, they sound completely unrepentant.
"If Rubio has a better picture of him shaking hands with Barack Obama I'm happy to swap it out," Cruz spokesman Rick Tyler responded back to CNN. "Two days before [the] presidential primary in South Carolina, they want to talk about a picture we used."