On Daily Show, Obama Warns Trump Against 'Flying Blind' Without Briefings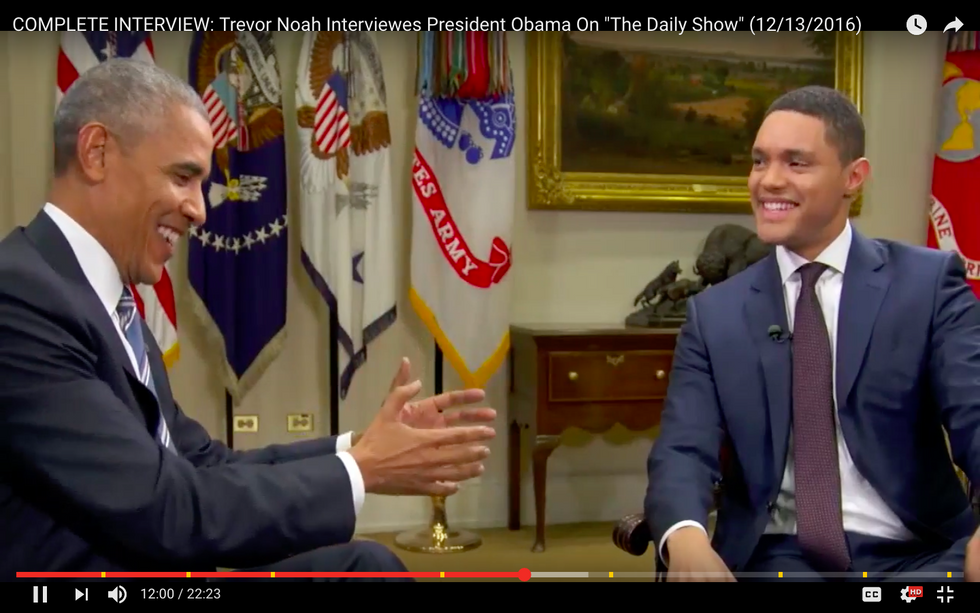 On Monday night, The Daily Show devoted its full broadcast to a wide-ranging, three-part interview of President Barack Obama, granted to host Trevor Noah in the White House. Not surprisingly, their discussion began with the Central Intelligence Agency's finding that Russia intervened in the U.S. presidential election on behalf of Obama's nemesis Donald Trump.
Aside from his concern over the Russian hacking, the president criticized mainstream American media outlets for their focus on the Clinton emails and Wikileaks dumps rather than the foreign intelligence manipulation behind them — a decision that looks ironic in retrospect.
"These emails got a lot more attention than any policy," Obama said of Clinton campaign manager John Podesta's emails, which he described as "routine." Meanwhile, the question of the Kremlin's role had come up much earlier, when Trump publicly invited Russian intelligence to hack Clinton's own emails during a June press conference.
"Going forward, I worry that we won't spend enough time on self-reflection on how our democracy's working," Obama said.
When Noah asked the president about his successor's assertion that he doesn't need daily intelligence briefings, Obama avoided direct criticism. "I think the president-elect may say one thing and do another once he's here," he said. But he warned Trump, "It doesn't matter how smart you are." In the absence of regular intelligence updates, "you are flying blind."
Prodded by Noah, the president considered what might become of the Affordable Care Act under Republican rule and how that might affect his public legacy. Obama urged Americans to continue to register for the coming year of coverage, highlighting the aspects of Obamacare that have become increasingly popular. Indeed, recent polls show that most Americans no longer want the program repealed entirely, but improved and extended. He acknowledged that universal health care remains a work in progress that he always assumed would need changes going forward.
Explaining why Trump and Congressional Republicans wouldn't be able to erase all the progress his administration has enacted since 2009, Obama said, "The federal government is an aircraft carrier. It's not a speedboat." On global warming, another sharp area of disagreement, he said wryly, "They may change policy, but climate change is still climate change. The ocean is still going up."
As for his own future, he said, "I think it is important for me to recharge. I think it's important for me to reflect. It's important for me to get back in my wife's good graces." He will give the incoming administration "some space," he added, but "I don't anticipate that I suddenly just vanish." Should the Trump administration pursue the president-elect's campaign threats against Muslims and immigrants — and violates the Constitution while making America "less safe" — then the country will hear from him.
The interview concluded with Noah — like Obama, a man of mixed racial heritage — talking about race and the assumptions and prejudices that a president or a comedian with that background must confront.
"If Chris Rock's doing standup then there's a benefit to him doing something that is different from the President of the United States doing something. For one thing, he doesn't have to edit his language," said Obama with a smile. "I try to comport myself in a way that my mother would approve of."
The entire interview is well worth viewing: