Damning New Evidence Against Cop Charged In George Floyd Murder
@wallein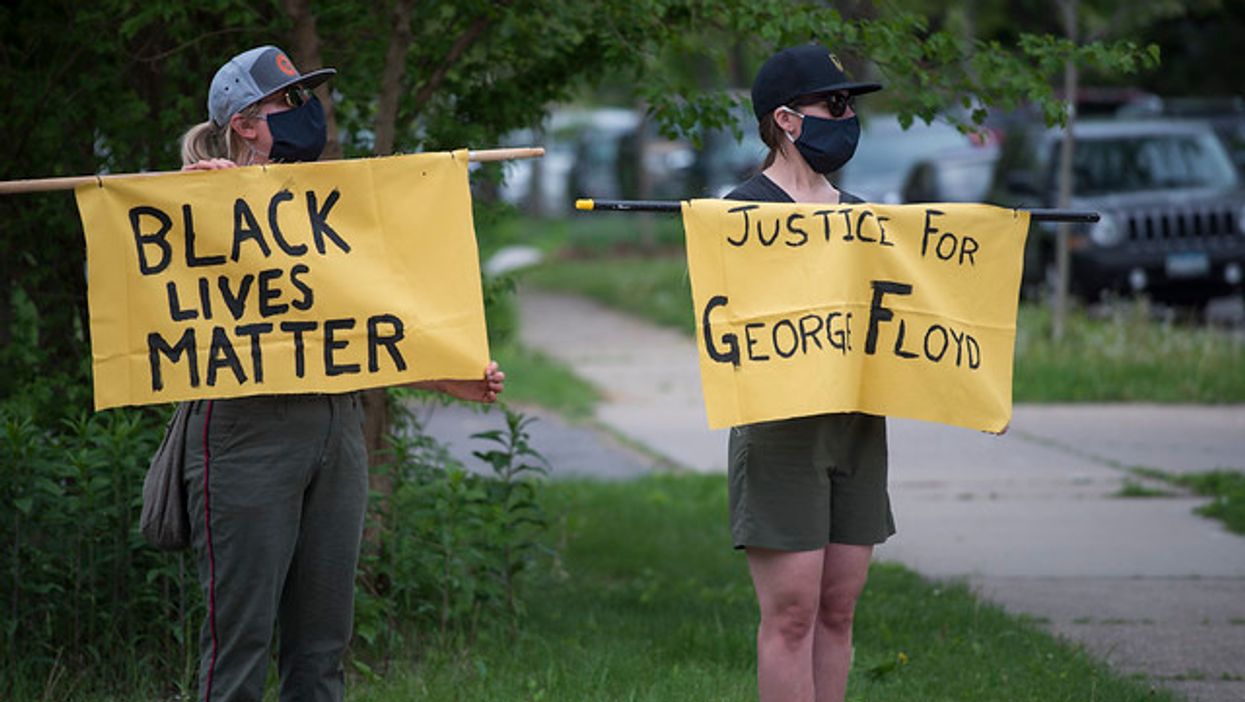 Reprinted with permission from Alternet
On Friday, after a week of escalating protests, Hennepin County attorney Michael Freeman announced that former police officer Derek Chauvin had been arrested and would be charged with manslaughter and 3rd degree murder in the death of 46-year-old George Floyd. Floyd died after being arrested for possibly passing a fake $10 or $20 bill to buy cigarettes. The arrest made headlines as onlookers videotaped the assault by police. Floyd pleaded on video that he could not breathe and was in serious distress.
---
Four police officers, including Chauvin, were fired the following day, and only after days of increasing tensions and protests between city officials and citizens did the country finally arrest one of the individuals. The court filing however, was just recently released, and despite reports that Floyd is not believed to have died due to "asphyxia or strangulation," former officer Chauvin spent almost two minutes with his knee—behind the full weight of his body—on the neck of a handcuffed, unarmed, and unresponsive Floyd. But there is an even more damning piece of information in the report.
From the arrest report:
8:25:31 the video appears to show Mr. Floyd ceasing to breathe or speak. Lane said"want to roll him on his side." Kueng checked Mr Floyd's right wrist for a pulse and said, "I couldn't find one." None of the officers moved from their positions.
At 8:27:24, the defendant removed his knee from Mr. Floyd's neck. An ambulance and emergency medical personnel arrived, the officers placed Mr. Floyd on a gurney, and the ambulance left the scene.

The Star Tribune reports that George Floyd "showed no signs of life" from the time that EMS arrived. This is based on a fire department report. Hennepin Healthcare EMS Chief Marty Scheerer told the Tribune that first responders and ER staff worked on trying to resuscitate Floyd for almost an hour before they officially called his death at 9:25pm. The fire department report begins when "Fire Engine 17 arrived without lights and sirens just after the ambulance pulled away."
According to the Tribune, dispatch told them to meet the ambulance two blocks away to assist EMS workers. When the firefighters got there, things were clearly dire. Firefighters went into the ambulance to find EMS working on giving Floyd CPR. The firefighters assisted in attaching IVs and medications prepared. They then radioed ahead.
"I've got a red medical, we'll be there in approximately six minutes," a medic relayed, according to emergency dispatch audio. "Thirties, male, was being detained by PD … was on a … was a cardiac arrest upon EMS arrival, apparently doing CPR, getting access, getting vitals, bagging, calling ACLS [advanced cardiovascular life support], we'll be there in six minutes, red medical, COVID symptoms are unknown."

When police approached George Floyd on the street around 8PM Monday evening, Floyd didn't yet realize it, but he had only 90 minutes before he would officially be declared dead. And from what we can tell of the evidence so far provided, Floyd had less than a half an hour before he would be killed beneath the weight of our white supremacist law enforcement.