Dave Brubeck: A Love Affair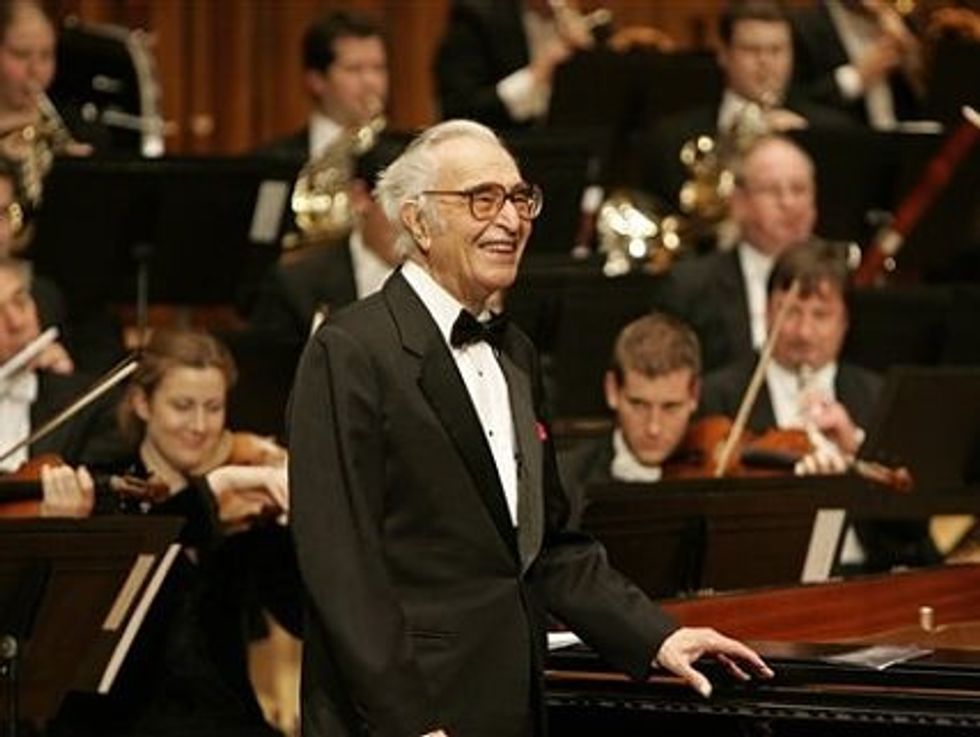 WASHINGTON — It was a conversation representative of the era: Somewhere around 1969 or 1970, my dear, conservative Uncle Ray asked his son and me why we liked music by Jimi Hendrix and the Doors but we never listened to Dave Brubeck.
Uncle Ray never budged an inch on politics, but he was not doctrinaire about music. Eventually, he came to like at least a few songs by the Doors. And it saddens me that I never got to tell him how much Brubeck's music would one day mean to me.
Brubeck, who died last week one day short of his 92nd birthday, wasn't my first love in jazz, yet I have come to see him as a genius whose music gets more interesting as it's heard again and again. I have a hunch that my own discovery of the power of jazz — my awakening came courtesy of Miles Davis in his "Kind of Blue" and "Seven Steps to Heaven" period — parallels the experience of so many who have come under its spell. It's the exceptional American music that we will keep coming back to.
"Kind of Blue" led inevitably to an engagement with Miles' brilliant collaborators: John Coltrane, Cannonball Adderley, Bill Evans, Herbie Hancock and Tony Williams. They are among the architects of our distinctly American contribution to music.
Yet that "distinctly American" idea points to something odd about the recent history of jazz that my uncle seemed to understand: For a long period into the mid-1970s, rock pushed American jazz far into the background. Jazz continued to win a wide following in Europe and Japan, but young Americans largely ignored it.
I didn't pay much attention to jazz until I was a grad student in Britain. My friend Paul Taylor (later an editor and columnist at Reuters) took me one cold, foggy night to a small pub on the North Sea in a village called Seahouses, near his hometown of Newcastle, to hear a jazz band led by one of his friends. I was entranced. Later, my high school friend Jack Risko introduced me to "Kind of Blue," and to Bill Evans' work. I was hooked.
At that time, American jazz musicians faced a kind of exile. The celebrated tenor saxophonist Dexter Gordon — he became well-known thanks to the 1986 film "Round Midnight" — left the U.S. in the early 1960s and spent some 15 years in Europe, where he said he found more love for jazz and less racism. He returned to the United States in 1976. His session at New York's Village Vanguard was dubbed his "Homecoming," and was released under that name as an album.
And it was around then that jazz itself came home as Americans began to embrace it again. Contrary to some who contend that jazz is dying, I would insist that the last three decades or so have been dynamic and fertile. If you doubt this, consider the work of (among many others) Cyrus Chestnut, Roy Hargrove and, of course, Wynton Marsalis and his family.
Through all this, there was Brubeck. The paradox is that the popularity he won with "Take Five," the tune everyone knows, and his 1959 "Time Out" album probably got in the way of the respect that he (along with Paul Desmond, his essential collaborator on the alto sax) deserved. Too often in the arts, the fact that someone is accessible is taken to mean that he isn't truly creative. This is a very wrong idea, and it's especially mistaken in the case of Brubeck, an extraordinary innovator in rhythm and meter. His music is now so familiar that we forget how daring he was as a composer.
He also defied the romantic image of the troubled and distant artist. It's almost as if his being a generous soul, a loyal family guy, and a quietly and thoughtfully religious man — "Forty Days," one of his best pieces, was inspired by Jesus' wanderings in the desert — were held against him. Yet over the years, earthly redemption came his way. It turned out you could be both good and great.
"Art may not have the power to change the course of history, but it can provide a perspective on historical events that needs to be heard, even if it's seldom heeded," Brubeck said in a 2009 interview with Commonweal. "After all the temporary influences that once directed the course of history have vanished, great art survives and continues to speak to each generation." Brubeck's music will keep speaking.
E.J. Dionne's email address is ejdionne@washpost.com.
(c) 2012, Washington Post Writers Group
Photo credit: AP/Alastair Grant, file