David Oyelowo Tackles King Role In 'Selma'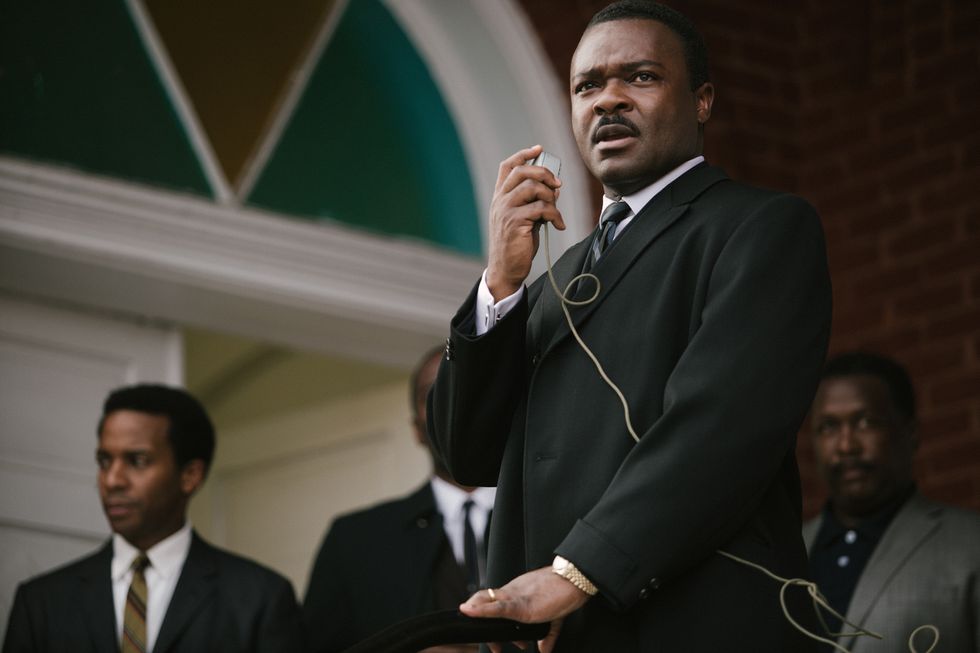 By Colin Covert, Star Tribune (Minneapolis) (TNS)
In the emotionally potent historical drama Selma, the Rev. Martin Luther King Jr. leads a dangerous crusade to secure equal voting rights for black Americans. Oscar watchers expect the film to have as much impact as last year's best picture winner, 12 Years a Slave.
David Oyelowo, a newcomer to leading roles, plays King as he faces endless challenges, from violent institutional opposition to painful domestic debates with his wife, Coretta.
Already nominated for a Golden Globe and seemingly certain of an Oscar nod as well, the British actor has waited a long time for this moment.
"This film has been in my life for seven years now," he said in his plummy English accent.
"It's very, very gratifying not only that it has finally been made, but it is coming out at a time where I think the film feels more relevant than I think it ever would have been."
Playing a Christian icon
Selma dramatizes a precarious three-month period in King's life. On March 7, 1965, a Sunday night, 600 people marching from the small city of Selma, Ala., to Montgomery, the state capital, were attacked in a cloud of tear gas by state troopers with billy clubs and mounted deputies in full riot gear.
Eight days after "Bloody Sunday," President Lyndon Johnson, who initially declined to move quickly on the issue, made a powerful speech to a joint session of Congress to launch a voting rights bill.
A devout Christian, Oyelowo (pronounced "oh-yellow-oh") was motivated by more than his admiration for King's commitment to social justice.
"In 2007, after I read the script, God told me I was going to play the part in this film. I wrote it down because it was a shocking notion to me. Who on Earth do I think I am to be playing Dr. King? But this deep spiritual knowing lodged in my spirit." The appeal of playing a Christian icon was "a hundred percent," he said.
"It's emotionally exhausting" to spend months in a film about violence and hatred, he said. "But I always remember that I'm an actor, a storyteller, and what I'm going through in terms of exhaustion is nothing compared to what these people endured day in, day out, for years.
"Jesus gave his life for the cause he was here to live out, and Dr. King did the same. He's an example of using sacrificial love to overcome hate. He didn't want adulation for himself. At no point did he want to be accused of using the movement for his own financial gain. In fact, he gave away all the money that was given to him for the Nobel Peace Prize. I deeply admire the fact that his faith led to freedom for so many people."
From Shakespeare to Spielberg
Oyelowo, 38, was born in the English university town of Oxford, the son of Nigerian immigrants. He began his career with immense classical success on the London stage, earning the title "the black Olivier" for his performances with the Royal Shakespeare Company in the bard's trilogy about King Henry VI.
Like his idols Daniel Day-Lewis and Sidney Poitier, he set out to combine theater and cinema. Moving to Los Angeles in 2007, he won small but significant roles in prestigious films including Steven Spielberg's Lincoln — he plays a soldier who asks Lincoln when blacks will get the vote — and The Butler.
He was a mere newcomer when he was approached to play King, the kind of role he would be unlikely to get at home.
"In the U.K. we have a minuscule industry, and it gets even smaller when you're a black actor," Oyelowo said in a recent phone conversation.
It took patience on his part. The original script, which featured President Johnson as the protagonist and King as a supporting character, evolved dramatically through input from producers including Brad Pitt and Oprah Winfrey.
As his value to the project grew, Oyelowo reached out to Ava DuVernay, who won the 2012 best director prize at Sundance for their small film Middle of Nowhere. Her Alabama family remembered vivid stories of the era and place that could never be found in a book, Oyelowo said. Through her direction and rewritten screenplay, Selma vividly humanizes King, showing a fair-minded balance of courage, personal missteps, and conflict with newer, younger black activists.
Showing King's weaknesses as well as his heroism was crucial to Oyelowo. "I don't know how to play an icon," he said. "But I do know how to play a human being. And he was that.
"We are all flawed. We are all filled with contradictions of strength and weakness. That's what defines us as human, and one of the pleasures of the role for me was demythologizing him. In doing so, you further admire him because you recognize these things in him that are in you, and yet he went on to do great things."
Acting is secondary
Oyelowo has completed five films coming in the next year, including the soon-to-be-released A Most Violent Year, a crime drama starring Oscar Isaac and Jessica Chastain that is covered in critical accolades. Yet Oyelowo said acting is not the center of his life.
"God is the center of my life. Being a Christian is central to who I am as a human being. Being a husband to a wonderful wife I've been married to for 16 years, and a father to four wonderful children — those are my rocks, those are my foundations.
"I'm very glad that acting isn't the center of my life, because it's very precarious. We're talking about a film that people are reacting very positively to right now, but inevitably I'm going to do work that won't succeed as well. If that's where your self-esteem and sense of self lie, when the inevitable moment comes along that people don't like what you're doing, you crumble.
"But God never changes, my wife loves me, as well as do my kids, and that's my life."
Photo: Atsushi Nishijima/Paramount Pictures