David Petraeus' Other Seduction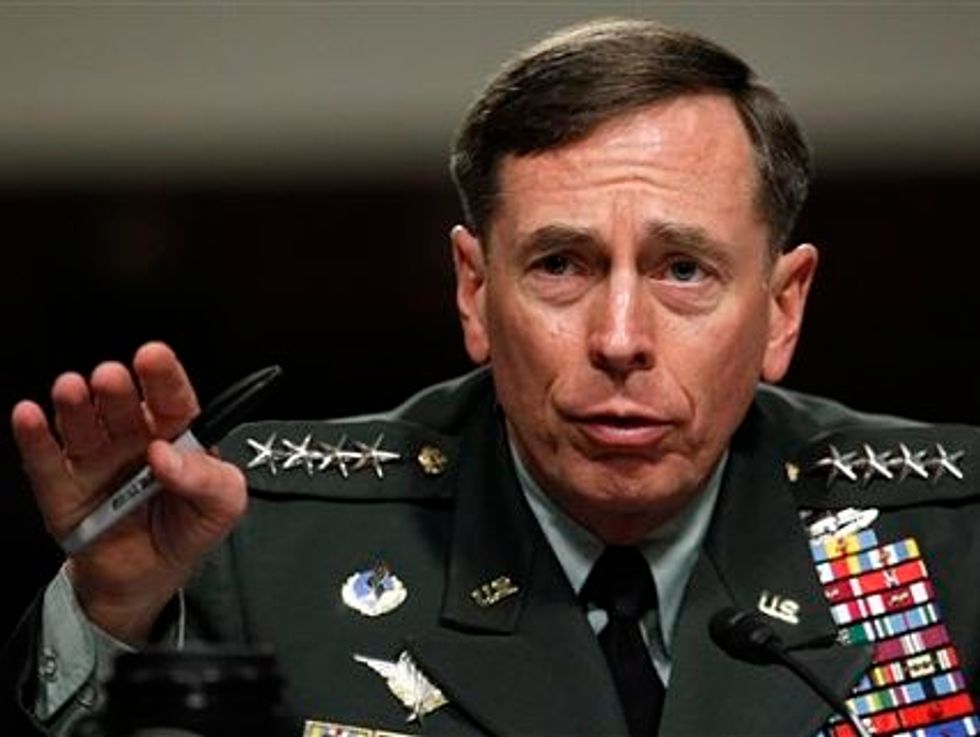 We Americans are easily titillated by the suggestion of sexual scandal, so it's no surprise that the news media have been obsessed with the escapades of David Petraeus and those in his inner circle. But the narrative is misleading and superficial. It focuses on the wrong seduction.
The more instructive storyline would be one that illuminates the ways in which Petraeus was able to seduce members of Congress (Democrats and Republicans), journalists and the citizenry at large. He persuaded politicians, opinion leaders and ordinary voters that he was a heroic, larger-than-life figure who could win wars that were, in reality, unwinnable. It was just what many Americans wanted to hear.
It was a mutually destructive notion. The covert affair the four-star general carried on with his biographer, Paula Broadwell, is a rather pedestrian tale full of "sound and fury, signifying nothing." By contrast, the romance between Petraeus and his admiring public is a story of fatal consequence. If we are willing to reflect on that story, there are lessons to be learned.
Ah, how I remember, with no fondness whatsoever, those halcyon days when the general presented himself as the man who would salvage a foolish misadventure in Iraq. In 2007, when violence was the only thing surging in and around Baghdad, Petraeus came forward with his rewritten counter-insurgency manual, offering George W. Bush a way to save face. Bush promptly put Petraeus in charge of his war.
I'll give the general this much: The Pentagon had not thought much about counter-insurgency strategy since Vietnam, and the typical battlefield tactics in which U.S. troops are trained were merely killing Iraqi civilians and creating new enemies. The general sought, rightly, to focus troops on protecting civilians instead.
But the pacification of Iraq — such as it was — was largely accomplished through the so-called Sunni awakening, in which Sunni tribesmen stopped fighting us and trained their weapons on insurgents. That started in 2005, two years before the surge, as Sunnis grew to distrust al Qaeda and its affiliates. And it was helped mightily by the Pentagon's tactical decision to put many of those Sunnis on its payroll.
Might the United States have accomplished much the same thing without putting tens of thousands more troops in harm's way? I'd argue that it's quite likely. But Petraeus' hagiographers have written a history that enshrined the general as the savior of Iraq, an interpretation that he was more than willing to aid and abet.
By the time President Obama was elected, Petraeus was the Republicans' favorite military man, a widely recognized war hero and a person often mentioned as presidential material. According to people who know him well, he liked to fuel the rumor machine that kept his name among the mentioned. He was head of U.S. Central Command, one of the military's top jobs.
Given the fact that Bush had encouraged politicization of the military, it came as no surprise when top brass — notably Stanley McChrystal, whom Obama later fired — began pressuring Obama to send thousands more troops to Afghanistan. But it was sheer coincidence that Obama ended up appointing Petraeus to take McChrystal's place as top commander in Afghanistan after McChrystal's insubordination became impossible to ignore.
Obama sent more troops to that troubled land, but he insisted on a timeline for withdrawal. And when Petraeus wanted another promotion — he hoped to be head of the Joint Chiefs of Staff, according to published reports — Obama gave him the CIA instead. As the junior U.S. senator from Illinois, the president had been one of the few on the public stage to dare to question Petraeus early on, when he was promoting Bush's decision to send more troops to Iraq. It seems Obama was among a small group who weren't completely taken in by the general's charms.
Americans wanted an easy solution for a war that never should have been waged — the invasion of Iraq. So when Petraeus came along claiming that he could slay the dragon, the country saluted its new hero. We were all ill-served by that, including a certain retired four-star general.
(Cynthia Tucker, winner of the 2007 Pulitzer Prize for commentary, is a visiting professor at the University of Georgia. She can be reached at cynthia@cynthiatucker.com.)
Photo credit: AP/Pablo Martinez Monsivais