De Blasio On New York Police Turning Their Backs: 'Disrespectful To The Families'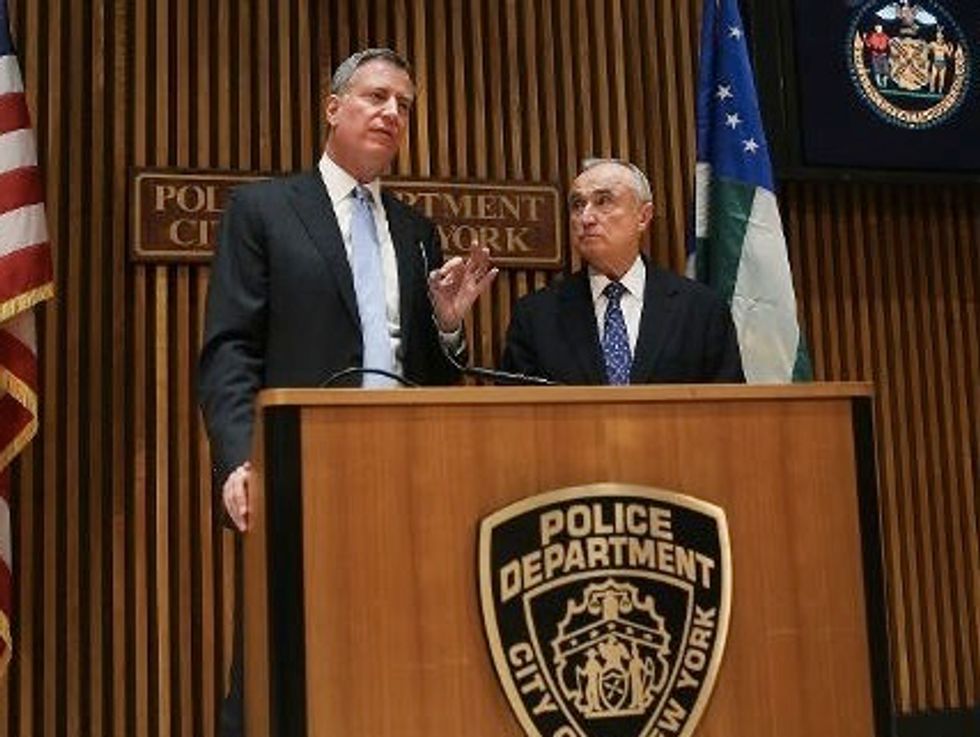 By Tina Susman, Los Angeles Times (TNS)
NEW YORK — In his first public comments on the staging of silent protests by police officers angry at him, New York Mayor Bill de Blasio said Monday that officers showed no respect for the families of two slain colleagues when they took their demonstrations to the men's funerals.
At a news conference held to trumpet the latest low crime figures, de Blasio and Police Commissioner William J. Bratton both had harsh words for the hundreds of officers who turned their backs when de Blasio delivered a eulogy Sunday at the funeral for NYPD detective Wenjian Liu.
Officers did the same thing Dec. 27 during the funeral for Liu's partner, Rafael Ramos. Both men were killed Dec. 20 by a gunman who had posted anti-police rants online.
"They were disrespectful to the families who lost their loved ones," said de Blasio, who has been accused by police union leaders of creating a hostile environment for police that contributed to the officers' slayings. "I can't understand why anyone would do such a thing in a context like that."
Bratton, who had urged officers to refrain from staging protests at Liu's funeral, said he was disappointed that his appeal had been ignored by many police.
"What was the need in the middle of that ceremony to engage in that political action?" Bratton said. "I just don't understand it."
The president of the Patrolmen's Benevolent Associaton, Patrick Lynch, defended the officers' actions during Liu's funeral, which drew thousands of police from across the country.
"We have a right to have our opinion heard like everyone else that protests out in the city," Lynch told reporters after the service. "We did it respectfully out here in the street, not inside the church, not during the service."
Ed Mullins, president of the Sergeants Benevolent Association, said Monday on Fox's Good Day New York that he understood Bratton's position but that the commissioner's memo appealing for a halt to police protests at the funerals had "almost infuriated the rank and file." Many officers felt that Bratton was doing the mayor's "bidding," Mullins said.
There has long been tension between the police unions and the mayor's office over issues that include contracts and retirement plans, but differences came to a head last July after protests erupted over the death of an unarmed man, Eric Garner, during a scuffle with police on Staten Island.
As the protests continued through the summer and fall, police accused de Blasio of indulging demonstrators and not supporting the Police Department, which de Blasio vowed to reform when he took office last January.
After Liu and Ramos were killed, Lynch blamed de Blasio in part for the ambush, saying the mayor had ushered in a climate of hostility toward officers.
Lynch said a meeting last month with de Blasio to try to alleviate tensions did not resolve the problems. De Blasio, though, said Monday that he thought the meeting was "productive" because it included a "straightforward dialogue" about the issue of officer safety.
"I don't think we went into the room expecting instant resolution," he said.
Neither side has said what comes next.
AFP Photo/Spencer Platt