Deadly Violence Returns To Ukrainian Capital After Amnesty Fails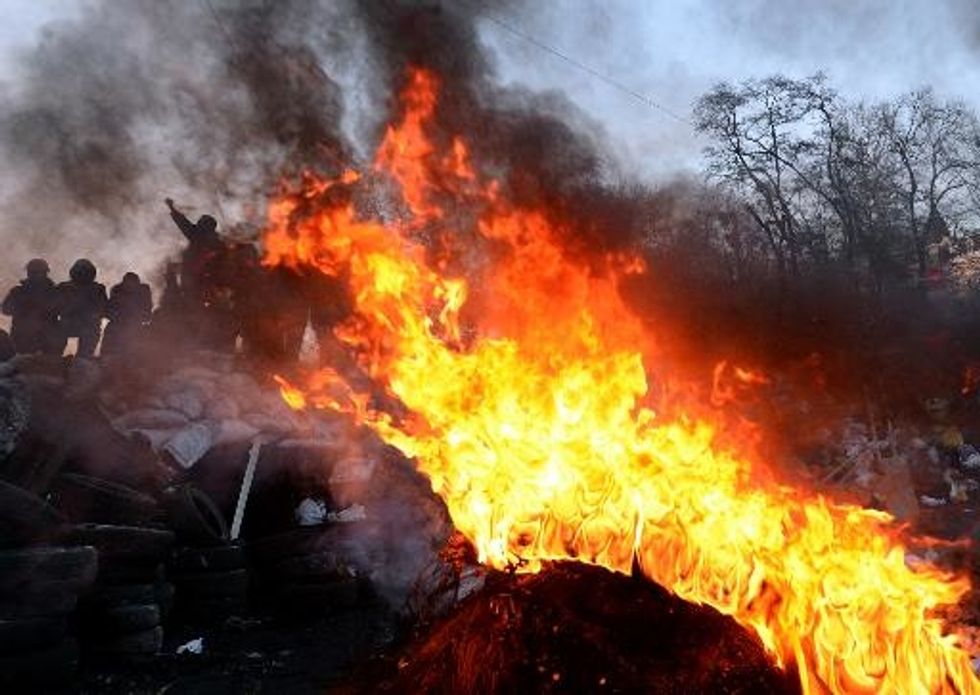 By Carol J. Williams, Los Angeles Times
MOSCOW — An amnesty agreement that brought relative calm to the capital of Ukraine in recent days collapsed Tuesday in a surge of new confrontations between police and anti-government protesters that reportedly killed three and returned the city to a state of siege.
Opposition political leaders angered by Ukrainian President Viktor Yanukovich's decision in late November to scrap an association agreement with the European Union had vacated Kiev City Hall and taken down barricades on major streets over the weekend in exchange for the release of detained protesters and government promises to drop all criminal cases against them.
But what began as a peaceful march by protesters to press parliament to take up legislation to reduce Yanukovich's powers turned violent when deputies of the ruling Party of Regions postponed debate on the changes demanded by the opposition. Police tried to block the thousands of protesters from reaching the Supreme Rada building, sparking clashes that cast a pall of smoke over the city center that has been the scene of conflict for three months.
Marchers plucked cobblestones from the streets to hurl at police and security forces in riot gear, and police threw tear gas and stun grenades in an attempt to turn back the angry protesters, the BBC reported from the scene.
A statement posted on the Interior Ministry's website warned demonstrators that clashes had to be stopped by 6 p.m. or security forces would "restore order by all means envisaged by law." However, the standoff continued hours after the announced deadline.
Opposition lawmakers reported at least three protesters killed and more than 150 injured, according to Kiev's Channel 5 news.
The short-lived easing of tensions apparently fell victim to renewed signals from both sides that their fight over the future of Ukraine will continue in spite of the amnesty.
Russian Finance Minister Anton Siluanov had announced a day earlier, when a delegation of opposition politicians was meeting in Berlin with German Chancellor Angela Merkel, that Moscow would buy another $2 billion in Ukrainian bonds on Tuesday. The de facto aid is part of $15 billion in loans and energy subsidies offered by the Kremlin in what protesters see as an attempt to buy Yanukovich's loyalty and allegiance to the Eurasian Union, a Moscow-directed economic alliance.
Under the bailout offered by Russian President Vladimir Putin, Moscow has already bought up $3 billion in Ukrainian debt but put the rescue plan on hold last month after the resignation of Ukrainian Prime Minister Mykola Azarov. The government chief stepped down in the face of demands by the protesters, who took his departure as an indication that Yanukovich would concede to opposition demands for representation in an interim government of technocrats.
The holdup in Russian bond-buying has been denounced by the opposition as pressure from Moscow for Yanukovich to defy the protesters' demands for his own resignation and early presidential elections.
Russian television has cast the months-long conflict as a collusion between Western officials bent on diminishing Russia's influence and unpatriotic Ukrainians willing to sell out their country to the 28-nation EU.
Tuesday's coverage of the Ukrainian clashes by Rossiya-24 television included an interview by telephone with political analyst Mikhail Pogrebinsky, director of the Kiev Center for Political Research and Conflict Studies, who described the protesters as being driven by "radicals" and "fascists."
Footage from the heart of the protest at Kiev's Independence Square showed smoldering piles of tires and trash in the grimy tent camp that has filled the historic area near the parliament building and thwarted traffic for more than two months.
An undeclared battle for influence in Ukraine between Moscow and Washington also took on new force Tuesday when a senior Russian Foreign Ministry official accused Washington of "puppeteering" on Ukraine's political stage.
The United States is trying to impose a "Western vector of development" on Ukraine, ministry spokesman Aleksandr Lukashevich told Russia Today television. He criticized an intercepted conversation between two top U.S. diplomats last week in which they discussed their preferences for which opposition leaders should take key government positions in an interim Cabinet.
Lukashevich called the clandestinely taped conversation between Victoria Nuland, the U.S. diplomat in charge of European affairs, and U.S. Ambassador to Ukraine Geoffrey R. Pyatt as "casting" for roles in the next government.
He also recalled in comments to RIA Novosti a recent statement by U.S. State Department spokeswoman Marie Harf hailing the Friday release of 234 detained protesters and calling on the Yanukovich leadership to swiftly agree to "a multiparty technical government, with genuine power-sharing and responsibility, which can earn the confidence of the Ukrainian people and restore political and economic stability to Ukraine."
Pyatt, in a message sent via Twitter on Tuesday, expressed dismay at the deadly turn of events after hopes that the amnesty signaled an easing of the crisis.
"After weekend progress in Kyiv, sorry to see renewed violence," Pyatt tweeted, urging that the political clash be resolved in parliament, not on the streets.
AFP Photo/Vasily Maximov