From His Death Bed, A GOP Senator Apologizes For Donald Trump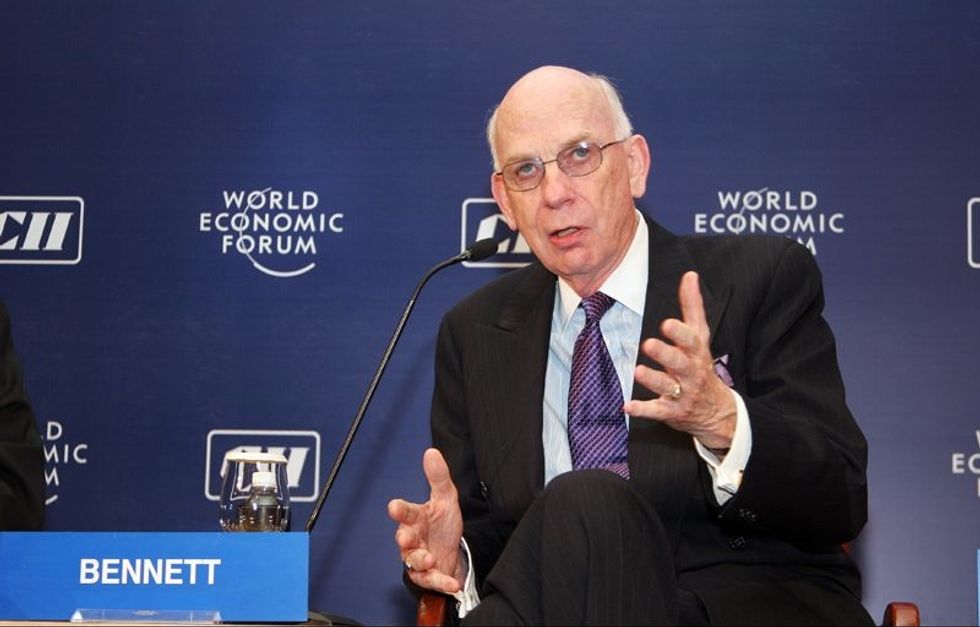 Published with permission from Alternet.
According to his wife and son, in his final days, former Republican Sen. Robert Bennett—who died on May 4, 2016—"was preoccupied with getting things done that he had felt was left undone," chief among them: apologizing for Donald Trump.
Jim Bennett, who relayed the story to the Daily Beast, said his father "was astonished and aghast that Donald Trump had the staying power that he had."
"He had absolutely no respect for Donald Trump, and I think got angry and frustrated when it became clear that the party wasn't going to steer clear of Trumpism," the younger Bennett said.
Bob Bennett, a popular conservative who served in the Senate for 18 years, was hospitalized in April after suffering a stroke while battling pancreatic cancer. According to his son, while hospitalized, the former Utah senator told his son and wife, "I want to go to every Muslim and say thank you for being in our country, and I want to apologize on behalf of the Republican Party for Donald Trump."
"In the last days of his life this was an issue that was pressing in his mind… disgust for Donald Trump's xenophobia," Jim Bennett said.
Trump's proposal to ban all Muslims from the U.S. appalled the former senator. Bennett, a devout Mormon, was deeply aware of the impact of religious intolerance, as was his beloved LDS church, which issued a statement denouncing Trump's proposal and affirming it was "not neutral in relation to religious freedom."
"That was something my father felt very keenly—recognizing the parallel between the Mormon experience and the Muslim experience. [He] wanted to see these people treated with kindness, and not ostracized," Jim Bennett told the Daily Beast.
But Bennett's apology tour for Trump wasn't limited to his death bed; his son remembered an incident during Christmas when he saw a Muslim family traveling in a airport.
"He would go to people with the hijab [on] and tell them he was glad they were in America, and they were welcome here," his wife said.
Bennett lost his Senate seat during the 2010 midterm elections to Mike Lee, a lawyer who was affiliated with the Tea Party movement. That movement signaled a shift in the Republican Party which, as the Daily Beast notes, "arguably led to the tsunami of support for Donald Trump."
In the days after his stroke, Bennett said he was "terribly disappointed" in the direction and tone of the Republican Party and hoped his Republican colleagues would "obey the law."
Reflecting on his community, the Republican party, and the importance of religious freedom, Bob Bennett told the Desert News, "there's a lot of Muslims here in this area."
"I'm glad they're here," he added.
Elizabeth Preza is an AlterNet staff writer focusing on politics, media and cultural criticism. Follow her on Twitter @lizacisms.
Photo: Wikimedia Commons.