Trump Wants His Campaign To Promote Return Of Firing Squads, Beheadings
@next2godwin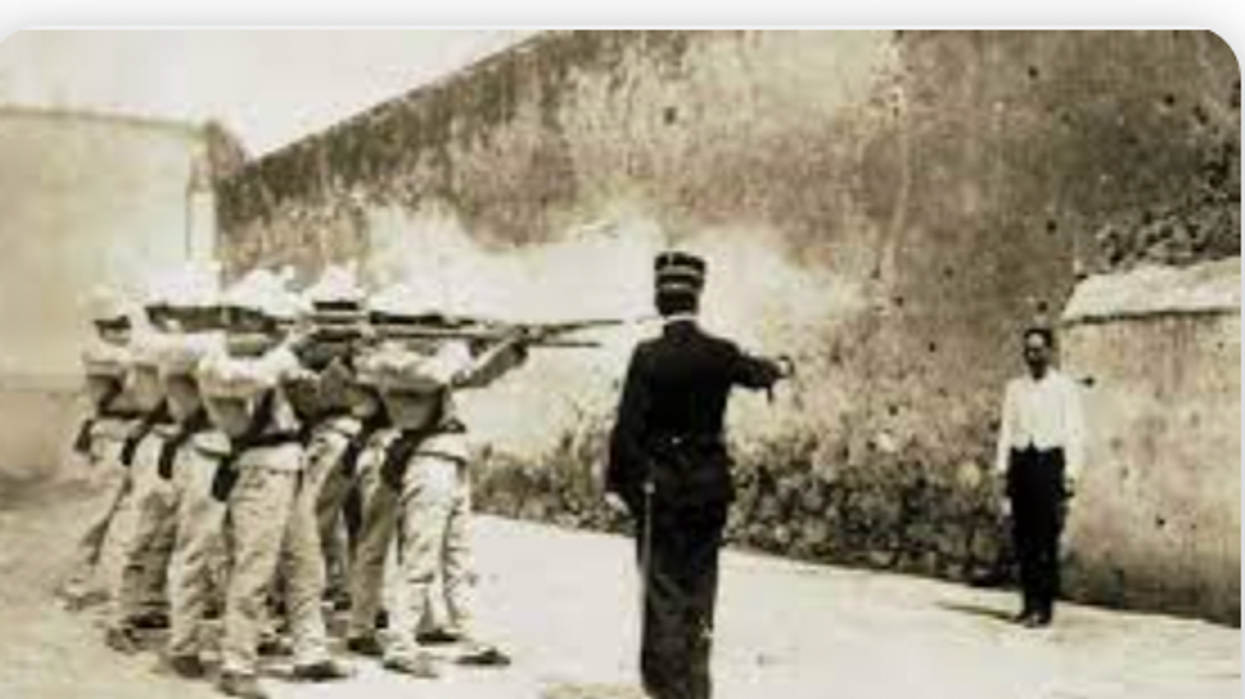 Former President Donald Trump has turned to the politics of capital punishment — specifically, bringing back death by firing squad, guillotine, and other banned methods of execution — to supercharge his moribund 2024 campaign, according to Rolling Stone.
In a new, damning report Tuesday, Rolling Stone revealed that inner deliberations within Trumpworld have touched on making a campaign promise of, and bringing into sharp focus, expanding the use of the death penalty in America.
Several sources within Trump's inner circle told the magazine that Trump has suggested focusing campaign speeches and policies on re-introducing extreme forms of execution, including death by beheadings, hanging, and even firing squad, due to their "dramatic" nature.
"He had a particular affinity for the firing squad because it seemed more dramatic, rather than how we do it, putting a syringe in people and putting them to sleep," a former White House official told Rolling Stone.
Unlike President Joe Biden, who in October decriminalized cannabis possession, Trump has internally floated imposing capital punishment for drug offenses and discussed with his confidants the prospect of executing drug dealers en masse, supposedly because "they need to be eradicated, not jailed."
"In conversations I'd been in the room for, President Trump would explicitly say that he'd love a country that was totally an 'eye for an eye' — that's a direct quote — criminal-justice system, and he'd talk about how the 'right' way to do it is to line up criminals and drug dealers before a firing squad," the ex-official told the publication.
"He was big on the idea of executing large numbers of drug dealers and drug lords because he'd say, 'These people don't care about anything,' and that they run their drug empire and their deals from prison anyways, and then they get back out on the street, get all their money again, and keep committing crimes … and therefore, they need to be eradicated, not jailed," the official added.
Another source directly privy to the matter told Rolling Stone that, last year, Trump considered making campaign-ad videos showing condemned prisoners in their final moments and broadcasting footage of new executions.
"The [former] president believes this would help put the fear of God into violent criminals," this source says. "He wanted to do some of these [things] when he was in office, but for whatever reasons didn't have the chance," the source informed the magazine on the condition of anonymity.
A spokesperson for Trump ranted about "fake news" and "idiots" when the magazine approached for comments on the execution video campaign ads disclosed by unnamed internal sources.
"More ridiculous and fake news from idiots who have no idea what they're talking about. Either these people are fabricating lies out of thin air, or Rolling Stone is allowing themselves to be duped by these morons," the spokesperson wrote in an email.
However, at a rally in Texas in October, Trump drew cheers from a crowd of supporters when he suggested that drug dealers be quickly tried and — "if they're guilty" — executed, after which their families will be sent the used bullet and made to pay for it.
\u201cTrump has been floating this firing squad for drug dealers thing for a few weeks; here he is in Texas last month. Fully Duterte-pilled.\nhttps://t.co/HUuELXKkSL\u201d

— David Weigel (@David Weigel) 1667922289
The Trump administration oversaw the execution of 13 federal prisoners by lethal injection in the last six months of its rule, per Rolling Stone, even though public support for the death penalty at the time was the lowest it'd been in half a century, according to an annual Gallop poll.

In 2021, attorney general Merrick Garland's office announced it was instituting a federal moratorium on capital punishment, halting federal executions while officials review changes to policies and protocol made during the Trump era.