Deaths Mount As Israeli Jets Respond To Gaza Rockets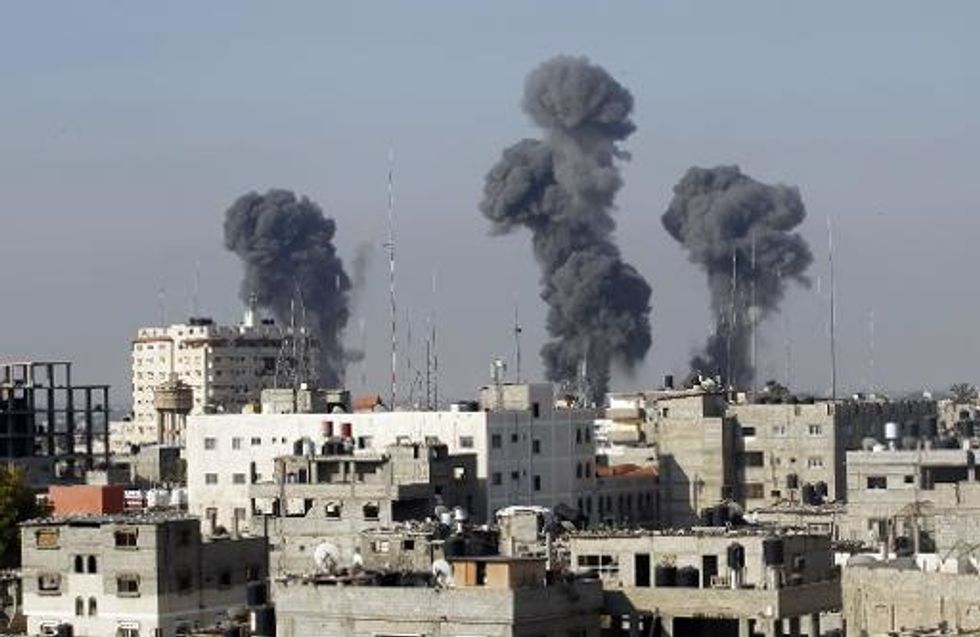 By Batsheva Sobelman, Los Angeles Times
JERUSALEM — Fighter jets and rockets continued to fly Friday between Israel and Gaza on the fourth day of the recent crisis that has killed 100 Palestinians and pinned down civilian populations on both sides of the border.
The death toll rose overnight as Israel's military struck at least 50 targets in Gaza early Friday, killing 11 people in at least three airstrikes, Gaza medical sources said.
Among the dead were four members of the Ghannam family, including a 7-year-old girl, who were killed in an airstrike that destroyed their house in Rafah, not far from the Egyptian border, as well as a fifth man who died in the same strike.
Israel's army appeared to admit that one-third of the victims were uninvolved civilians, saying two-thirds of the casualties were operatives belonging to Hamas or other organizations.
Spokesmen for the Israeli army said Friday that it has targeted 1,100 sites in Gaza since the operation began early Tuesday.
Over the same time, nearly 600 rockets were launched from Gaza, at least 400 of them landing in Israel. Dozens more were intercepted by Iron Dome air-defense batteries deployed throughout the country, keeping Israeli casualties minimal so far.
During a tight volley of at least five rockets fired at Ashdod on Friday, one hit a tanker near a gas station, causing a massive explosion sending flames and thick black smoke into the sky. One man was seriously injured.
Around 50 rockets were fired from Gaza on Friday morning.
An unknown party joined the scrum Friday as one rocket was fired into Israel from Lebanon, causing no injuries as it slammed into an open space by a Galilee town. Israel's military returned artillery fire to the suspected source in Lebanon and turned to UNIFIL on the matter.
"We expected some activity from Lebanon," army spokesman Peter Lerner said. "Now we have to see if it's symbolic or something more substantial."
Awaiting a decision from Israel's political echelon, the army further prepared for a possible ground operation, consolidating troops in the area and calling up 33,000 reservists.
For the first time since the crisis began, U.S. President Barack Obama and Israeli Prime Minister Benjamin Netanyahu talked on the phone. A White House statement said Obama expressed concern about further escalation and said the United States was prepared to facilitate a cease-fire.
While the U.S. regards Hamas as a terror organization and has no direct dealing with the organization, it is prepared to work with other countries that could be in a position to mediate a cease-fire such as Qatar or Turkey, U.S. Ambassador Dan Shapiro said in a media interview Friday.
Shapiro said civilians on both sides were "suffering because of the decisions and actions of Hamas and other terror organizations" and described the main objectives as halting rocket fire from Gaza and restoring the calm achieved in November 2012 after a round of similar fighting.
Also speaking for the first time since the crisis erupted was senior Hamas official in Gaza Ismail Haniyeh, former prime minister of the Hamas government and deputy chief of the organization's political bureau.
"I say to the occupation, stop your war crimes against our people," Haniyeh said in a statement issued from an unknown location and carried by the Palestinian news agency Maan.
Accusing Israel of reneging on the terms of 2012, Haniyeh said it was "the occupation" that started the aggression and therefore Israel is the one that must stop it.
He and other political leaders have largely stayed out of sight since the crisis erupted, after Israeli comments that no Hamas members were immune, hinting at possible assassinations.
Hamas leaders are not afraid of Israel's threats and its aggression will achieve nothing, Haniyeh said.
Special correspondent Rushdi Abu Alouf in Gaza city contributed to this report.
AFP Photo/ Said Khatib
Interested in world news? Sign up for our daily email newsletter!