Debate Gaffe: Did Donald Trump Admit Paying No Federal Income Taxes?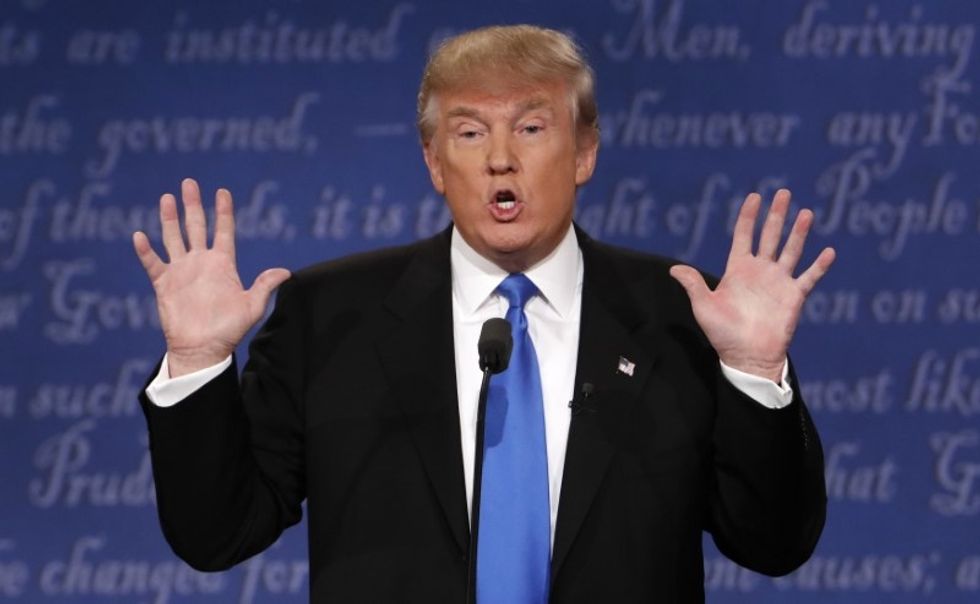 Having predicted that the first presidential debate was Hillary Clinton's to lose, the media consensus in its immediate aftermath appeared to be that she had won. Some credited the Democratic nominee for luring Trump into taking the bait on his birther obsession and his cruelty to women; some blamed moderator Lester Holt for pressing him more than Clinton; and some disparaged Trump's arrogant failure to prepare for this crucial moment.
Among the most telling consequences of that poor preparation was what sounded like a very damaging admission that the self-proclaimed billionaire doesn't pay federal income taxes.
Responding to a question from Holt about his continuing refusal to release his tax returns — as presidential candidates have done for more than 40 years — he again claimed that he was "under a routine audit" that precluded disclosure. (He didn't produce a letter of notification from the IRS about the alleged audit, which either Clinton or Holt might have demanded.) He said once more that he would produce his tax returns when the IRS completes the alleged audit.
For 40 years, everyone running for president has released their tax returns," Clinton retorted. "You can go and see nearly, I think, 39, 40 years of our tax returns, but everyone has done it. We know the IRS has made clear there is no prohibition on releasing it when you're under audit. So you've got to ask yourself, why won't he release his tax returns?"
Is it because he isn't as wealthy as he claims to be? she wondered. Is it because he isn't really so charitable? Is it because he doesn't want Americans to know how much money he owes to foreign banks (in Russia or China or both)?
Or is it because he doesn't pay any income taxes at all? Clinton suggested that might well be true "because the only years [of Trump taxes] that anybody's ever seen were a couple of years when he had to turn them over to state authorities when he was trying to get a casino license, and they showed he didn't pay any federal income tax."
Trump blurted: "That makes me smart."
As the debate moved on, the casino developer complained that the Treasury has accumulated too much debt while the government has neglected American infrastructure. "We're a debtor nation," he cried.
"And maybe because you haven't paid any federal income tax for a lot of years."
Trump replied: "It would be squandered, too, believe me."
Snappy as his retorts were, what Trump said suggested strongly that he has indeed paid no taxes. After the debate, while trying to spin the result, he insisted that "of course" he has paid taxes.
It is time for journalists to insist that he prove it.
IMAGE: Donald Trump speaks during the first debate.  REUTERS/Lucas Jackson