Debunked: 5 GOP Obamacare Talking Points That Have Bitten The Dust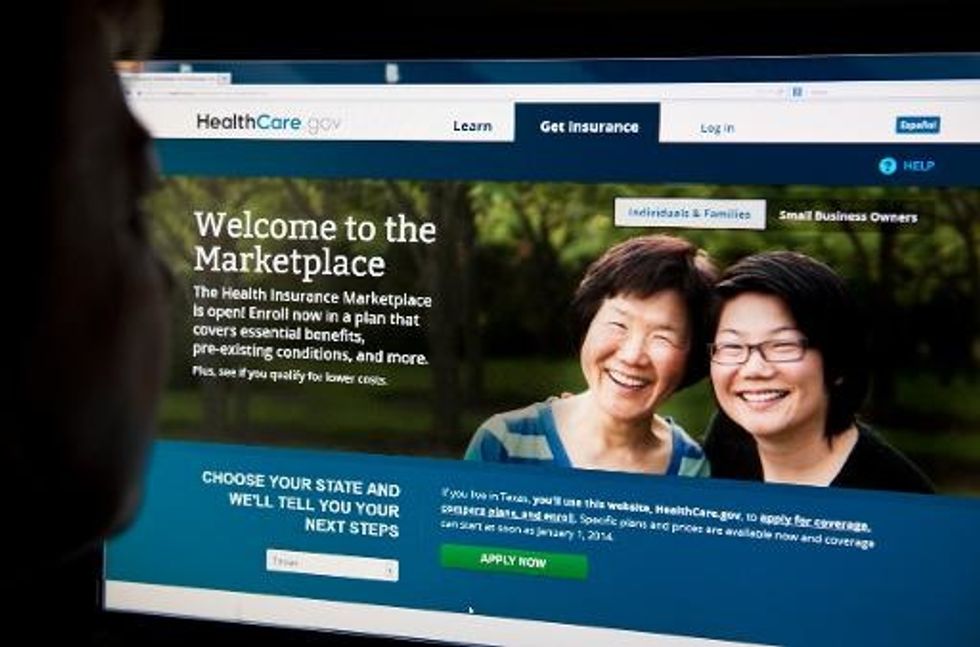 The New York Times reported Wednesday that a large majority of people who signed up for Obamacare have paid their premiums on time. While these numbers vary based on the state and the type of plan, The Times says around 80 percent of those who signed up are paying, which is required for insurance coverage to start.
And, just like that, another Republican talking point about the Affordable Care Act has been debunked.
This idea that Obamacare beneficiaries would not pay their premiums, effectively dooming the young law, is in good company. A number of Republican talking points about Obamacare have bitten the dust recently. From the completely outlandish — death panels, government-funded abortions, etc. — to the notion that the Obama administration would never hit its enrollment target, they've ranged in viability, but have all nonetheless evaporated.
Here's a look back at five anti-Obamacare talking points that have inevitably been disproved.
AFP Photo/Saul Loeb

No One Will Sign Up 
The line was repeated ad nauseam by Republican detractors of the president. But — not surprisingly — saying it over and over didn't make it come true.
There was the time House Speaker John Boehner (R-OH) said: "Above all, this report is a symbol of the failure of the president's health care law… It is a rolling calamity that must be scrapped," after the initial low enrollment numbers were released. Or when Senator Ted Cruz (R-TX) tweeted: "106,185 people enrolled in Obamacare. 108,713 attended the 2010 NBA All-Star Game in Cowboys Stadium. #FullRepeal."
At the end of March, the White House released enrollment numbers that exceeded its initial goal of seven million. By the end of the first open enrollment period, signups were skyrocketing, eventually closing at above eight million.
Still, this hasn't stopped some conservative pundits from questioning the success of the law. Charles Krauthammer, for example, now subscribes to the conspiracy theory that the numbers were fabricated by the administration.
"These guys go six months without any idea what the numbers are, and all of a sudden it's to a decimal point," Krauthammer actually said on television.
AFP Photo/Andrew Burton
A Lack Of Young People Will Cause A 'Death Spiral' 
This one had all the ingredients of a good GOP talking point: plausibility, an appeal to business thinkers, and a snappy catchphrase like "death spiral." But these elements didn't make it a reality.
Obamacare's death spiral would occur, conservatives posited, because the number of old and sick people who signed up for coverage would not be offset by young, healthy people also signing up through the exchanges, causing premiums to rise and the entire program to spiral down the drain. But, thanks to the way the law was written, the so-called death spiral was never likely. And now it's clear that health premiums are on pace to increase at the same rate as they were prior to the law being passed.
Furthermore, the final enrollment numbers show that 28 percent of those who enrolled via the federal exchange were between the ages of 18 and 34. While this number of "young invincibles" fell short of the administration's initial target, it should be more than sufficient to prevent the law from collapsing.
Millions Will Lose Their Health Insurance
This talking point, which perhaps reached its pinnacle when Newsmaxreported that 100 million people could lose insurance under Obamacare, was largely disproved by a paper prepared for Rep. Henry Waxman (D-CA), the ranking Democrat on the House Committee on Energy and Commerce.
The paper concluded that a grand total of 10,000 individuals, in just one state, would lose coverage and not have a viable option to replace their health care plan.
"The assertion that the law will cause five million individuals who currently have coverage in the individual market to go without coverage in 2014 is baseless," the report read. "Of the reported 4.7 million people who receive cancellation notices, 2.35 million should have the option to renew their 2013 coverage. An additional 1.4 million should be eligible for tax credits through the marketplaces or Medicaid, which will provide them more comprehensive coverage at lower rates. Of the remaining individuals, only 10,000 individuals in 18 counties in a single state would be unable to access a catastrophic plan, and many of these individuals may sign up for coverage through their state exchange."
Furthermore, under the new law, the uninsured rate in the United States has dropped, according to a recent Gallup poll. According to the poll, the April 2014 uninsured rate is down 1.6 percent from March and currently sits at 13.4 percent. That is also the lowest number Gallup has ever found since they began tracking the rate in 2008.
 Photo: Charlie Kaijo via Flickr

Death Panels 
This one, advanced by former Alaska governor Sarah Palin, was certainly a whopper. So much so, in fact, that it was granted the title of "Lie of the Year" by PolitFact in 2009.
The death panel idea originated from a provision in the initial Affordable Care Act that would allow Medicare to pay for doctors and patients to discuss living wills and end-of-life treatment. To Palin, this was tantamount to the government holding a death panel to decide whether or not senior citizens are allowed to live.
Palin's campaign, while ridiculous, did have important political ramifications: In 2011, the Obama administration deleted all references to "end-of-life" care from the provision in the bill.
Premium Prices Will Soar 
The final talking point is somewhat connected to the previously discussed "death spiral," but deserves its own recognition. This one, offered again and again by Republican pundits like Sean Hannity, holds that insurance premiums for businesses and individuals will rise at an exponential rate because of the health care overhaul. Double-digit increases in health care premiums were expected by the right. It was going to be a disaster, they assured.
Well, disaster averted.
According to the USA Today, insurance rates are slated to rise by about 7 percent next year — similar to the rise expected without the Affordable Care Act.
"The double-rate increases we've been hearing are probably exaggerated," Dave Axene, a fellow with the Society of Actuaries, toldUSA Today. "That's not what we're seeing from the actuarial organizations — I guess we're being a little bit more optimistic."  
Image via The Kaiser Family Foundation
Want more Obamacare facts? Sign up for our daily email newsletter!