Decisive Punishment For Donald Sterling Draws Praise From NBA Community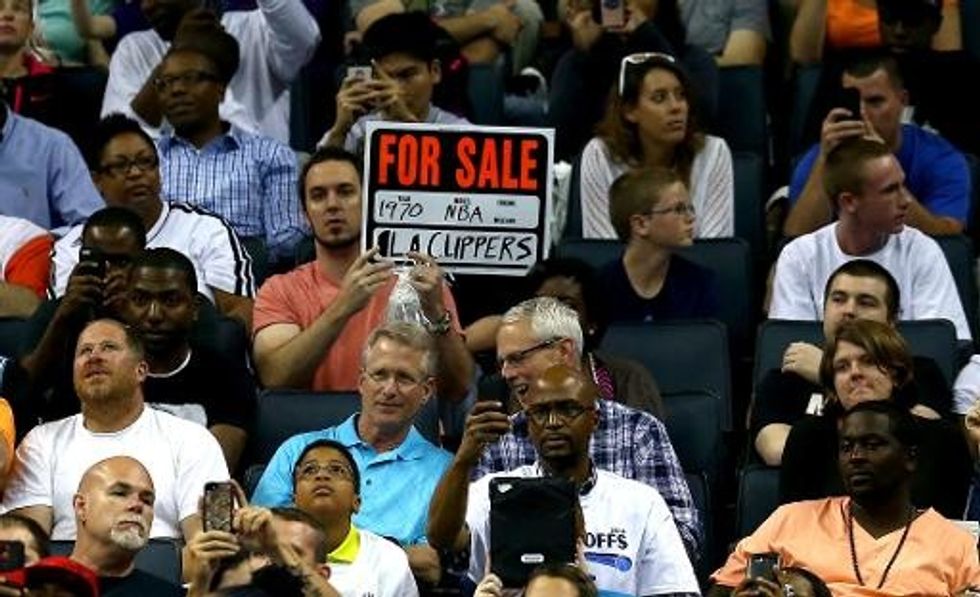 By Steve Popper, The Record (Hackensack, NJ)
NEW YORK — Just days after an audio recording surfaced with Los Angeles Clippers owner Donald Sterling speaking in racially charged language, the NBA moved swiftly and forcefully in handing down its punishment: a lifetime ban, a $2.5 million fine and an urging for the Board of Governors to force a sale of the team.
The NBA and commissioner Adam Silver, less than three months on the job, could not say if Sterling will accept challenge the ruling, but Silver said he believes he has the authority and support among ownership to force out the longest-tenured owner in the league.
In front of a huge throng of media at the New York Hilton, Silver announced a decision that landed directly at what many around the league hoped for — from his fellow owners who spoke out that it was time for Sterling to leave the exclusive club that he has been a member of for 33 years, to prominent players such as LeBron James.
The announcement of the punishment was met with near-universal approval.
"The central findings of the investigation are that the man whose voice is heard on the recording and on a second recording from the same conversation that was released on Sunday is Mr. Sterling and that the hateful opinions voiced by that man are those of Mr. Sterling," Silver said. "The views expressed by Mr. Sterling are deeply offensive and harmful; that they came from an NBA owner only heightens the damage and my personal outrage.
"Sentiments of this kind are contrary to the principles of inclusion and respect that form the foundation of our diverse, multicultural and multiethnic league. I am personally distraught that the views expressed by Mr. Sterling came from within an institution that has historically taken such a leadership role in matters of race relations and caused current and former players, coaches, fans and partners of the NBA to question their very association with the league."
Sterling, who has a long history of controversial actions — racial discrimination charges settled out of court twice in the last decade and accusations of racism by former longtime general manager Elgin Baylor — was hammered by the league when the words this time were on tape and played on a viral loop around the world.
The speedy investigation conducted by the league focused primarily on whether it was the 80-year-old Sterling's voice on the tapes, which were recorded by his former girlfriend, V. Stiviano, 31. While the conversation was a private one, Silver said, "Whether or not these remarks were initially shared in private, they are now public, and they represent his views."
Silver was asked if the prior claims of racial discrimination weighed in the decision, and he said that they did not — but that the entirety of Sterling's actions will be considered in a vote of owners to force a sale.
Silver needs a three-quarters vote of ownership to force Sterling to give up his ownership, according to league by-laws, and the commissioner said he believes he has the support needed.
"I agree 100 percent with Commissioner Silvers findings and the actions taken against Donald Sterling," Dallas Mavericks owner Mark Cuban tweeted after the announcement was made. Houston Rockets owner Leslie Alexander openly called for Silver to push Sterling out of the league in an interview with the Houston Chronicle on Monday.
"I have been in touch with the NBA and fully support Commissioner Silver's decision," Knicks owner James Dolan said. "I applaud Adam for acting quickly and decisively in appropriately addressing these disgusting and offensive comments. This kind of behavior has no place in basketball or anywhere else, and we as a league must stand together in condemning this ignorance."

Charlotte Bobcats chairman Michael Jordan echoed that sentiment in a statement, adding, "I applaud NBA Commissioner Adam Silver's swift and decisive response today. He sent a powerful message that there can be zero tolerance for racism and hatred in the NBA. I'm confident that the league, our players and our fans will move on from this stronger and more unified."
But even if Silver can gather the necessary votes, something he likely knew before meting out the decision, he could face a legal challenge from Sterling. Silver said he has not heard yet from the team owner as to whether he would agree to the terms or battle them.
"I did not speak directly to his representatives about this ban," Silver said. "They were informed shortly before this press conference. I did not hear precisely what their reaction was."
The swift reaction from the league — ahead the Clippers' Game 5 of their first-round playoff series — started to soften the furor that arose in the wake of the tape's appearance. Almost all of the Clippers' sponsors dropped out Monday — either canceling or suspending their support of the franchise — and voices rose from those of players to that of President Obama.
"I would say those marketing partners of the Clippers and partners of the entire NBA should judge us by our response to this incident," Silver said. "And I think we've responded appropriately, and I would be hopeful that they would return into their business relationships with the Clippers."
Most important, Silver was able to ease the minds of players, from the Clippers, who were being urged in some corners not to play the game, to those around the league who were joining silent protests in shows of unity.
"Today the players believe the commissioner has done his duty," Kevin Johnson, the former NBA guard who now the mayor of is Sacramento, California, and is assisting the NBA Players Association, said speaking on the steps of Los Angeles City Hall as he was surrounded by current and former players. "On this day, Adam Silver is not only the owners' commissioner, he is the players' commissioner."
AFP Photo/Streeter Lecka