Defending Trump In Abuse Scandal, Mulvaney Lies Repeatedly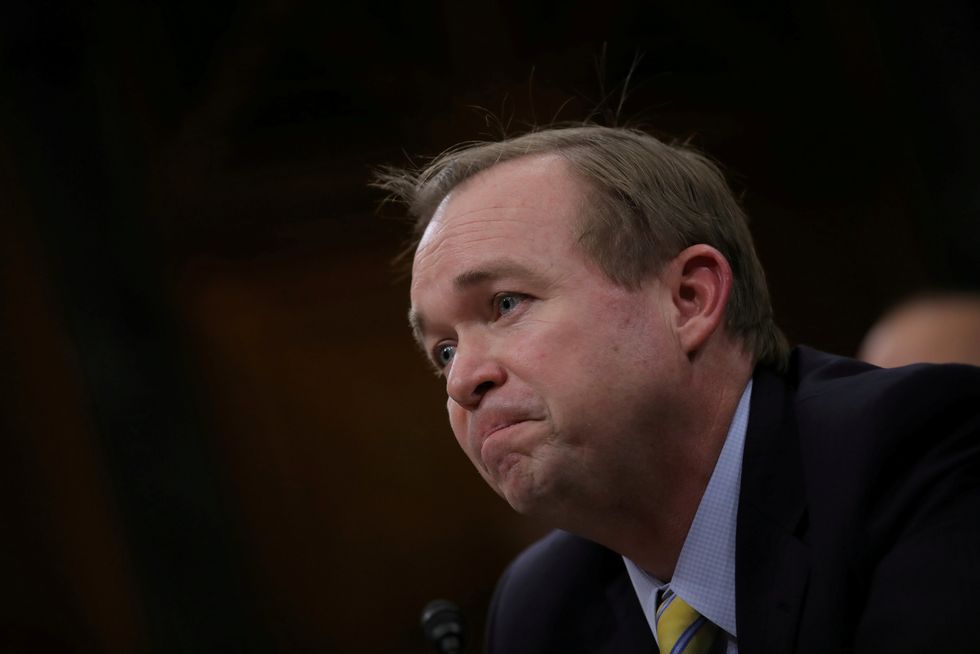 Reprinted with permission from Shareblue.com
Trump's vile defense of accused domestic abuser Rob Porter has forced his advisers to spin, deflect, and finally, to flat-out lie about his resignation in disgrace.
The White House sent senior advisers out to each of the five Sunday news shows this weekend in a desperate attempt to mitigate the damage from Trump's embrace of Porter, and his own history of abuse. White House counselor Kellyanne Conway tried attacking Sen. Kirsten Gillibrand (D-NY), while senior adviser Marc Short went after NBC News.
But budget director Mick Mulvaney had an old trick up his sleeve.
Earlier Sunday morning, Mulvaney tried to pretend that Trump wasn't defending Porter at all when he tweeted about "due process." And by the time he got around to his "Face the Nation" interview, he just went straight for the bald-faced lies.
CBS News White House correspondent Major Garrett pointedly asked Mulvaney, "Why shouldn't women reasonably wonder if this White House doesn't have a lax attitude when it comes to the question of domestic abuse?"
Mulvaney responded by calling the White House's handling of the Porter scandal "completely reasonable and normal."
"Reasonable and normal," a dubious Garrett repeated.
Mulvaney tried to explain that Trump was simply giving Porter the benefit of the doubt "up until the time that it became obvious, when the photographs came out, that the person was not being honest with the president."
"And that person, after that happened," Mulvaney continued, "we dismissed that person immediately."
"You don't want to throw people out on the street based just upon the allegation," Mulvaney said. "But as soon as it became apparent to us that the allegations were true, Rob Porter had to go."
Mulvaney told a number of whoppers in those few seconds, most egregiously that the White House "dismissed" Porter "immediately" after the photographs were published.
In fact, White House press secretary Sarah Huckabee Sanders acknowledged the photos at a briefing on Wednesday, where she also told reporters that Porter had resigned without pressure from the White House, and would be staying on for an unspecified "transition" period.
It's also a self-evident lie that the Trump administration did anything about Porter "immediately," since chief of staff John Kelly and White House counsel Don McGahn knew about the allegations for months and did nothing.
But perhaps most damaging for Mulvaney was his final lie, that "it became apparent to us that the allegations were true."
That "us" apparently doesn't include Trump, who proclaimed Porter's innocence to reporters, lamented a lack of "due process" for Porter, and smeared his accusers as liars. And when asked directly, none of his surrogates were permitted to say that he believes the allegations are true.
That disconnect will continue to make defending Trump's revolting response to this scandal impossible, and ensure that many more lies will be told in the process. Lies are all they have left.