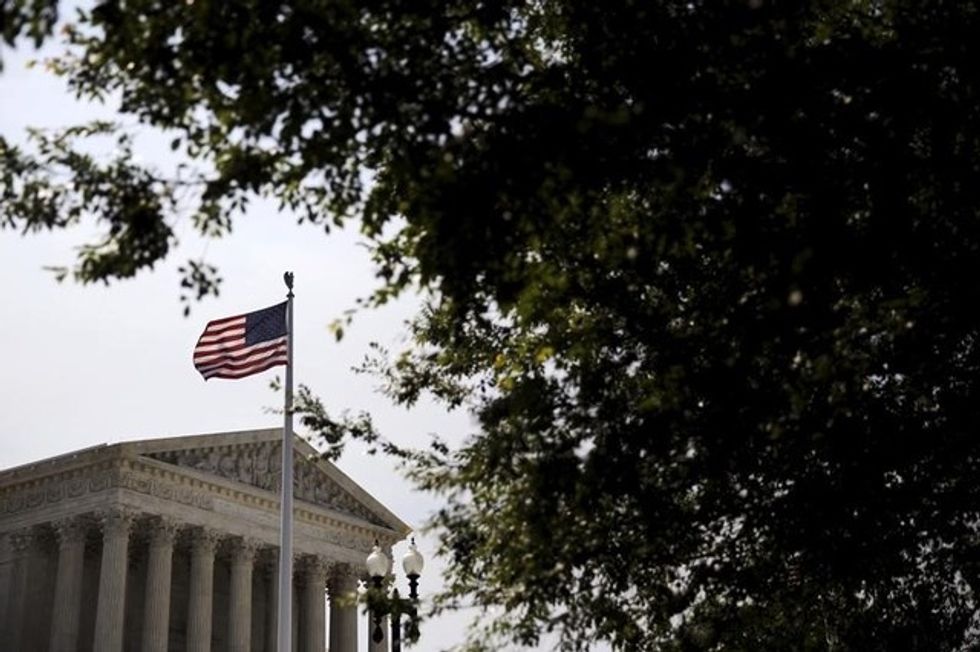 Reprinted with permission from WashingtonSpectator.
In an urgent phone call, Ralph Nader described a Republican tort law package that is being "rammed through the House" without proper hearings and almost no attention from the press. Any hearings on the bills have been pro forma, at best. But there has been some notable reporting, in the The Washington Post and Bloomberg News.
Often, "tort reform," the protracted and persistent campaign to limit lawsuits against the powerful (obstructing individuals' rights to sue corporate defendants, for example, or making it harder for victims of medical malpractice to sue physicians, hospitals, and nursing homes) is an arcane topic often avoided by the media.
The Trump administration's attempt to destroy the EPA, gut the Clean Power Plan, define all 11 million undocumented residents of the country as deportable, and pass a massive tax cut for the wealthy while eliminating health insurance for 24 million Americans, are big, compelling and competing news stories.
'The proponents of the legislation take big risks if the public finds out what they are doing.'
So it's a challenge to get readers or viewers to invest five or 10 minutes in a story about Iowa Congressman Steve King's "Protecting Access to Care Act." King is not interested in ensuring that people in need of medical attention can see a doctor.
His bill caps medical malpractice damages at $250,000, even for catastrophic errors committed by physicians. An anesthesiologist miscalculates during routine surgery and leaves a child with severe brain damage and the family gets $250,000. An orthopedic surgeon botches an amputation (the story of a Florida surgeon amputating the wrong leg has been widely reported), and the victim receives no more than $250,000.
The deceptively captioned "Lawsuit Abuse Reduction Act" filed by Texas Congressman Lamar Smith reinstates a provision put in place in 1983 and abandoned in 1993, after federal judges and plaintiffs' attorneys complained that it had a chilling effect on individuals filing lawsuits in federal courts. Fear of being sanctioned for filing a frivolous suit, it turns out, often discouraged lawyers from filing legitimate claims. According to a survey of 3,000 federal litigators, one in five lawyers reported abandoning valid claims because they feared sanctions.
"There are so many frivolous lawsuits, ruining people's reputations, robbing people of their livelihoods," Smith told The Washington Post.
While Smith is appealing to the American sense of justice, he's also lying. When the Federal Judicial Center in 2005 surveyed federal judges, 85 percent of them opposed reinstating the 1983 law and described groundless litigation as a small problem, a very small problem, or no problem at all.
The Innocent Party Protection Act sponsored by Colorado Congressman Ken Buck does nothing to protect innocent parties. It does, however, allow defendants to move cases filed in state courts to federal courts, where corporations have an advantage because proceedings are more expensive, there are longer wait times for trials, and discovery is more limited.
There are four or five additional bills in this package of legislation advanced by the U.S. Chamber of Commerce Institute for Legal Reform and the National Federation of Independent Businesses, part of their long-game to rewrite the rules of civil jurisprudence so corporate clients cannot be held liable for their wrongdoing.
The House has passed similar bills in the past, but they died in the Senate where there was less interest in passing bills that would be vetoed by President Obama. Donald Trump was a frequent defendant in federal court, and will sign any tort reform bill that reaches his desk.
When the bills move to the Senate, the corporate lobby will need 60 votes and will target Democratic senators who face election in states Trump carried in 2018: Tammy Baldwin (Wisc.), Sherrod Brown (Ohio), Bob Casey (Penn.), Joe Donnelly (Ind.), Heidi Heitkamp (N.D.), Dean Heller (Nev.), Joe Manchin (W.V.), Claire McCaskill (Mo.), and Bill Nelson (Fla.).
Opponents of the legislation are organizing grassroots campaigns focused on the same 10 senators. "The American public supports the civil justice system and the Seventh Amendment right to a jury trial by wide margins," consumer-protection attorney Pamela Gilbert told Bloomberg News. "The proponents of the legislation take big risks if the public finds out what they are doing."