Defying Obama, House Passes Tougher Syrian Refugee Screening
@reuters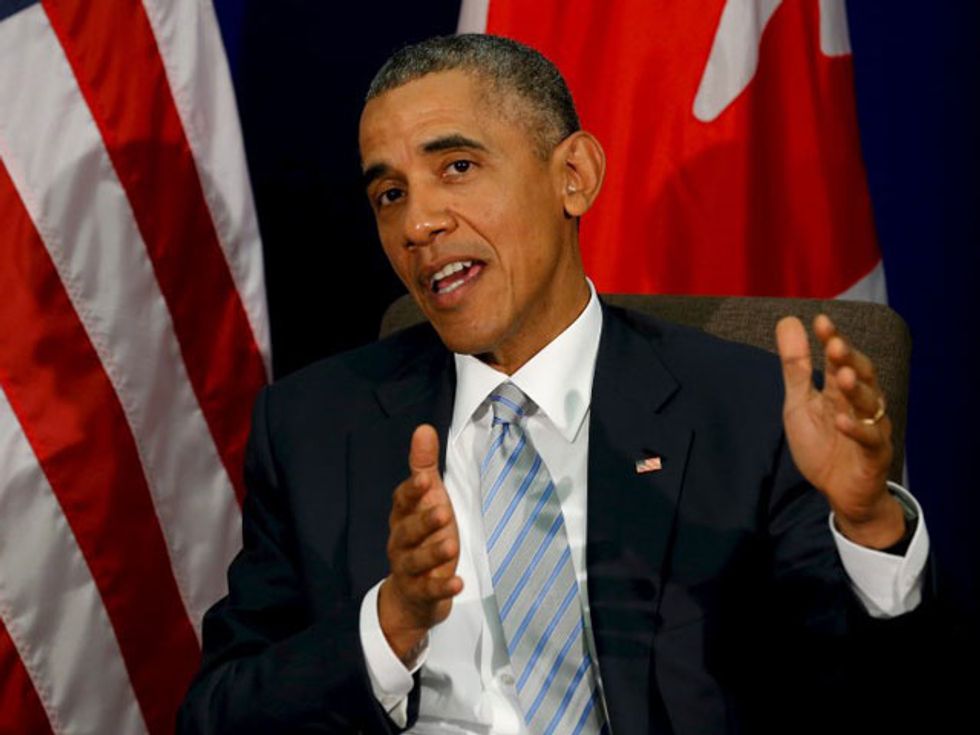 By Megan Cassella and Doina Chiacu
WASHINGTON (Reuters) — The U.S. House of Representatives, defying a veto threat by President Barack Obama, overwhelmingly passed Republican-backed legislation on Thursday to intensify security screenings of Syrian refugees and suspend Obama's program to admit 10,000 of them in the next year.
The measure, introduced this week following the Islamic State attacks in Paris last Friday that killed 129 people, was approved on a vote of 289 to 137, with 47 of Obama's 188 fellow Democrats breaking with the White House to support the bill.
The vote followed a testy exchange between lawmakers and State Department official Anne Richard as Republicans responded with incredulity to her assertion that there is only a "very, very small" threat of any of them being a "terrorist."
Some Republicans have asserted that some refugees could be militants bent on carrying out attacks against the United States, noting reports that at least one Paris attacker may have slipped into Europe among migrants registered in Greece.
The vote would give the bill the two-thirds majority the House would need to override a veto. The measure now goes to the U.S. Senate, which also is controlled by the Republicans although their Senate majority is slimmer. Both houses would have to muster a two-thirds majority to override a veto.
While many Americans see the United States historically as welcoming to immigrants, the issue of accepting refugees from Syria has raised concerns the newcomers may pose a national security threat in a country where about 3,000 people were killed by al Qaeda militants in the Sept. 11, 2001, attacks.
The White House had said the House bill would introduce "unnecessary and impractical requirements" that would hamper U.S. efforts to help some of the most vulnerable people in the world while providing no meaningful additional security for the American people.
Under the proposal no refugees from Syria or Iraq could enter the United States until several top-level U.S. security officials verified they did not pose a threat.
Michael McCaul, Republican chairman of the House Homeland Security Committee, said the bill passed by the House would create "the most robust national security screening process in American history for any refugee population."
The bill "strikes an important balance between security and our humanitarian responsibilities. It sets up roadblocks to keep terrorists from entering the United States while also allowing legitimate refugees who are not a threat to be resettled appropriately," McCaul said.
Democratic Representative Steny Hoyer called it "a message bill" to let lawmakers go home "and say how tough they are."
A DIFFERENT APPROACH
Democrats touted a different approach, promising to push legislation in the Senate to tighten a visa waiver program that intelligence experts say can be exploited by Islamic State militants or others planning attacks against the United States.
Democratic Senator Dianne Feinstein told a news conference their legislation would be introduced after next week's recess for the Thanksgiving holiday. Republican Senator Jeff Flake is working with Democrats on the measure.
The White House announced in September a plan to admit 10,000 Syrian refugees within a year. Richard, the assistant secretary of state for population, refugees and migration, said Syrian refugees are not treated differently than other refugees.
"Syrians are less of a threat, actually, because they've fled their country. They've voted with their feet," Richard said.
"Let me stop you there real quick," Republican Representative Lamar Smith of Texas said.
"Terrorist organizations have already said they're going to use the refugee program to try to infiltrate the United States and you say you're less worried about Syrian refugees than other refugees?" Smith asked.
"Don't you think Syrian refugees might someday become terrorists?" Smith asked.
"I think the odds of a refugee being a terrorist is very, very small," Richard said.
Trey Gowdy, the Republican chairman of a subcommittee on immigration and border security, said no matter how secure the vetting process is, letting in any of these refugees still presents a risk to the United States.
"The potential consequences of us getting it wrong are maybe cataclysmic," Gowdy said. "We have to be right every time."
Honduras said on Wednesday it had detained five Syrians seeking to reach the United States for traveling on doctored Greek passports, but authorities in the Central American country said the men did not belong to "any terrorist cell" and four were college students.
The U.S. Department of Homeland Security said members of two Syrian families — two men, two women and four children — turned themselves in to U.S. authorities in Laredo, Texas, on the Mexican border. There was no evidence the Syrians had any connection to terrorism, U.S. officials said.
(Additional reporting by Richard Cowan, Mark Hosenball and Patricia Zengerle in WASHINGTON and Gustavo Palencia in TEGUCIGALPA; Writing by Will Dunham; Editing by Howard Goller)
U.S. President Barack Obama in Manila, Philippines, November 19, 2015. REUTERS/Jonathan Ernst