Democrat Wins Key Virginia Governor's Race
@AFP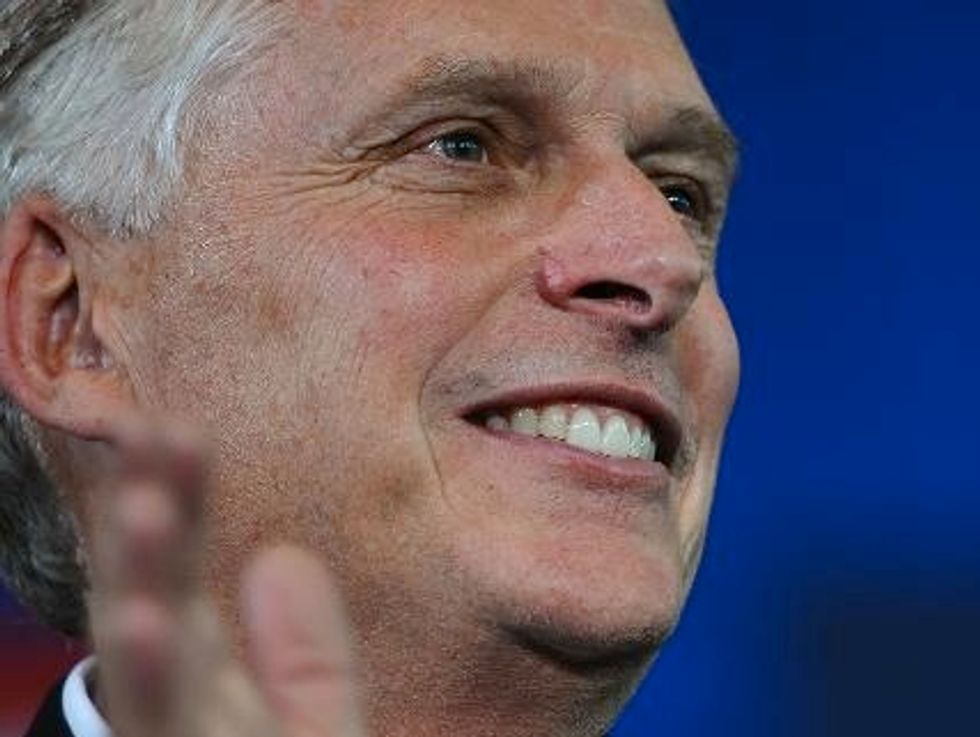 Fairfax (United States) (AFP) – Democrat Terry McAuliffe eked out a narrow victory late Tuesday in the Virginia governor's race, U.S. networks projected, in a contest which could have major implications for the 2016 presidential election.
McAuliffe's win marks a bitter defeat for Republican Ken Cuccinelli, the state's attorney general whose campaign was backed by the Tea Party, the conservative movement in the nation's political spotlight for its small-government, anti-tax positions.
The win could also serve as a talisman for President Barack Obama's Democrats, who see an opportunity in Virginia's changing demographics and frustration with the Tea Party to make the traditionally Republican state one of the key battlegrounds of 2016.
"What a great night, everybody," McAuliffe told supporters in the state's northern, high-tech suburbs, which he counted on heavily in his win.
Virginia is perhaps the most closely watched U.S. election of the year. The state's changing demographics, rural-suburban split and significant military and government employee populations make it a litmus test for the political mood of a country steaming toward the 2016 White House race.
McAuliffe has never held elected office, but he is a consummate party insider and close ally of former president Bill Clinton — and, perhaps more importantly, of Hillary Clinton, who is seen as a likely Democratic 2016 candidate.
Both campaigned with him, as did Obama.
Cuccinelli is a fiscal conservative, but his far-right stance on social issues such as abortion alienated even mainstream Republicans in his party.
"I think we've seen across the country that people reject extreme messages, and if Republicans hope to have a shot of winning in any general election, they've got to stop with the Tea Party message because it just doesn't resonate," federal contractor Kellen, a Virginia Republican who said he voted for write-in candidates because he was disgusted with his party's ticket, told AFP.
Kellen, who declined to give his last name because he works with federal agencies, and other Republicans looked to New Jersey's Chris Christie, whose less strident position on social issues sits better with Republicans who believe the election should be more about jobs and the economy than abortion or gay rights.
Christie romped to re-election victory Tuesday in New Jersey, making him perhaps the nation's dominant Republican in the runup to the next presidential race.
A Christie win combined with a Cuccinelli loss will go far to solidify the argument that Republicans would be better served with ditching deeply ideological candidates and sticking with pragmatists like Christie for 2016.
And yet one thing the result clearly was not was an outright rejection of Tea Party values.
Cuccinelli lost by only two percentage points, a far closer race than anticipated in part because he painted Democrats as supporters of the health care law whose troubled rollout over the last month may yet prove to be a political liability for Obama's party in coming years.
The narrow margin of defeat may end up emboldening Tea Party conservatives to stand their ground in the mid-term elections of 2014 and beyond.
"Conservative Republicans will certainly take heart that Ken Cuccinelli did better than expected," University of Virginia politics professor Larry Sabato told CNN.
AFP Photo/Mandel Ngan