Democratic Congressman Charged In Political Corruption Case
@reuters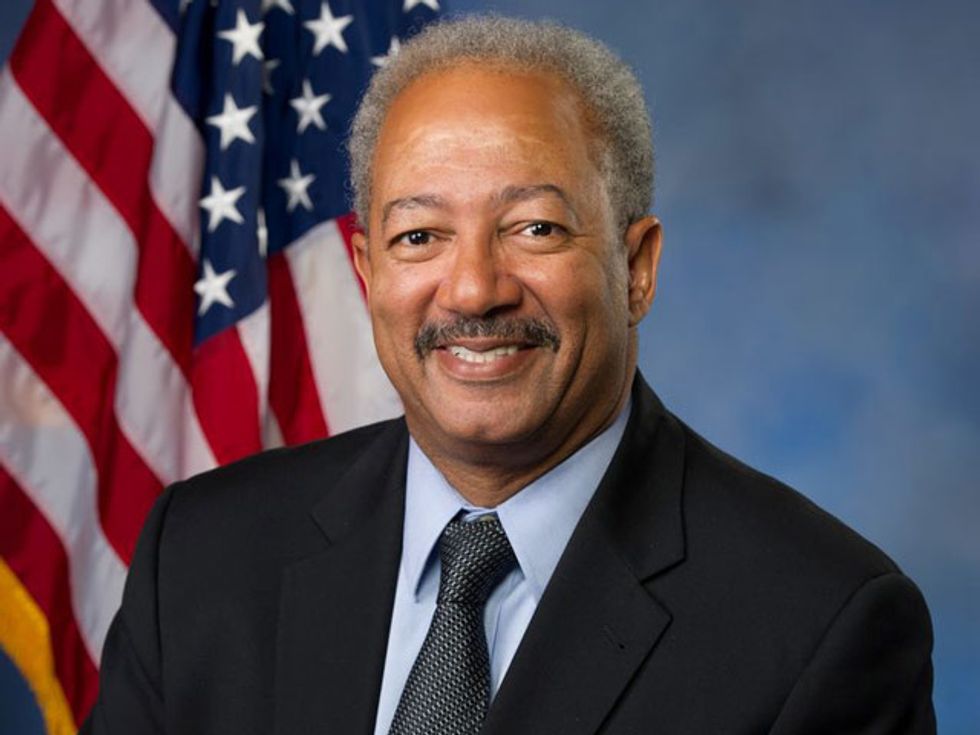 By Will Dunham and Emily Stephenson
WASHINGTON (Reuters) – Democratic U.S. Congressman Chaka Fattah of Pennsylvania and four associates were charged on Wednesday in a political corruption case with bribery and misusing hundreds of thousands of dollars of federal, charitable and campaign funds.
Fattah, 58, who has represented Philadelphia in the U.S. House of Representatives for two decades and is one of the senior black lawmakers in Congress, and the others were indicted by a federal grand jury on 29 counts in an alleged racketeering conspiracy, the U.S. Department of Justice said.
Fattah said in a statement that "I have never participated in any illegal activity or misappropriation of taxpayer dollars as an elected official." He said he would not resign from the House but he did step down as the top Democrat on the House subcommittee overseeing Justice Department spending.
"This will not be a distraction from my service to the people that elected me, and I am confident that I will be cleared of these charges," Fattah added.
The charges included bribery, mail fraud, falsification of records, bank fraud, money laundering, making false statements to a financial institution and other crimes.
Fattah denounced a "misguided" eight-year Justice Department campaign "to link my public service career to some form of wrongdoing."
The others indicted were: lobbyist Herbert Vederman, 69, of Palm Beach, Florida; Fattah's congressional district director, Bonnie Bowser, 59, of Philadelphia; Robert Brand, 69, of Philadelphia; and Karen Nicholas, 57, of Williamstown, New Jersey.
The indictment said that in Fattah's failed 2007 campaign for mayor of Philadelphia, the congressman and certain associates borrowed $1 million from a wealthy supporter and disguised the funds as a loan to a consulting company.
The Justice Department said after losing the election, Fattah returned $400,000 to the donor and arranged for a non-profit entity he founded to repay the remaining $600,000 using charitable and federal grant funds that passed through two other companies.
To conceal the contribution and repayment scheme, the defendants and others created sham contracts and made false entries in accounting records, tax returns and campaign finance disclosure statements, the department said.
The indictment said Fattah, after his mayoral defeat, sought to erase about $130,000 in campaign debt owed to a political consultant by agreeing to arrange for the consultant to get federal grant funds.
SON'S COLLEGE LOANS
Fattah also was accused of misappropriating funds from mayoral and congressional campaigns to repay $23,000 toward his son's college loan debt. Chaka Fattah Jr. was charged in 2014 with fraud related to loans associated with a business he ran, and is awaiting trial.
The indictment accused the congressman of contacting government officials to try to get Vederman an ambassadorship or a U.S. Trade Commission appointment. The indictment accused the defendants of trying to conceal an $18,000 bribe from Vederman to Fattah by disguising it as a payment for a car sale that never occurred.
"I can tell you that the conduct that Congressman Fattah engaged in undermines public faith in government, undermines confidence in government," Zane David Memeger, U.S. attorney for the eastern district of Pennsylvania, told a Philadelphia news conference.
House Democratic Leader Nancy Pelosi called the charges "deeply saddening," saying Fattah had a record of "distinguished service."
Thomas Lindenfeld, a political consultant who advised Fattah, pleaded guilty last year to participating in a plan to provide illegal campaign contributions. Gregory Naylor, another aide, also pleaded guilty last year over campaign finance schemes.
A liberal first elected to the House in 1994, Fattah is a member of the Congressional Black Caucus and heads the Congressional Urban Caucus, a bipartisan group of members from U.S. metropolitan centers.
(Reporting by Will Dunham and Emily Stephenson; editing by Bill Trott and Grant McCool)
Photo: An undated photo of Representative Chaka Fattah (D-PA). (REUTERS/U.S. House of Representatives/Handout)