Democratic Governors Join Obama In Push For Higher Minimum Wage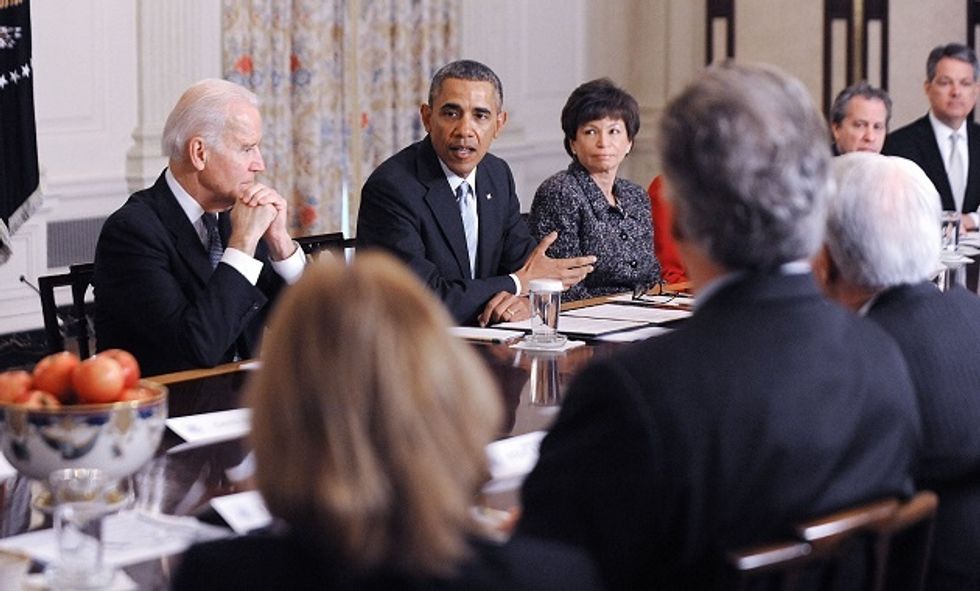 WASHINGTON — President Barack Obama locked arms with Democratic governors Friday to press the case for raising the minimum wage, an issue the party is hoping will drive voters to the polls in the midterm elections.
Ahead of this weekend's National Governors Association meeting, Democratic governors met with Obama and Vice President Joe Biden to discuss economic priorities for the year, first among them efforts at both the state and national level to raise the minimum hourly wage.
Democrats in Congress are working with the president to advance a plan to raise the federal minimum wage to $10.10 an hour. Prospects are uncertain given Republican opposition, which was bolstered this week by a Congressional Budget Office report that found such a hike could result in the loss of half a million jobs.
Nevertheless, several states are also working to advance minimum wage measures either through their legislatures or through referendum — something that could drive turnout among voters inclined to support Democratic candidates but who typically are less likely to vote in nonpresidential election years.
Obama said pushing for a higher hourly wage was "not just good policy; it also happens to be good politics."
"The overwhelming majority of Americans think that raising the minimum wage is a good idea," Obama said Friday before the private meeting with Democrats in the State Dining Room. "That is true for independents, that is true for Democrats, and it's true for Republicans."
He noted that even as Republican Gov. Chris Christie was easily re-elected in November, New Jersey voters approved an initiative to raise the state minimum wage. In a speech Thursday at a dinner hosted by the Democratic governors' campaign committee, Obama singled out California Gov. Jerry Brown for signing into law the nation's first $10-an-hour minimum wage.
Though Washington is often consumed by the midterm battle for control of Congress, Democrats are eager to reverse the current eight-seat advantage that Republicans have in statehouses across the country.
The 2010 Tea Party wave that put Republicans back in control of the House had actually a more lasting effect in the states. After 2010, 29 governors' offices were controlled by the GOP, putting the party in a powerful position to guide the redistricting process that laid the foundation for a lasting majority in the House.
Obama bemoaned the losses that year at the dinner Thursday.
"We know how to win national elections, but all too often, it's during these midterms where we end up getting ourselves into trouble, because I guess we don't think it's sexy enough," he said. "But the fact of the matter is, is that that's where so much of the action is."
After the White House meeting, the Democratic governors were asked if the minimum wage was the motivating issue that the party needed.
"We don't know whether it's a winning argument," said Vermont Gov. Peter Shumlin, the chair of the DGA. "We know it's the right thing to do."
Shumlin also criticized Republican governors he said were "distracted by a more radical social agenda that gives tax cuts to the wealthy, asks the middle class to pay more while they cut education and the opportunity that would allow us to grow jobs."
Photo: Olivier Douliery/Abaca Press/MCT