Democratic Nominees Discuss Social Issues At Brown And Black Forum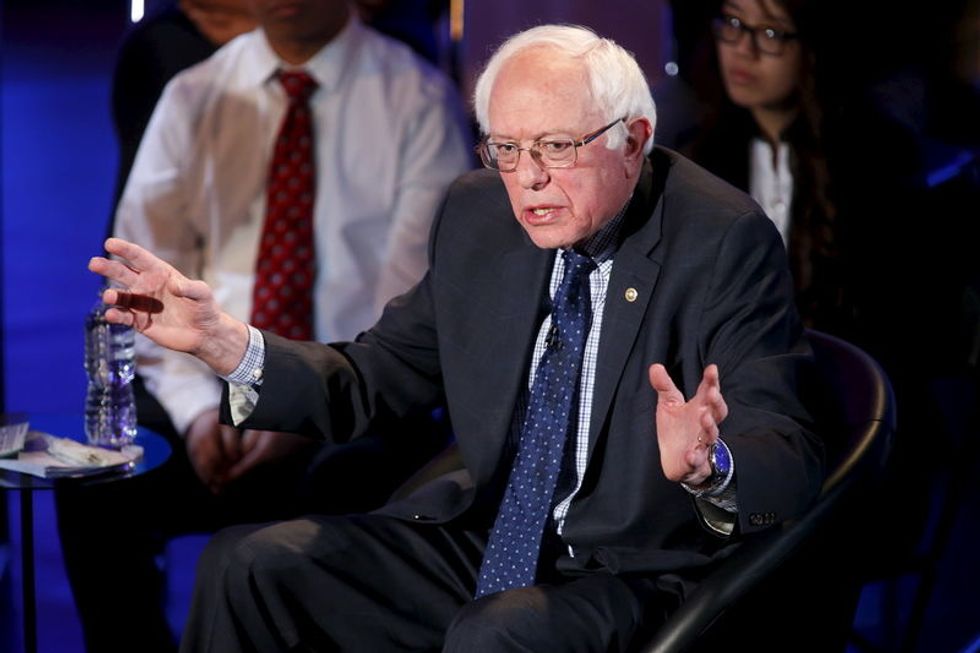 The American public got a reprieve from Republican promises to commit war crimes Monday night when Fusion held its Brown and Black Forum for Democratic candidates at Drake University in Des Moines, Iowa. The forum focused on five pressing issues in the country: education reform, economic development, criminal justice, healthcare, and immigration. Hosted by Fusion Network, the forum remains the oldest minority-focused one in the country, dating back to 1984.
Senator Bernie Sanders (D-VT), the first guest, took advantage of the forum format to actively defend his controversial vote against legislation that would have held gun manufacturers liable for violence committed with their products. He maintained that manufacturers should not be prosecuted for selling guns that were later used in mass shootings. "Its not a mistake" he said, "Like many pieces of legislation, it's complicated."
He went on to highlight his support for President Obama's expansion of background checks for gun buyers, and noted that the D-minus rating he had earned from the National Rifle Association was proof that he was not pro-guns. "We've got to do everything we can to end these horrific murders and mass murders in this country," he said.
Sanders was also optimistic about his chances of winning the nomination, especially in light of increased confrontation from Hillary Clinton in past weeks. "It could be the inevitable candidate for the Democratic nomination is not so inevitable today," he said. He is leading Clinton, the establishment favorite, in New Hampshire by four points. He has also taken a lead over Clinton in Iowa in recent days.
"Maybe it's time for a political revolution to take on the billionaire class," Sanders said. He reiterated his calls for tuition-free public college and university education in the U.S. as well as reduced interest rates on student loans by "taxing Wall Street speculation." These proposals sat well with the audience, a mostly young crowd from socioeconomic and racially diverse backgrounds, who repeatedly cheered for many of his proclamations.
Former Maryland governor Martin O'Malley joined the forum next, trying to make his mark on the nomination contest after having failed to quality for the Ohio ballot. The distant third-place candidate was immediately asked by the lead host, Jorge Ramos, about the monochromatic racial makeup of the Democratic presidential nominees, all of whom are white. O'Malley responded by saying that the concentration of power and wealth in the country has become reflected in the Democratic Party and prevented most people from running for the presidency. "That's not the way our democracy is supposed to work," he said. "Our party is the party of diversity. Our diversity is our strength."
But O'Malley had to account for the diversity of his own staff, which Ramos said was over 80 percent white. "In leadership of my campaign and every cabinet I've put together as mayor and governor, I had a great deal of diversity," he said. The majority-white makeup of his campaign staff was reflective of the demographics of the early primary states, he argued.
Sexual assault on college campuses was called a huge challenge for the nation, one that required transparency and cooperation from university administrations. "The notion that somehow you hurt the university if you're not open and transparent is an old and ill-serving notion," he said. He did not go into much detail though, aside from saying that universities must create and abide by the policies they create to combat the rape epidemic on American campuses.
O'Malley also had some strong words for Republican frontrunner Donald Trump, whom he called that "immigrant basher, carnival barker." It was not the first time O'Malley has gone after Trump. He has positioned himself as yet another Democratic candidate that values diversity, coming out in support of immigration reform and expanding the Affordable Care Act to cover undocumented immigrants. He has also decried the Obama administration's deportation raids, saying that children sent back to Central America faced certain death.
But it was Hillary Clinton who got the closing remarks as the final guest on the forum. She was comfortable with her hosts and the audience, even making a joke after Ramos publicly disclosed that his daughter was working on the Clinton campaign ("And she's wonderful," Clinton said to the crowd).
Appealing to the racially diverse audience, Clinton tacked to the left on immigration reform, saying she was against the deportation raids the Obama administration was pursuing. She proposed providing counsel particularly for children trying to navigate the immigration system after arriving in the country so they are not lost in the system. But she refused to promise, twice, that she wouldn't deport children. "I can promise that I will do everything possible to provide due process," she said. "We have to be sensitive and humane in the application of our laws."
On social and criminal justice, Clinton also took a progressive stance, saying that many of the problems the country faced were the product of poverty and its ramifications in countless American communities. "We have some places where the poverty is so appalling, it's such a rebuke to who we say we are and what we say we stand for," she said. Mental health and drug problems were social problems that were being treated as criminal problems. It didn't even make sense economically, said Clinton. Treatment centers, not jails, were the solution, she said.
Clinton also answered a tough audience question about white privilege and how much she had benefited from it. "I didn't call it a particular kind of name, but it was a different life and I knew that," she said. She used a personal anecdote, where she babysat young immigrant children while their parents were picking fruit, as as a way to describe the moment she had that realization. Shortly afterwards, Clinton apologized for the use of the phrase "illegal immigrants."
"That was a poor choice of words. I haven't used it since. I won't use it in the future," she said, drawing applause from the audience.
While the forum had three candidates, eyes remain only on Sanders and Clinton, who have been polling neck and neck in both New Hampshire and Iowa.
Photo: Democratic presidential candidate Sen. Bernie Sanders (D-VT) speaks at The Iowa Brown and Black Forum at Drake University in Des Moines, IA, January 11, 2016. REUTERS/Aaron P. Bernstein