Democrats Block DHS Bill Over Immigration Provisions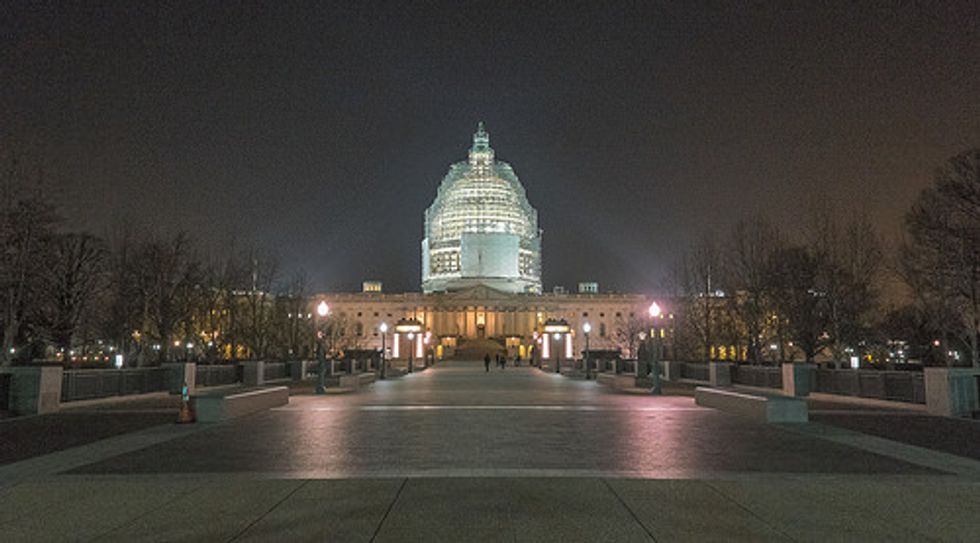 By Tamar Hallerman, Sarah Chacko and Jennifer Scholtes, CQ-Roll Call (TNS)
WASHINGTON — Democrats banded together Tuesday to block the Senate from considering a Homeland Security spending bill, leaving GOP leaders scrambling to find another path forward to challenge the president over immigration.
All 46 members of the Democratic caucus voted against cloture on the motion to proceed to the $39.7 billion measure, citing opposition to five House Republican amendments that effectively reverse executive actions on immigration or block similar orders in the future. Senator Dean Heller (R-NV) also voted against cloture. Fifty-one Republicans voted in favor of opening debate on the bill, well short of the 60-vote threshold.
Majority Leader Mitch McConnell, who voted no, immediately entered a motion to reconsider the vote.
The Democratic filibuster prevents McConnell from moving to the bill, forcing him and his House counterparts to come up with a Plan B to fund the Department of Homeland Security after Feb. 27. The Kentucky Republican, however, has been quiet about his next moves.
Senator John Thune of South Dakota, a member of GOP leadership, suggested earlier Tuesday that McConnell might bring up the House-passed bill for at least another floor vote.
"I think we'll give them an opportunity to vote on that more than one time," Thune said. "But using the procedural rules to keep us from even debating it I think is a disservice to people who care deeply about this issue on both sides."
But Senator John McCain, an Arizona Republican and chairman of the Senate Armed Services Committee, said that none of the alternative options that have been presented so far are "viable."
"I've been in at least 20 discussions in the last 72 hours or week on this. Nobody really has a strategy yet, I'm sorry to say," McCain told reporters earlier Tuesday.
McConnell could choose to repeat the procedural maneuvering that eventually enabled him to win passage of Keystone XL legislation last month after Democrats filibustered a similar procedural vote.
After a few days of arm-twisting, the parties eventually reached an agreement to hold additional amendment votes, winning back enough Democrats to advance the bill to passage.
Republicans say they'd be willing to consider amendments to strike the contested language, though it's likely they would insist on 60-vote thresholds for adoption or pose motions to table, making it hard for Democrats to prevail.
Democrats are instead pushing McConnell to take up their "clean" version of the bill.
McConnell could see some benefit to running out the clock a bit more on the Homeland Security bill to inject more urgency into the debate and push his Senate colleagues to accept concessions.
The Senate is set to take a weeklong recess beginning Feb. 16 for President's Day, leaving only about a dozen workdays left before funding runs out under the current spending agreement.
McConnell will eventually need to win over at least six Democrats to advance a spending bill, and in order to do so he will likely need to strip the House immigration riders — or significantly alter the House-passed bill. That will likely anger conservatives in both the House and Senate, but the timing pinch could provide him with some political cover.
Democrats are also working to get out ahead of GOP accusations that they are the ones to blame for holding up Homeland Security funding.
Before the Senate's procedural vote, seven Democratic senators joined Homeland Security Secretary Jeh Johnson for a news conference urging Republicans to pass a clean bill.
"Don't hold hostage the American people being secure and say: 'Unless you do it our way, we're going to shut down the government,'" Senator Charles E. Schumer (D-NY) said. "The American people simply shouldn't have to pay a ransom to have the Homeland Security Department fully staffed and fully functioning."
Schumer and his Democratic colleagues said they are committed to blocking efforts, at every juncture, to debate the legislation as long as it includes extra immigration language.
"The simplest, easiest way to move forward is for the Republican leadership to stare down the extreme members of their party, led by Senator (Ted) Cruz, and work with Democrats to pass a Homeland Security bill, keep our nation safe, and then debate immigration," Schumer said.
Across the Capitol, Speaker John A. Boehner (R-OH) challenged Senate border hawks and more centrist Democrats who had previously said they opposed the president's executive actions on immigration to vote for the House-passed DHS bill.
"It's time for Senator Cruz and Senator (Jeff) Sessions, and Senate Republicans and Senate Democrats, to stand together with the American people and block the president's actions," he told reporters Tuesday morning.
Boehner brushed off questions about a potential short-term continuing resolution for DHS.
"Why don't we wait until the United States Senate acts and then we can decide what the next steps are? I don't know what they're gonna do," he said.
When asked about a potential 30- or 60-day continuing resolution, House Appropriations Chairman Harold Rogers (R-KY) said, "Everything's on the table and there's been no conclusions drawn yet."
___
(Tim Starks and Emma Dumain contributed to this report.)
Photo: ehpien via Flickr