Democrats Demand To Know Why 30 Million Emergency FEMA Meals Never Got To Puerto Rico
@EricBoehlert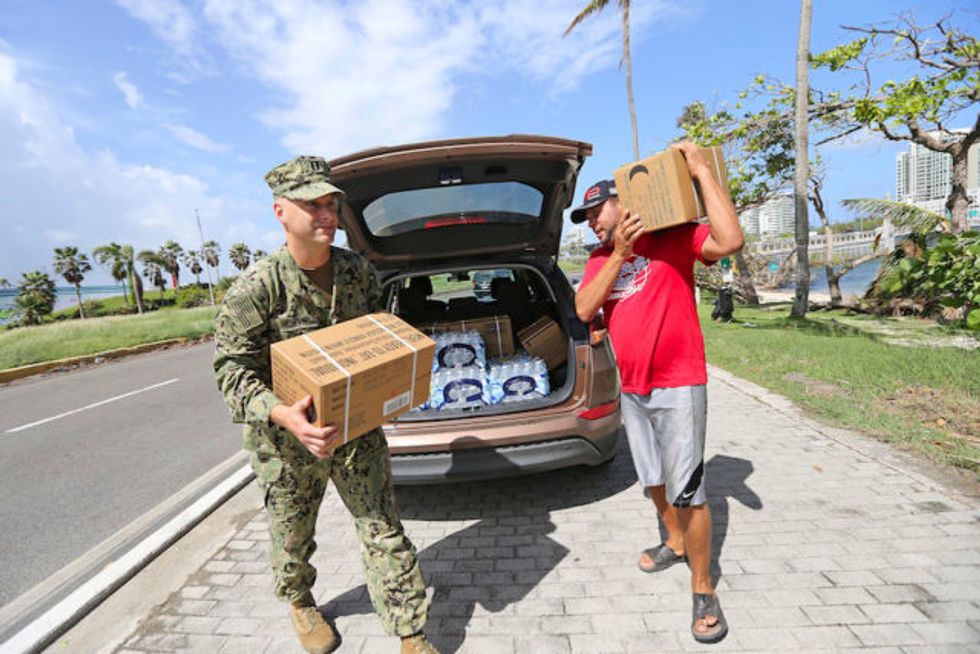 Reprinted with permission from Shareblue.com
Puerto Rico is still struggling, five months later, to recover from Hurricane Maria and from an inept relief effort from the Trump administration. Now, new reporting indicates that last October, the Federal Emergency Management Agency awarded a $156 million contract to a one-person company in Georgia that was assigned to help deliver 30 million emergency meals to hurricane survivors.
Instead, just 50,000 ready-to-eat meals were delivered, according to The New York Times.
On Tuesday, Democrats on the House Oversight Committee demanded that FEMA be subpoenaed to examine the documents the agency has refused to hand over, to find out how such an emergency relief debacle took place.
"It is difficult to fathom how FEMA could have believed that this tiny company had the capacity to perform this $156 million contract," Reps. Elijah Cummings of Maryland and Stacey Plaskett of the Virgin Islands wrote in a letter to the oversight chairman. "FEMA's decision is even more incomprehensible given the company's inability to fulfill previous government contracts that were only a fraction of the size."
Indeed, the company in question, Tribute Contracting, had already had at least five previous FEMA contracts canceled because the company wasn't able to deliver goods as promised.
Tribute also had no experience in large-scale disaster relief.
"According to these documents, one of the primary reasons FEMA failed to deliver these meals is because it inexplicably awarded a contract worth approximately $156 million to deliver 30 million emergency meals to a tiny, one-person company with a history of struggling with much smaller contracts," Cummings and Plaskett stressed.
FEMA officials insists all necessary meals were eventually delivered. But the massive contract that has to be torn up certainly affected the larger relief effort, and more importantly, this latest revelation highlights the chaotic and botched relief effort that has become a hallmark failure of the Trump presidency.
Last year, it FEMA had to cancel a $30 million contract to another tiny, inexperienced contractor who failed to deliver hundreds of thousands of tarps and rolls of plastic sheets it had promised for storm survivors.
An Associated Press investigation into that failure revealed a FEMA organization that bordered on recklessness with its inept handling of crucial contracts to help rebuild Puerto Rico.
These FEMA debacles are reminiscent of the no-bid, $300 million contract to rebuild Puerto Rico's power grid that was awarded to a tiny Montana start-up company called Whitefish Energy, which also had no previous experience with federal contracts.
Whitefish Energy just happened to be located in the hometown of Interior Secretary Ryan Zinke, and was financed by a major Trump donor.
Eventually, that contract was also canceled.
If FEMA under Trump was as good at disaster relief as it is at canceling botched contracts, the American citizens of Puerto Rico might be much better off today.
Header image:  US NAVY Lieutenant Sean McNevin provides aid during the aftermath of Hurricane Maria
(David Santiago/Miami Herald via AP)