Democrats Demand Probe Of Trump's Health Secretary Nominee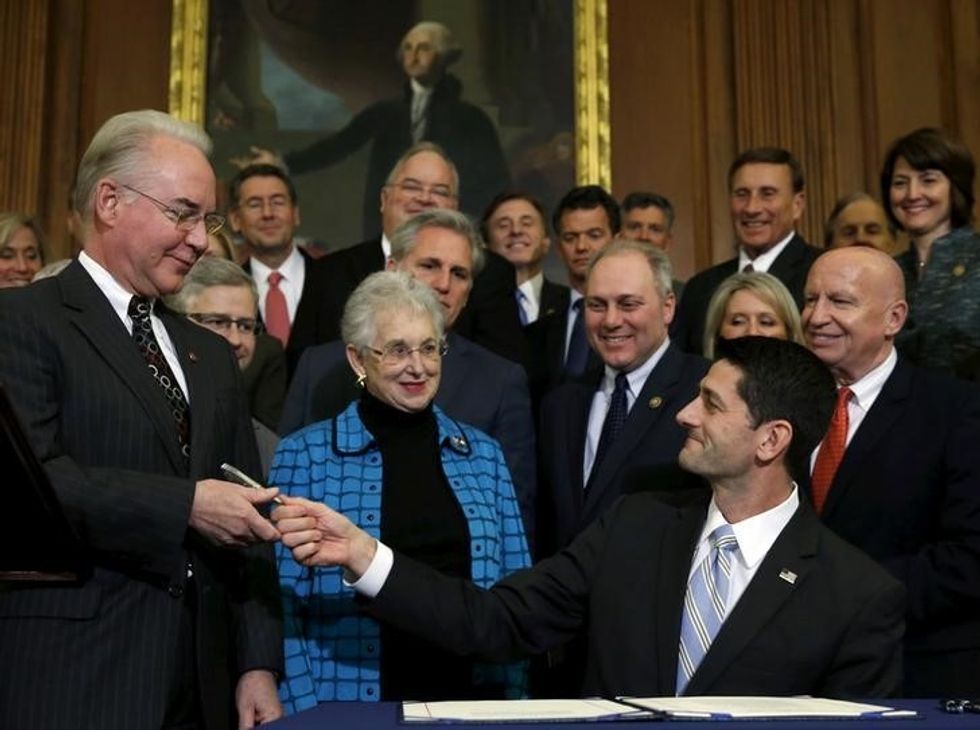 WASHINGTON (Reuters) – U.S. Senate Democrats on Thursday demanded an ethics probe into Tom Price, President-elect Donald Trump's pick for health secretary, following a report that the fierce Obamacare critic traded in healthcare company stock while pushing legislation in Congress that could affect those shares.
Senate Democratic leader Chuck Schumer and others made their comments as congressional Republicans moved ahead with their long-desired effort to dismantle President Barack Obama's Affordable Care Act, and signaled the vehemence with which Democrats will fight to protect the 2010 law.
Price is an orthopedic surgeon and a Republican congressman from Georgia who, if confirmed by the Senate as secretary of the Department of Health and Human Services (HHS), would be given the task of carrying out Trump's promise to gut the law that has enabled upwards of 20 million previously uninsured Americans to obtain medical coverage.
The Democratic senators called on the independent Office of Congressional Ethics (OCE), which looks into misconduct allegations involving House of Representatives members and staff, to investigate Price's stock trades as a member of Congress.
The Wall Street Journal last month reported that Price bought and sold more than $300,000 in stock in about 40 healthcare, pharmaceutical and biomedical companies over the past four years while sponsoring and advocating legislation that could influence those companies' shares.
"Every American should be shocked by this," Schumer told a news conference.
"We don't know if he broke the law," Schumer said of Price. "But there are certainly enough serious questions to warrant a serious investigation before any hearing is held on Congressman Price to become secretary of HHS."
Price, asked by Reuters in a Capitol hallway what his response was to Schumer's call for an ethics probe into his stock trades, replied: "We're looking forward to a positive and productive confirmation hearing."
Phil Blando, a Trump transition spokesman, said in a statement that Schumer's demands were a "stunt" to deflect attention from Obamacare's "dismal record." He said the same questions being raised by Schumer about Price should be directed as well to other Democratic senators.
"Hypocrisy is apparently alive and well this morning in Washington," Blando said.
An OCE spokeswoman declined to comment.
House Republicans moved on Monday to weaken the ethics office but backtracked a day later after criticism from Democrats and Trump.
A 2012 law prohibits members and employees of Congress from using "any nonpublic information" stemming from the person's position or gained while performing their job for personal benefit.
"We want to know who he met with and when, whether the transactions in question were initiated by a broker or by Price himself, what, if any, nonpublic information Congressman Price had, when those transactions were made, and how much profit he made from each transaction," Senator Patty Murray, the top Democrat on the Senate health committee that will consider Price's nomination, said at the news conference with Schumer.
PUBLIC CITIZEN ALSO URGES PROBE
The nonpartisan consumer rights advocacy group Public Citizen also asked the ethics office, as well as the U.S. Securities and Exchange Commission, to investigate Price and another Republican congressman, Chris Collins of New York, for possible violations of insider trading and conflict-of-interest laws and rules.
Collins serves as the Trump transition team's congressional liaison. His office had no immediate comment.
Trump on Thursday kept up his attacks on Democrats and the Obamacare law while calling for a bipartisan congressional effort to come up with a healthcare alternative that would lower costs and improve care. Republicans will control the White House and both chambers of Congress when Trump takes office on Jan. 20.
In a series of posts on Twitter, Trump blasted Schumer and his fellow Democrats over Obamacare. Taunting Schumer as "head clown," Trump said on Twitter that Democrats are doing "the typical political thing" and casting blame.
"It is time for Republicans & Democrats to get together and come up with a healthcare plan that really works – much less expensive & FAR BETTER!" Trump wrote.
Republican House Speaker Paul Ryan said he expects the legislative work on repealing and replacing Obamacare to be done this year. "What date all of this gets phased in on is something we do not now know," Ryan added.
Republicans criticize Obamacare – one of Obama's signature accomplishments in his eight years in office – as an excessive government intrusion into the healthcare market and contend it is harming job growth by burdening businesses. Republican lawmakers have a number of proposals for replacing it, but not a consensus plan.
Obama met with Democrats on Capitol Hill on Wednesday as they crafted a strategy that appeared aimed at warning that the entire U.S. healthcare system would be thrown into disarray if the Obamacare law is repealed without a plan to replace it.
(Additional reporting by Rick Cowan and David Alexander; Writing by Will Dunham; Editing by Bill Trott and Jonathan Oatis)
IMAGE: U.S. House Speaker Paul Ryan (R-WI) (R) hands the pen to Representative Tom Price (R-GA) (L) after signing a bill repealing Obamacare at the U.S. Capitol in Washington January 7, 2016. REUTERS/Jonathan Ernst