Democrats Need Surge Of Women To Hold Senate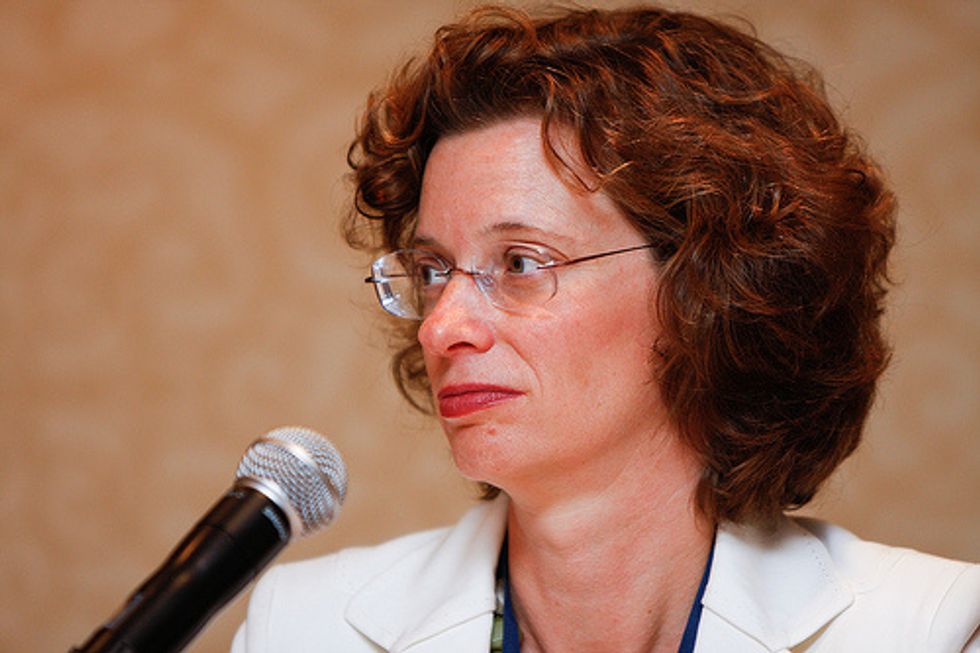 Sept. 21 (Bloomberg View) — Democrats know that keeping control of the Senate this election year isn't a man's job. Success will depend on the votes of women.
A gender gap has long been evident in U.S. politics: Men more often vote Republican and women are more likely to back Democrats. Both of these trends have accelerated in recent years.
This year, it's Democrats who are on the defensive. In the 10 most competitive Senate races, they are counting on different assets in different states: solid turnout of black voters in the South, Hispanics in Colorado and Alaskan natives.
But almost everywhere, Democrats need a big margin — at least in the double digits — with female voters.
The commercial and campaigns reflect this priority. In addition to the economy, Medicare and Social Security, the emphasis is on ending pay discrimination based on gender, making contraception readily available and covered by insurance, and, in some states, the right to abortion or stressing issues that seem more important to women — for example, education in North Carolina. Some Democratic campaigns are conducting focus groups only with women to gauge intensity and nuances.
Democratic strategists, citing polls, insist these issues are resonating in many tight Senate contests.
Republicans counter that the larger gender gap is the one Democrats have with men, and that the women's vote is more complex. Married white women are more likely to be Republican, as are older voters. In a recent Wall Street Journal/NBC News poll, a plurality of women age 50 or older gave higher marks to Republicans on dealing with the economy. The Democrats' advantage on gender is focused on younger singles and women of color.
A look at several crucial states underscores the centrality of gender in November:
• In Colorado, incumbent Democratic senator Mark Udall is being challenged by Republican Representative Cory Gardner. In the Senate race four years ago, Democrat Michael Bennet eked out a victory over a right-wing challenger by winning the women's vote, 56 percent to 39 percent. Most polls show Udall with a small lead thanks to similar advantages with women.
But a Quinnipiac survey last week showed Gardner ahead, as Udall only had a 3-point advantage with women. Gardner, who recently supported a personhood measure that would have banned all abortions and some contraceptives, is trying to strike a more moderate posture; he embraces the sale of contraceptives over the counter.
Democrats say they relish this debate — other Republicans are adopting the same tack — as these Republicans no longer would require insurance companies to cover contraceptives, which would become very expensive for some women. The Udall campaign will hammer this and other appeals to women in the closing six weeks.
• In Iowa, where a woman has never been elected to the U.S. Senate or as governor, Republicans think their female candidate, state Senator Joni Ernst, will enable them to reduce the gender gap. In the last presidential election, President Barack Obama carried this swing state by 6 points, running up a 19-point margin with female voters. The two parties disagree on whether female Republican candidates generally do better with female voters; Democrats are cautiously optimistic that their candidate, Representative Bruce Braley, will prevail in November. Iowa is a good laboratory for the debate in 2014.
• Georgia may be the Democrats' best chance of taking over a Republican-held seat, though it's an uphill battle. The Democratic candidate is Michelle Nunn, the daughter of the popular senator, Sam Nunn. She is running against David Perdue, a businessman. And a woman's issue is the centerpiece of her campaign: She is attacking Perdue's record as a chief executive officer, including his tenure at Dollar General Corp., which faced pay-discrimination suits brought by several thousand female employees.
The tagline on Nunn's commercial: "Can the women of Georgia trust David Perdue?"
Photo: Be The Change, Inc via Flickr
Want more political news and analysis? Sign up for our daily email newsletter!