Yes, The President Must Testify — Just Like Bill Clinton Did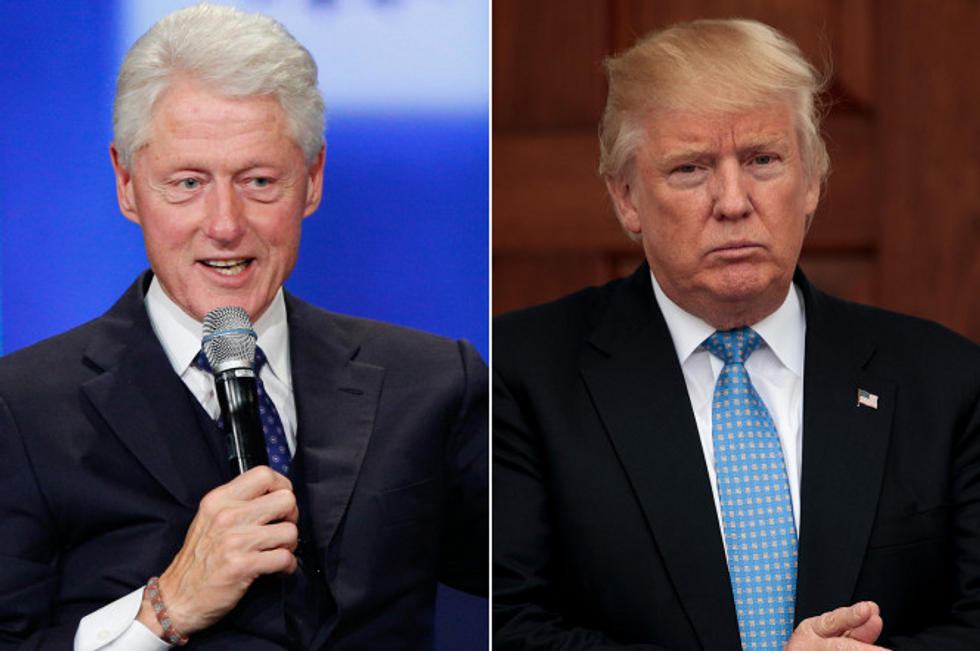 Donald Trump tells reporters that he is eager to chat with Robert Mueller, the special counsel investigating his campaign's suspected collusion with the Kremlin and his attempts to obstruct that investigation, but his sincerity is in doubt. When he proclaims his willingness to let Mueller question him, "under oath," it sounds like typical Trump bluster.
Still, as one of the most successful liars in modern history — with a talent for prevarication that has seen him through many civil lawsuits and a presidential campaign — the former casino mogul may believe he can slither past Mueller verbally. His lawyers feel no such confidence, however; they reliably show up to cancel his reckless offers to testify, as they did recently under some feeble pretext.
Should Mueller insist that Trump must testify, he is certain to complain that the special counsel is treating him unfairly. He will cry "witch-hunt." He will whine that no president has ever been subjected to such diabolical persecution. He will claim again that Hillary Clinton escaped from the FBI investigation of her emails without giving testimony under oath. None of which is true.
While there is no way to avoid a barrage of self-serving jive from Trump, let's be clear about certain basic facts: Not only did the FBI interrogate Hillary Clinton about her damned emails, but she and her husband testified before investigative authorities on several occasions during Bill Clinton's presidency.
On July 2, 2016, Hillary Clinton appeared at FBI headquarters in Washington, where she answered questions for well over three hours from the agents investigating her email practices. Although she would have been vulnerable to a subpoena, that wasn't necessary because she came in voluntarily. More important, every word of that lengthy interview was subject to 18 U.S. Code 1001, the statute that criminalizes false statements to federal agents. Had Hillary lied, she could have been indicted for any material falsehood.
That was nothing new for her, having testified on at least eight other occasions during her husband's presidency. Prosecutors with the Office of Independent Counsel interviewed her five times for the Whitewater investigation – first in 1994, then twice in 1995 and twice in 1998. She also testified before the Federal Deposit Insurance Corporation and the Resolution Trust Corporation, always under the same punitive federal law. And eager as Kenneth Starr's minions were to indict her, there was never "sufficient evidence…beyond a reasonable doubt." They had no case.
As for President Clinton, it's true that he resisted the lawsuit brought against him by Paula Jones, who claimed that he had sexually harassed her in a Little Rock hotel room, all the way to the United States Supreme Court. His lawyers argued, with ample justification in hindsight, that a civil lawsuit would become a severe distraction for a sitting president. The high court overruled the president, nine to zero.
So Clinton famously testified in the Jones case, which led to his impeachment for lying about Monica Lewinsky. He had given a deposition under oath, and later testified on videotape for Starr's grand jury.
 Years before those sorry events, Clinton also responded to the independent counsel's questions about Whitewater, giving three interviews to OIC prosecutors at the White House between 1994 and 1995. He also submitted to three additional interviews by federal agents during the Justice Department's investigation of illicit fundraising in the 1996 presidential campaign. And he appeared by videotape at the Whitewater trial of James McDougal, the banker who swindled him and Hillary in that ill-fated land deal.
 Such facts don't matter to Trump, who will snivel and slander and invent alternative facts to portray himself as a victim. Yet no matter how much noise he makes, he will soon confront a fateful choice. If he testifies, his legal risk will be extremely serious. If he refuses — or tries to escape by firing Mueller — his political risk will be equally grave.
 Either way, as one of his confederates might say, Trump's time in the barrel is coming.