Democrats Poised To Win Full Control Of Statehouses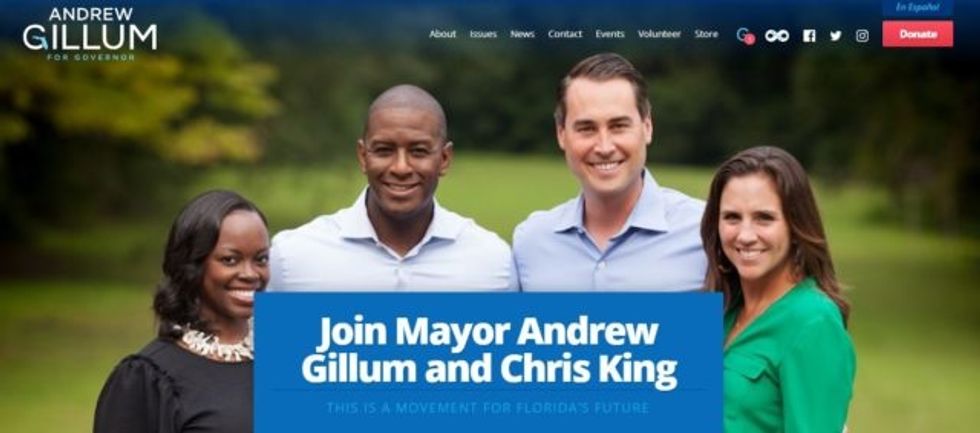 Reprinted with permission from DCReport.
Two weeks from the highly anticipated midterms and Democrats could see several states go pure blue from gubernatorial races down to the state House elections.
There are currently 26 states in the country that are Republican trifectas, meaning the GOP holds power from the governorship to the majority in the state Senate and Congress. Democrats hold eight trifectas today. But there are several states in play with more seen as potential new Democratic strongholds from New Hampshire to Colorado than as potential Republican targets.
State legislatures can wield incredible power, from the ability to shape redistricting to gun laws and abortion rights. In fact, the winners from this election will have the once-a-decade chance to redraw congressional maps following the 2020 Census. And as the Trump administration continues to tear down the federal government, states become more powerful.
In the midterms, Democrats are running more state legislative candidates than they have in the past 20 years. There are 5,349 Democratic candidates this year compared with 4,741 Republicans, according to an article by The Washington Post. Republicans had run more candidates than Democrats in the past six election cycles. And this year, Democrats are even ahead of the number of Republican candidates from 2010, which saw huge gains for the GOP at the state and federal level.
In a best-case scenario, Democrats could pick up 17 new trifecta states, according to an analysis by Ballotpedia. That would leave the Republicans with 13. But it is more likely that Democrats pick up between five and 11 new trifectas. Here are the states that are the most vulnerable for a Democratic takeover:
Colorado: With term-limited Gov. John Hickenlooper (D) stepping down the governorship is still seen as leaning Democratic. There are 17 seats up for election this year with 10 held by Republicans, according to an analysis by The Washington Post. Democrats just need to flip two Senate seats to make this state a trifecta. Democrats hold a majority in the House already.
Florida: With term-limited Republican governor Rick Scott vying for a U.S. Senate seat, the gubernatorial race is considered a toss-up. To gain the majority of the Senate, Democrats need to take four more seats, representing a 20% gain. And for the state House, Democrats would need to flip 17 new seats, a 14% gain.
Illinois: Though currently held by a Republican, Bruce Rauner, the governorship is rated "lean Democratic" this election. The House and Senate are both controlled by Democrats, so if they can hang on to their majority and flip the governorship, they would make this a trifecta.
Michigan: Another term-limited governor stepping down, Republican Rick Snyder, the governorship is rated "lean Democrat." To take a majority in the Senate, Democrats need to flip nine seats or almost 24%. Republicans hold a supermajority here and have had control of the Senate for more than 25 years. To take over the House, they need to take nine seats there as well, but that's an 8% change. More than a fifth of the incumbents can't seek re-election because of term limits so Democrats have a good chance to take the House.
New Hampshire: The Republican governorship is rated lean Republican this election, though incumbent Chris Sununu is considered one of the country's most popular governors, according to The New York Times. Democrats need to flip three out of 24 seats to take a majority in the Senate, and 22 seats in the House, representing a 6% change. It's also worth noting that 17% of Republicans serve districts that voted for Clinton in 2016.
Wisconsin: Incumbent Gov. Scott Walker (R) is up for re-election but the race is considered a toss-up at this point. Democrats need to win two more seats this election, a 12% change, to gain a Senate majority and 15 more House seats, representing a 15% gain.
There are two states that Ballotpedia considers moderately possible for Democrats to pick up: New Mexico and New York. It also considers Ohio a high possibility, though other outlets do not.
And there are two more states that Ballotpedia sees as "slight possibilities": Montana and North Carolina.
Connecticut, meanwhile, is the one Democratic trifecta that is highly vulnerable to a Republican takeover or at least turning it purple and busting up the trifecta. The outgoing Democratic governorship of Daniel Malloy, who is stepping down after two terms, is rated a toss-up for this election. The state Senate is currently a tie and for a majority; Republicans would need to flip only one seat. For control of the House, they would need to flip just five seats, representing a 3% gain.
Two states seen as slight possibilities for new GOP trifectas are Minnesota and Vermont.
In the best-case scenario for Republicans in the upcoming election, they could end up with 37 state trifectas, leaving just three Democratic ones.
In between, there are six toss-up states that could go pure red, blue or purple. Those include Alaska, Maine, Maryland, Massachusetts, Nevada and Pennsylvania.