Democrats Have Early Voting Edge, Despite GOP Voter Suppression Tactics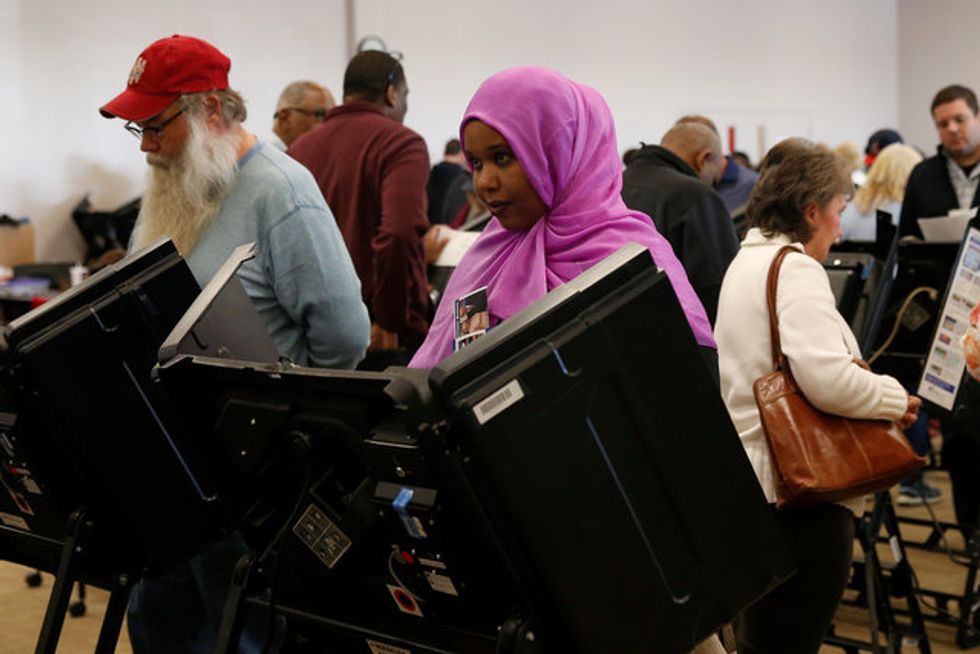 Reprinted with permission from AlterNet. 
Across the country, 34 million people have already voted, breaking early voting records in many battleground states with Democratic turnout generally outpacing Republicans, according to election officials' most recent tallies.
While that high voter turnout pattern appears to favor Hillary Clinton, state-level voter suppression tactics from Republicans and local intimidation antics by Donald Trump supporters are still unfolding, adding angst and muddying the election's last phase.
But the bigger picture is that voters are turning out in record numbers, according to a new set of campaign metrics—actual voter data from millions of people, not polling hundreds or a thousand or more people at a time—and the early voting patterns appear to favor Democrats. This is also what pollsters like Nate Silver of FiveThirtyEight.com, who run thousands of voting simulations have been saying, although their projections are more cautious following the FBI's new interest in Clinton emails.
As Michael McDonald, the founder of the United States Election Project, which compiles voter turnout data on a daily basis from states, tweeted Thursday, "Why record early vote numbers in many states: people have made up their minds & are voting." He continued, "If 2014 is a guide… Reps need about +7 points [higher turnout] to be competitive. Dems going to pick up this weekend."
These trends—high early voting turnout, a well-organized Democratic Party operation and some Republican chicanery—can be seen in Florida, one of 37 states with early voting, where turnout is setting records.
"Over 1.1 Million Floridians have Already Voted Early, Including 412k who were Registered but Skipped the 2012 GE [General Election]" Daniel Smith, a Florida-based political scientist and voter turnout analyst, tweeted and blogged Thursday. That rising wave of voters does not tell you who is ahead, but a recent poll of 718 Floridians found more than a quarter of Republicans said they were voting for Clinton. Smith also reported that more Floridian women than men were voting early, which was seen as helping Clinton.
These different data sets underscore why Democrats are aggressively campaigning in Florida and explain some of the bad behavior by Republicans there. On Wednesday in West Palm Beach, Trump supporters used bullhorns to target and scream at Clinton backers waiting in line to vote, ProPublica.org reported. That didn't stop them from voting, but it is a sign of the times.
"The county decided that they are going to now place police officers at polling locations throughout the county to counteract hecklers—basically their concern is safety," Jeralyn Cave, a spokeswoman for Advancement Project, a voting rights group, said Thursday.
As Tuesday's election day approaches, the news will be filled with turnout reports, projections of who's ahead and behind, court rulings on restrictive new voting laws and unnecessary voter purges, and Republican voter suppression threats and actions. To sense what is really happening, it's important to separate developments affecting large numbers of people from ones that are hyped or very localized.
There was another striking example of hyped voter suppression versus the realities on the ground Thursday, when a federal judge shut down a legal effort by Pennsylvania Republicans to allow people who do not live locally to be polling place observers. Not only has Trump called for supporters to police the polls—to deter or intimidate new and non-white voters—but as Politico reported, an array of white supremacist groups are boasting of plans to thwart voters and film what they claim will be voter fraud. Incredibly, they said they would give away pot and hard liquor in Philadelphia to keep non-whites away, and bragged that "any official-looking white person with a clipboard" could walk into polls and plant hidden cameras, which is what they say they'll do.
While that inflammatory storyline grabbed headlines, U.S. District Court Judge Gerald Pappert threw out the GOP's lawsuit challenging the local residency requirement for poll watchers. He did not mince words, saying the Republican posturing about exercising free speech and protecting election integrity were nonsense. "There was no need for this judicial fire drill and Plaintiffs offer no reasonable explanation or justification," Pappert wrote.
Unfortunately, in other swing states like Ohio, Republicans and Trump's campaign are making the same legal arguments to empower poll watchers. But unlike the Clinton campaign and Democrats, which have been busily organizing and executing get-out-the-vote operations for months, Trump and the Republicans do not have an extensive ground game. The result, seen in many battleground states, is that larger numbers of Democrats are voting early.
By midday Thursday, more than 34 million people had voted nationwide via mail-in ballots and in-person voting, reported the United States Election Project, which compiles figures from election officials and whose Twitter updates provide a realtime state-by-state recitation of the latest real voter behavior.
Take Nevada, a western swing state: "CRUSHING Win for Dems in Clark today!! 16.0k Ds, 11.2k Rs, total 36.0k. Dems win by almost 4800!!!," tweetedSorcerer43, referring to the votes cast in the county where Las Vegas is located and where Clinton held a rally on Wednesday. "Not surprising. Dems know how to couple campaign rallies with GOTV," replied the Election Project's McDonald.
Consider the latest from Ohio. After posting a graph showing how early voting in the Ohio counties that are home to Columbus and Cleveland has almost reached 2012 levels, McDonald commented, "Why the Clinton campaign has not given up on Ohio. Finally making move despite terrible start (some caused by state)." That reference concerns a decision by the Ohio secretary of state not to mail out absentee ballots to a million people who haven't voted since the last presidential election. (In Florida, officials are reporting many of those infrequent voters are voting early.)
Early voting results are also finding that Arizona has seen the largest increase in voting by Latinos in any state. In North Carolina, 300,000 more women than men have voted, out of 2.3 million votes cast so far.
There is an ebb and flow here that changes daily. Republican early voting was gaining on Democrats in Colorado, although more Democrats have voted, McDonald reported.
Nobody know what will happen until all the votes are counted, which will likely be from more than 130 million people in the 2016 election. But these high early voting figures, with some swing states setting turnout records, is another indication of big electoral trends. They seem to be confirming that the Democratic get-out-the-vote effort is doing its intended job, as higher turnouts do not favor Republicans.
Steven Rosenfeld covers national political issues for AlterNet, including America's retirement crisis, democracy and voting rights, and campaigns and elections. He is the author of "Count My Vote: A Citizen's Guide to Voting" (AlterNet Books, 2008).
IMAGE: Voters cast ballots during early voting at the Franklin County Board of Elections in Columbus, Ohio U.S., October 28, 2016. REUTERS/Shannon Stapleton