Dennis Hastert: 'Real Hastert Rule Is 218; If We Had To Work With Democrats, We Did'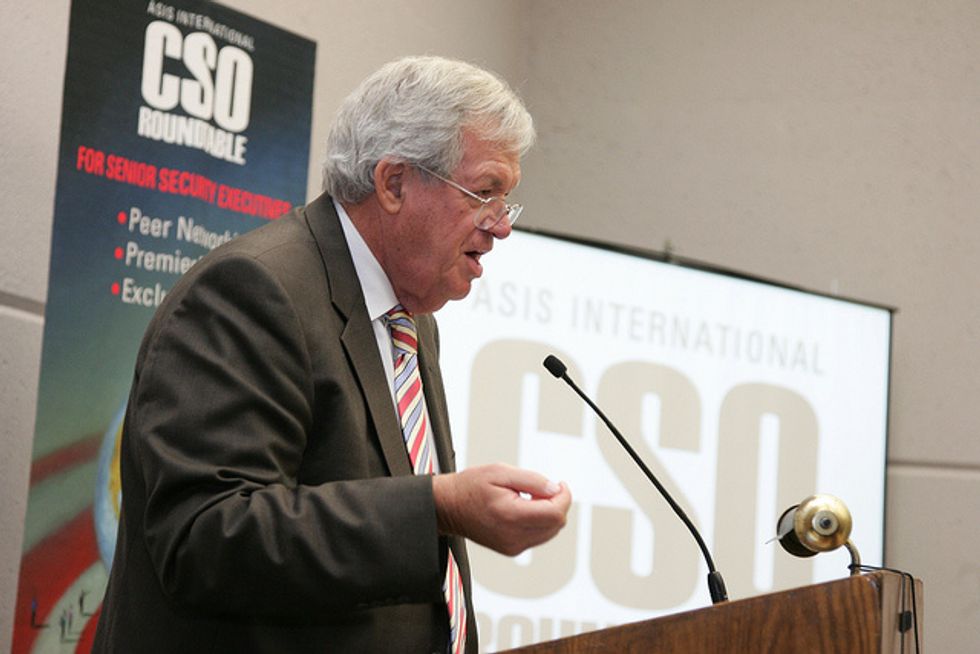 Three days into the shutdown that has paralyzed the federal government, it's become apparent that House Speaker John Boehner (R-OH) could end the standoff at any moment he chooses. The Huffington Post reports that as of Wednesday afternoon,  20 House Republicans are willing to pass a "clean" continuing resolution that would fund the government at sequester levels, without any Obamacare-related demands attached. This is three more than the 17 Republicans who would need to join Democrats to pass the Senate's budget bill.
Republican representative Jon Runyan of New Jersey expressed what others like him are now feeling: "Enough is enough. Put a clean [continuing resolution] on the floor and let's get on with the business we were sent to do."
Despite now having the votes, however, Speaker Boehner has refused to bring a bill to the floor, citing the so-called "Hastert Rule."
Under the Hastert Rule, a House Speaker should not allow a vote on any legislation that is not supported by a majority of the majority party, which is the Speaker's caucus.
The rule is named after former Republican House Speaker Dennis Hastert, who said that relying on the other party for the majority of votes was "something I would not generally do," during a 2006 press conference.
Boehner has waived the rule in the past, but most recently he has used it to justify not bringing a new bill to the floor. He might have to reconsider his stance, though, because Hastert is now saying that the "Hastert Rule is kind of a misnomer," and nothing more.
On Wednesday, Hastert explained to The Daily Beast that when he made the 2006 comments, he was "speaking philosophically" and that it "wasn't a rule."
The former Speaker then explained that "the real Hastert Rule is 218," referring to the number of votes needed in the House for a bill to pass. He then continued: "if we had to work with Democrats, we did."
Although Hastert did not say whether or not Boehner should waive the Hastert Rule and admitted that he and the current Speaker do not talk, he did offer some insight that Boehner might find handy: "We had to find a way to compromise and get things done. I wasn't a show horse; I wasn't on TV programs."
"You can't be in Congress and shut down the government and get anything done. It's an oxymoron," Hastert added.
Photo: ASIS International via Flickr.com