The Department Of Justice Is Going After An Activist For Laughing During Jeff Sessions' Confirmation Hearing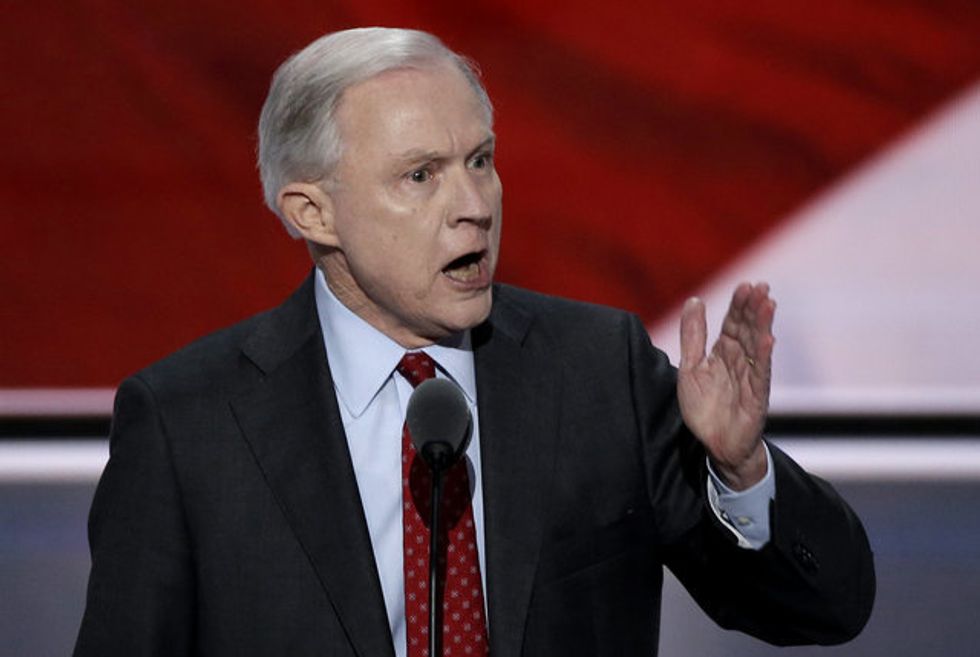 Reprinted with permission from Alternet.
In 2017, laughing in the Senate has become a crime.
During Jeff Sessions' confirmation hearings, Senator Richard Selby claimed that the Alabama senator's history of "treating all Americans equally under the law is clear and well-documented." At that, activist and CodePink member Desiree Fairooz laughed, since Sessions is actually best known for being deemed too racist for a federal judgeship in the 1980s. As the Huffington Post reports, a rookie cop with no appreciation for irony arrested Fairooz, and prosecutors are charging the 61-year-old with attempting to "impede, disrupt, and disturb the orderly conduct" of the hearings.
The HuffPost reports that Fairooz's laughter did not disrupt Shelby's opening speech, but the police officer in question, Katherine Coronado, still saw fit to eject Fairooz from the proceedings. Adding insult to injury, "The government also charged her with a separate misdemeanor for allegedly parading, demonstrating or picketing within a Capitol, evidently for her actions after she was being escorted from the room." Coronado was on her second week of the job.
A lawyer representing Fairooz at trial noted that other spectators laughed during Sessions' hearings, including when he joked about disagreements with his wife. According to the prosecutor, it was "appropriate for the audience to laugh when Sessions made a joke about his marriage but not when Shelby claimed Sessions had a long record of 'treating all Americans equally.'"
When asked by the prosecutor, Coronado maintained that the laugh was loud and disruptive, but Fairooz said it was simply an involuntary reaction to a ludicrous claim.
As Fairooz explained in a statement on CodePink's website, she felt "responsibility as a citizen to dissent at the confirmation hearing of Senator Jeff Sessions, a man who professes anti-immigrant, anti-LGBT policies, who has voted against several civil rights measures and who jokes about the white supremacist terrorist group the Ku Klux Klan."
The trial is ongoing as of May 2. Watch the video of the incident here.
Ilana Novick is an AlterNet contributing writer and production editor.
This article was made possible by the readers and supporters of AlterNet.