Despite Losses, Pelosi's Power In The House Remains Undiminished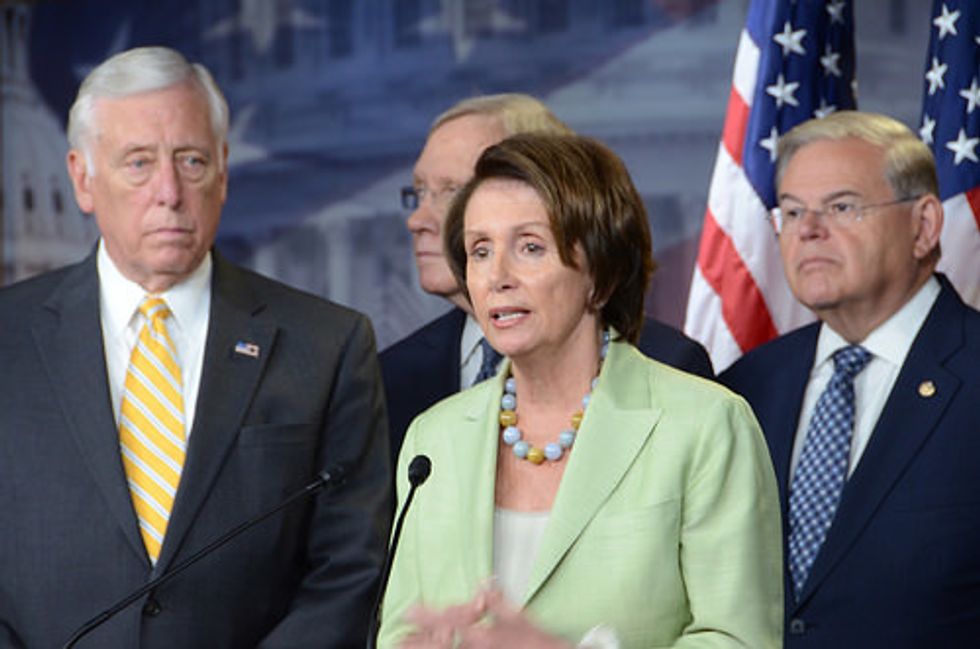 By Michael Doyle and Curtis Tate, McClatchy Washington Bureau (MCT)
WASHINGTON — House Minority Leader Nancy Pelosi has paid no public price for her party's repeated defeats.
Personally, she keeps racking up one-sided victories in her San Francisco congressional district. She just won her 15th term with 83 percent of the vote. A signature face of her party, Pelosi is poised to handily win re-election Nov. 18 as leader of the diminished House of Representatives Democrats.
"It doesn't look like Leader Pelosi is going anywhere anytime soon," Nathan Gonzales, deputy editor of the nonpartisan Rothenberg Political Report, said in an interview.
Pelosi's survival is all the more remarkable, considering the fate of her fellow House Democrats.
In 2003, her first year as House minority leader, Democrats held 205 of the 435 seats in the House. There have been roller-coaster years since, culminating in Pelosi's four-year reign as speaker from 2007 to 2011. But in the upcoming Congress, the Democrats will hold only about 186 seats.
"I regret the loss of some of our members," Pelosi said Thursday, before dismissing any talk of stepping down.
Party leaders, of course, cannot be held solely responsible for congressional losses. There are many other reasons, from midterm disenchantment with the president and individual candidates' frailties to ruthlessly efficient partisan gerrymandering.
Texas redistricting, for instance, effectively slashed the state's House Democrats from 17 in 2003 to 11 in the next Congress.
"It's fair to assign Nancy Pelosi a decent share of blame for the original turnover to the GOP in 2010, but in 2014 she was barely a factor at all," Larry Sabato, director of the University of Virginia's Center for Politics, said in an interview Friday. "Yes, she was spotlighted in some Republican TV ads, but only as a supplement to the focus on President Obama."
Meeting with reporters Thursday, Pelosi, 74, took umbrage at any suggestion she should step aside, noting that Senate Republican leader Mitch McConnell, 72, had lost seats three elections in a row before winning a majority Nov. 4.
Nevada Sen. Harry Reid is also retaining his leadership position as Senate Democrats seesaw into the minority next year. At least six Democrats declined on Thursday to vote for Reid following an occasionally heated closed-door meeting.
"I don't understand why that question should even come up," Pelosi said when pressed on her leadership status. "I'm here as long as my members want me to be here."
Not that the daughter of a former congressman and Baltimore mayor who learned politics at his knee would leave her status to chance.
Within hours after the polls closed Nov. 4, Pelosi already had declared her candidacy for another turn as minority leader, effectively heading off any potential challengers. Even before the polls closed, her team pre-empted doubts by touting on Nov. 3 her remarkable fundraising prowess.
As of Oct. 31, Pelosi had raised $101.3 million for Democrats, including $65.2 million directly for the Democratic Congressional Campaign Committee. It was, Pelosi notes, a record-breaking fundraising cycle for the California Democrat and her flock.
Over the last two years, according to her staff, Pelosi has completed 750 fundraising and campaign events in 115 cities.
"She's very dedicated to the party, and she's a strong fundraiser," Rep. Ami Bera (D-CA) emphasized in an interview. "She has been a strong supporter of many of us."
Beyond money and personal connections, Pelosi's supporters note her ability to win allies, sway sympathizers and discipline members who stray.
"She's able to persuade people," Lily Eskelsen Garcia, president of the National Education Association, said in an interview, "and that's what she's going to keep doing."
Even if they dared to dissent and press for new leadership, House Democrats have few obvious up-and-coming alternatives.
"You have to have a challenger," noted Gonzales of the Rothenberg Political Report, "and that challenger has to have the votes."
To the extent there's any upheaval, it may bubble beneath the surface, or show up in proxy fights.
Pelosi, for instance, is backing a fellow Californian, Rep. Anna Eshoo, for the top Democratic spot on the powerful House Energy and Commerce Committee. The more centrist House minority whip, Steny Hoyer of Maryland, 75, backs Rep. Frank Pallone of New Jersey, who has more seniority on the committee and would be closer in line for the post.
Earlier in their careers, Pelosi defeated Hoyer for the House majority whip position. Then, Pelosi backed a candidate who lost to Hoyer for another leadership slot. Speculating about how Pelosi and Hoyer get along is a Capitol Hill parlor game. Still, they appear to work well together.
There's a younger generation of potential House leaders, like 56-year-old Los Angeles-area Rep. Xavier Becerra, currently chair of the House Democratic Caucus, But none has shown hints of insurrection nor suggested they're watching the clock.
"I'm not here on a schedule, on anything except a mission to get a job done," Pelosi said.
Her persistence has not entirely displeased some Republicans, who tie her to vulnerable Democrats in House races where "San Francisco" is code for "liberal." Two such Democrats from California's moderate San Joaquin Valley, Rep. Jim Costa of Fresno and then-Rep. Dennis Cardoza of Modesto, declined to vote for Pelosi as leader in 2011, as did 18 other House Democrats.
In 2013, five House Democrats did not vote for her as leader. One, Rep. John Barrow of Georgia, made note of his anti-Pelosi vote in a campaign ad this year. It did not matter. The five-term House member lost by ten points.
"My life and who I am is not dependent on being here," Pelosi said. "So I have the liberty of, if you want me here, I am happy to be here; if you don't, I'm proud of what we have done together."
Photo: House Democrats via Flickr