Trump Isn't The LGBTQ Ally He Claimed To Be After Orlando Shooting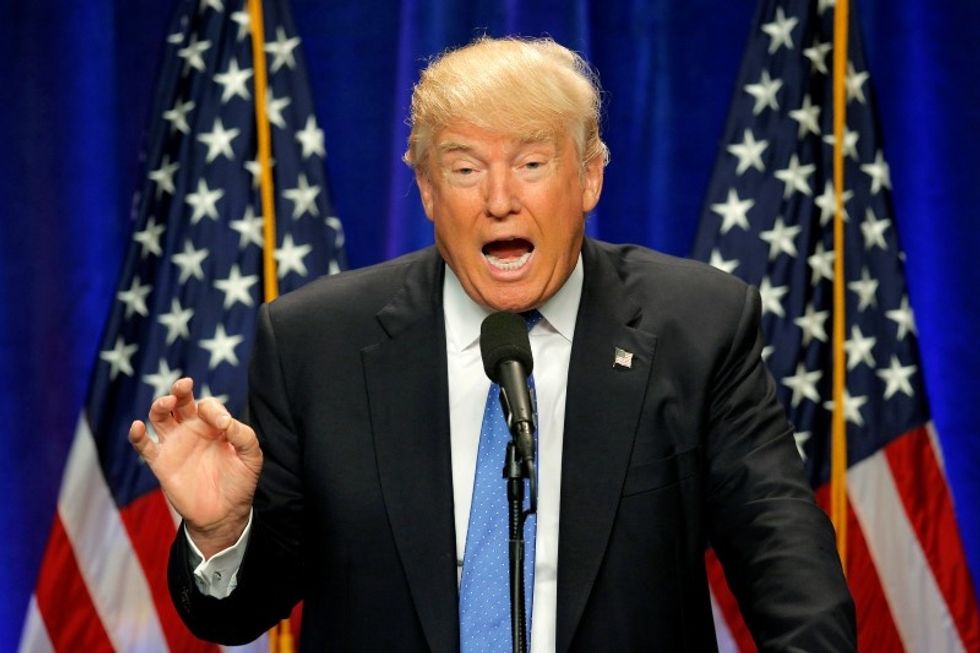 While Donald Trump framed himself as a supporter of the LGBTQ community following the mass shooting at Orlando's Pulse gay nightclub, his record on key gay rights issues tells a much different story.
"I refuse to allow America to become a place where gay people… are the targets of persecution and intimidation," he said in his speech on Monday."Ask yourself, who is really the friend of women and the LGBT community, Donald Trump with his actions, or Hillary Clinton with her words?"
Trump's actions, though, show that the Republican nominee is lukewarm at best — and hostile at worst — on marriage equality and anti-discrimination policies.
Earlier this year, Trump expressed conditional support for the First Amendment Defense Act, a bill that justifies anti-gay discrimination on the basis of religious liberty.
"If Congress considers the First Amendment Defense Act a priority, then I will do all I can to make sure it comes to my desk for signatures and enactment," Trump wrote in a letter to the American Principles Project, a socially conservative group, according to The Washington Blade.
The bill would allow federal employees to refuse to perform their responsibilities if they conflict with their opposition to same-sex marriage, and prevent the government from taking any action in response. Some say FADA would effectively enable government workers to refuse service to same-sex couples, following the infamous (and illegal) actions of county clerk Kim Davis — who Trump has refused to denounce or publicly oppose.  
When it comes to marriage equality itself, Trump's public comments aren't any better. Although he often says gay marriage should be left up to individual states, he has expressed an overall opposition to marriage equality on more than one recent occasion.
Earlier this year, he called Ted Cruz crazy and "the worst liar" on Twitter when the former presidential candidate said Trump supported Obama's views on the issue.
Lying Cruz put out a statement, "Trump & Rubio are w/Obama on gay marriage." Cruz is the worst liar, crazy or very dishonest. Perhaps all 3?

— Donald J. Trump (@realDonaldTrump) February 12, 2016
And when the Supreme Court issued its landmark ruling on same-sex marriage in June 2015, he wrote on Twitter that the court "had let us down."
Once again the Bush appointed Supreme Court Justice John Roberts has let us down. Jeb pushed him hard! Remember!

— Donald J. Trump (@realDonaldTrump) June 26, 2015
His most unambiguous comments on the issue came weeks earlier, when, he said on Fox's Hannity, "I am traditional. I am for traditional, and it's a changing format, but I am very much for traditional marriage."
These views may seem innocuous, if unsupportive, given the Supreme Court ruling, but Trump also expressed an interest in appointing judges who could overturn the gay marriage decision.
"If I'm elected I would be very strong in putting certain judges on the bench that maybe could change things, but they have a long way to go," he said on Fox News Sunday in January.
When host Chris Wallace clarified, "are you saying that if you become President you might try to appoint justices to overrule the decision on same-sex marriage?" Trump said he "would strongly consider" such an approach.
The New York Times has gone so far as to say that Trump's views are more accepting than his former opponents in the Republican primary contest. While that may be true, his expressed policy views make it difficult to see him becoming "a friend" to the LGBTQ community — regardless of his political pandering after a mass shooting.
Photo: Republican presidential candidate Donald Trump delivers a campaign speech about national security in Manchester, New Hampshire, U.S. June 13, 2016.  REUTERS/Brian Snyder