Despite Supreme Court Ruling, Trump Still Aims For Citizenship Query In Census
@alexvhenderson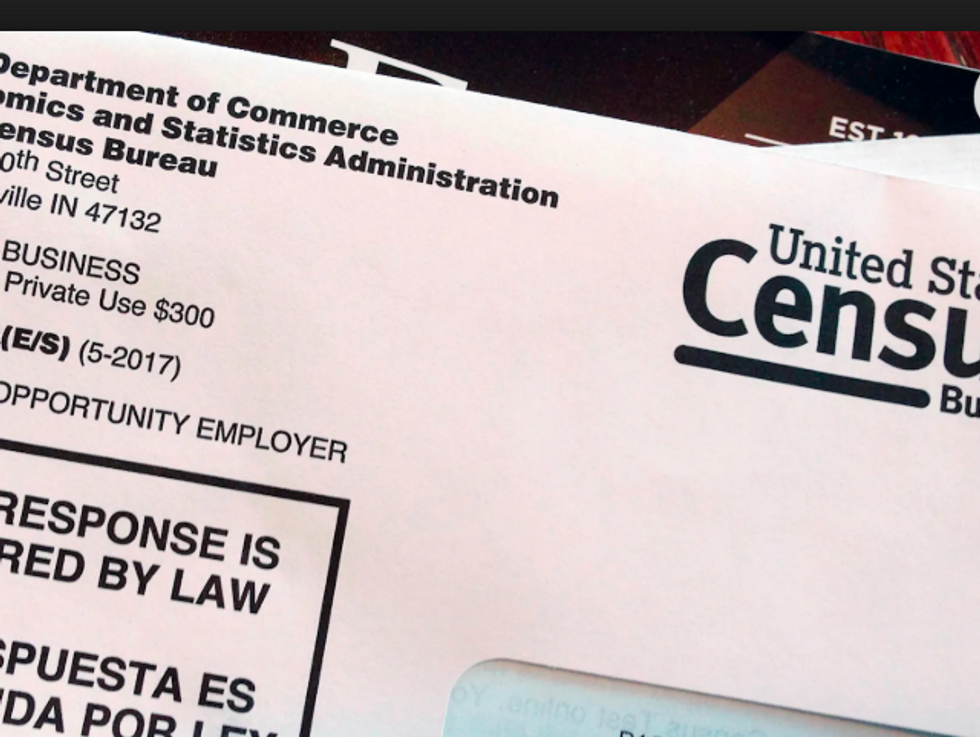 Reprinted with permission from Alternet.
President Donald Trump and the Republican Party were seemingly dealt a major blow when the U.S. Supreme Court issued a ruling late last month that blocked, at least for now, a citizenship question from being included on the 2020 U.S. Census. After the high court's ruling, the Trump administration appeared to give up on the idea; as recently as July 2, Commerce Secretary Wilbur Ross (who oversees the Census) said the administration would be printing Census forms without a question on citizenship.
But Trump is refusing to give up on the possibility of a citizenship question somehow being included on the 2020 Census and appears to be looking for possible ways to do so without running afoul of the Supreme Court's ruling.
On Friday, Trump told reporters he was weighing his options and was considering some type of "executive order" on a citizenship question for the Census.
"We'll see what happens," said Trump. "We could also add an addition on. So we could start the printing now and maybe do an addendum after we get a positive decision. So, we're working on a lot of things, including an executive order."
Chief Justice John Roberts, who wrote the majority opinion in the Supreme Court's ruling, described the Trump Administration's arguments for including a citizenship question on the Census as unconvincing and "contrived." But Roberts left open the possibility of a citizenship question being added at a later date if a more convincing argument in favor of one could be made.
Trump told reporters, "I have a lot of respect for Justice Roberts, but he didn't like it. But he did say come back. Essentially, he said come back."
Trump noted that he has been consulting Attorney General William Barr, telling reporters, "We have a number of avenues we could use."
Ross has asserted that one reason for adding a citizenship question to the 2020 U.S. Census is to help the U.S. Department of Justice gather information that would help them enforce the Voting Rights Act — the explanation Roberts rejected.
Exactly what form an executive order from Trump would take is unclear. In a report for the New York Times, Maggie Haberman and Adam Liptak explained, "An executive order from the president could be an attempt to speed the process to allow expedited court review of a new justification. Or, it could be an attempt to assert that no justification is needed beyond executive authority."
Asked by a reporter why a citizenship question was needed, Trump responded, "You need it for Congress for districting. You need it for appropriations. Where are the funds going? How many people are there? Are they citizens or not citizens? You need it for many reasons."
But Daniel Jacobsen, a former White House attorney under President Barack Obama, noted on Twitter that Trump's statement on redistricting contradicts a statement by Solicitor General Noel Francisco. Jacobsen tweeted, "Trump's statement that they want the citizenship question for use in redistricting is awkward given that the solicitor general told the Supreme Court the exact opposite a few weeks ago. The SG specifically said that was not their motive."
Critics of Trump's move to add a citizenship question have been arguing that it is designed to discourage immigrant voters from participating in the Census. The administration's decision to include the question was challenged in multiple lawsuits.
DOJ attorneys filed a report on the citizenship question on Friday after Trump's comments. In the report, the DOJ notes that it has been asked to "reevaluate all available options" and that if the Trump Administration finds a "new rationale" to try again, it will alert the U.S. Supreme Court. In the report, those listed as "counsel for defendants" include, among others, Assistant Attorney General Joseph H. Hunt and Deputy Assistant Attorney General James H. Burnham.
NOW: DOJ filed a report on the census citizenship Q, and it's not definitive — they repeat they've been asked to "reevaluate all available options" and if the admin adopts a "new rationale" to try again, they'll alert the court https://t.co/Sy9DlrgVF4pic.twitter.com/157F8qCvEk

— Zoe Tillman (@ZoeTillman) July 5, 2019