Detroit Beat Boston To Even American League Baseball Series
@AFP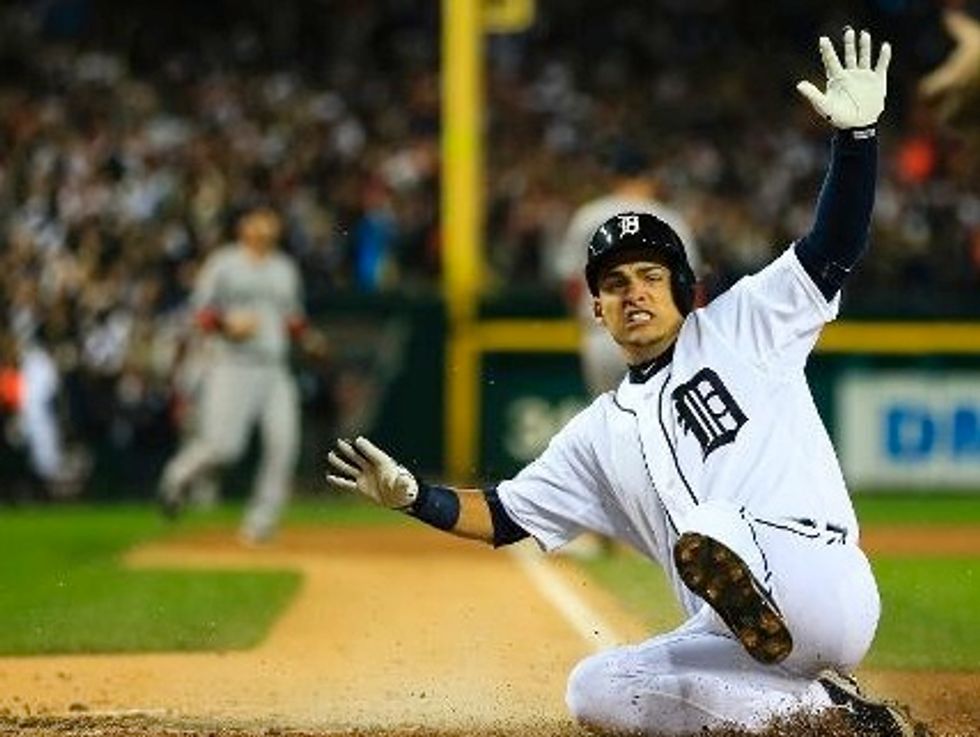 Detroit (AFP) – Detroit's reshuffled lineup erupted for five runs in the second inning on Wednesday en route to a 7-3 victory over Boston that knotted baseball's American League Championship Series.
After the Tigers' potent offense combined for just six runs over the first three games of the best-of-seven series, manager Jim Leyland reshuffled his batting lineup and saw the move pay off, with the Tigers levelling the set at two games apiece.
"I didn't know what else to do," Leyland said of the shake-up, which was welcomed by Torii Hunter.
Hunter replaced struggling Austin Jackson in the leadoff spot and contributed a two-run double.
Jackson, who had been batting .091 in the playoffs until Wednesday, was demoted to eighth in the batting order and went 2-for-2 with two walks, two runs-batted-in and a run scored.
"I think it just helped me relax," Jackson said of the move. "I think that was the goal, and I just wanted to go up and be patient and get a pitch to hit."
Slugger Miguel Cabrera, batting second instead of third, also had two hits, drove in two runs and stole a base for the reigning American League champions, who host game five on Thursday.
"That was pretty good," Hunter said of the lineup changes. "He kind of switched things up, shook it up a little bit and I think it definitely worked out. It's just a different mindset, Miggy hitting second, me leading off. It gave us a different mindset to go out there and make some things happen."
Detroit will try to maintain the momentum on Thursday, when they send Anibal Sanchez to the mound against Boston ace Jon Lester.
Sanchez and four relievers came within two outs of posting the first combined no-hitter in post-season history in the series opener, which ended with Detroit taking a 1-0 victory.
The winners of the series will take on the National League champions in Major League Baseball's World Series. St. Louis lead the Los Angeles Dodgers 3-2 in the NL Championship Series.
The Tigers chased Red Sox starting pitcher Jake Peavy in the fourth inning. The former Cy Young award-winner gave up seven runs on five hits and three walks and was lifted without notching an out in the fourth.
Detroit starter Doug Fister gave up one run as he scattered eight hits and a walk over six innings.
The Red Sox mustered 12 hits — including four from Jacoby Ellsbury — but Boston went 2-for-16 with runners in scoring position and stranded 10 runners.
Wednesday's result ended a string of three straight games in the series decided by one run, including Boston's 1-0 game-three triumph.
Peavy dominated Detroit in a 12-pitch first inning, but the Tigers turned the tide in dramatic style when the batted around in the second.
Victor Martinez started the surge with a single. Jhonny Peralta and Alex Avila both worked walks to load the bases. Martinez failed to tag up when Ellsbury made a diving catch in shallow center field on Omar Infante's sinking liner, but jogged home when Peavy walked Jackson on four pitches.
Jose Iglesias, who was involved in the three-team, seven-player trade that sent Peavy to Boston in July, beat out a potential inning-ending double play ball to plate another run, and Hunter followed with a double down the third-base line to drive home two.
Cabrera notched an RBI single to cap the outburst, then added another in the fourth after Jackson ended Peavy's night with a run-scoring hit.
AFP Photo/Jamie Squire