Did Fox News Ban Giuliani Cronies DiGenova And Toensing?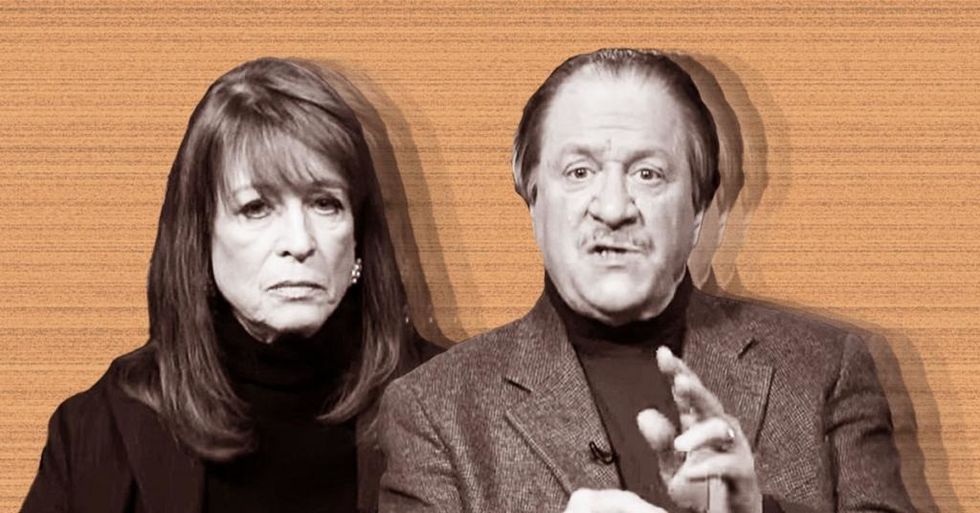 Reprinted with permission from MediaMatters
Republican attorneys Joseph diGenova and Victoria Toensing have been fixtures on Fox News and Fox Business for years, serving as critical figures in the networks' pro-Trump conspiracy theories. But in recent weeks, the pair has quietly vanished from the right-wing networks. 
They have appeared on the networks, individually or together, for a total of 66 interviews* this year, and the couple made more appearances in September than they had in any prior month of 2019 as they rallied to President Donald Trump's defense after news broke of a whistleblower complaint into his abuse of power in Ukraine. But neither has been interviewed on Fox News since diGenova's October 8 appearance on The Ingraham Angle, and they last appeared on Fox Business for a November 13 joint appearance on Lou Dobbs Tonight, according to a Media Matters review of transcripts and our internal guest database.
The couple's apparent sidelining has come just when one might expect Fox shows to be most interested in hearing from them: Their absence from Fox Business has overlapped with the impeachment inquiry's public hearings, and they have been off Fox News during both the public hearings and the release of witness depositions.
It's unclear exactly why diGenova and Toensing suddenly stopped going on Fox or when they might return. But the timing of their disappearance and the network's past practices suggests that they may have been quietly banned for an indeterminate period.
DiGenova's last Fox News interview came just the day before the arrests of Lev Parnas and Igor Fruman, and amid the revelation that the Soviet-born con men had been working alongside diGenova, Toensing, Trump lawyer Rudy Giuliani, and conservative columnist John Solomon in a sprawling disinformation plot in Ukraine — a massive ethical breach for the Fox regulars. And during his most recent Fox Business appearance, diGenova issued a widely criticized rant against progressive billionaire George Soros that was steeped in disgusting anti-Semitic tropes.
Fox has declined to comment on diGenova's screed, even as the Anti-Defamation League and Soros' Open Society Foundation called for the network to remove him from its airwaves. 
Toensing has maintained an active Twitter presence since she has stopped appearing on Fox News and Fox Business, regularly lashing out at journalists and media outlets over their coverage of the Ukraine scandal. On November 14, she praised the far-right One America News Network for purportedly identifying the whistleblower, asking, "Can the rest of MSM be as brave?" (Such behavior is officially banned at Fox, though multiple network figures have breached that restriction.) On December 2, she attacked Fox host Steve Hilton over his criticism of her "toxic" crew's Ukraine plot.
Fox's lack of transparency and its total lack of firm standards often make it difficult to say for sure whether it has issued punishments. The network at times publicly disciplines low-ranking employees and guests, as it did in condemning and permanently banning Judicial Watch's Chris Farrell after he made vile anti-Semitic comments similar to diGenova's on Dobbs' program last year. But more prominent Fox personalities are issued stealth suspensions when their bigoted comments lead to public outrage — when they are punished at all. 
That's what happened to Fox host Jeanine Pirro, whose questioning of Rep. Ilhan Omar's (D-MN) patriotism on the grounds that Omar wears a hijab led to a firestorm in March. Pirro was off the air for the next two weeks. But while Fox had publicly criticized her comments, it never publicly acknowledged that she had been punished. That only became fully clear in September, when Pirro revealed the suspension in a hot mic incident. 
But the Pirro incident offers a cautionary tale for Fox. Her disappearance triggered a furious backlash from Trump, who is her personal friend and watches her show religiously. After she was absent the Saturday night after her Omar comments, Trump lashed out on Twitter the next morning, urging the network to "stop working soooo hard on being politically correct" and "fight hard for @JudgeJeanine."
If Fox has taken action against diGenova or Toensing, its executives may very well be keeping it quiet to avoid facing that blowback again. In calling for diGenova to be permanently banned from Fox's airwaves, critics have pointed out that Fox condemned and banned Farrell for virtually identical comments. But Farrell was an occasional guest who could be easily replaced with his boss, Fox regular Tom Fitton, or a host of other conservatives. By contrast, diGenova and Toensing play a role at the network closer to that of Pirro — and thus may have earned similar deference. 
Since the early months of the Trump administration, the pair have been key figures in Sean Hannity's twisted alternative narrative about the Mueller probe. This year, diGenova became "too critical to the pro-Trump conspiracy fairy tale that Fox News opinionators are now scrambling to keep intact," as The Washington Post's Erik Wemple put it in a piece questioning why diGenova had not received the Farrell treatment. Indeed, the Republican lawyers were deeply enmeshed in Giuliani's plot to use a shadow foreign policy effort in Ukraine to smear Joe Biden and undermine the intelligence community's findings that Russia interfered in our 2016 election, as the current impeachment inquiry has revealed. They made regular Fox appearances to discuss this twisted pro-Trump narrative without disclosing that they had helped to craft it — or that they represented Solomon, who first published many of the key allegations. 
Like Pirro, and unlike Farrell, the two also have direct ties to Trump himself, who apparently appreciates their Fox appearances. (Trump has tweeted quotes from diGenova's Fox commentary at least six times, most recently on October 3.) They were briefly announced during the Mueller probe as his personal lawyers before backing out due to conflicts of interest. But Trump lawyer Jay Sekulow explained at the time that "those conflicts do not prevent them from assisting the president in other legal matters," perhaps foreshadowing their work with Giuliani. DiGenova has also claimed to have advised Trump on who to name as his attorney general. 
That gives Fox reason to fear that any public criticism of the pair might cause trouble, either with the president or with network hosts who rely on their commentary like Dobbs or Hannity. Instead, they appear to have simply disappeared from the airwaves without mention.
*They have made 103 total combined appearances on the networks (37 joint interviews, 28 solo diGenova appearance, and one solo Toensing appearance).
Photo Credit: Ceci Freed/ MediaMatters