Did Kavanaugh's Abortion Vote Doom Susan Collins In 2020?
@alexvhenderson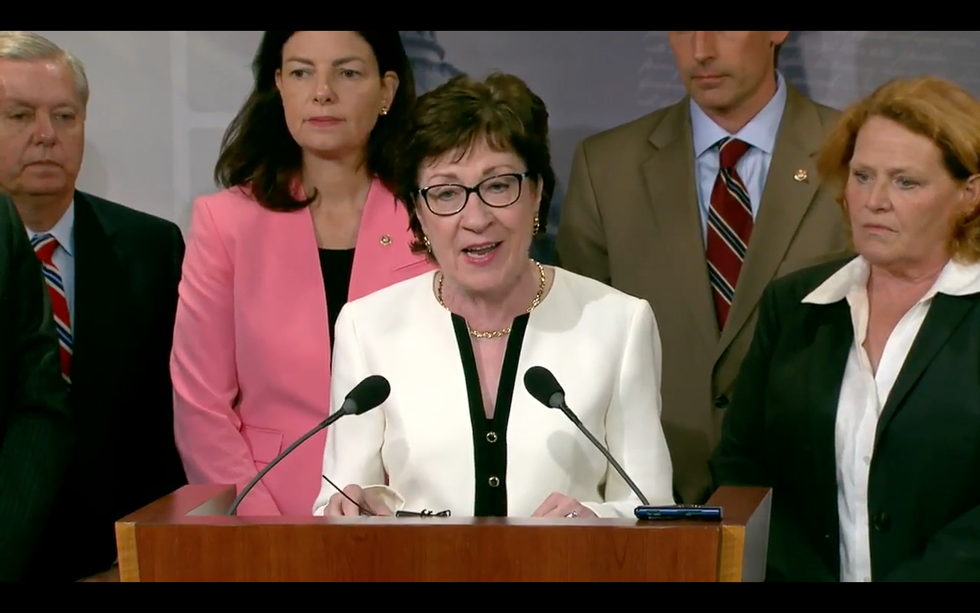 This week, Sen. Susan Collins of Maine has found herself defending her decision to vote in favor of Justice Brett Kavanaugh's confirmation to the U.S. Supreme Court—all the while maintaining, incredibly, that Kavanaugh is really pro-choice on the abortion issue. Kavanaugh was among the dissenting votes last week in a Supreme Court decision that blocked an anti-abortion law in Louisiana; Kavanaugh was fine with the law, which according to its opponents, would have left Louisiana with only one doctor in the entire state who could perform abortions legally.
But as restrictive as the law was, Collins insisted that Kavanaugh's vote in favor of it doesn't indicate he would vote to overturn Roe v. Wade—the 1973 Supreme Court ruling that, in effect, legalized abortion in all 50 states.
"I don't understand how this is being viewed as somehow overturning Roe v. Wade except by people on the far left who are looking for anything," Collins told HuffPost on February 12.
But it's hardly a stretch to say that a Supreme Court justice who would have no problem with the Louisiana law would have no problem voting to overturn Roe, which the far right often attacks from a states' rights standpoint. Like Justice Clarence Thomas and President Donald Trump's first High Court appointee, Justice Neil Gorsuch—both of whom also voted in favor of the Louisiana law—Kavanaugh is very much a "strict constructionist" or "originalist" in the vein of the late Justice Antonin Scalia. And a common states' rights argument in favor of an anti-abortion law like the one in Louisiana is that Louisiana shouldn't have to govern abortion the way abortion is governed in California or Massachusetts.
Taking that type of argument to its ultimate conclusion, Kavanaugh could easily find that Roe v. Wade is a violation of states' rights and that individual states should be able to decide whether or not they want legal abortion. And whenever Kavanaugh writes any type of anti-abortion opinion, it will serve as a reminder of what he ultimately has in mind for Roe—and that Collins helped put him on the Supreme Court.
Collins was comfortably elected to a fourth term in the Senate in 2014, defeating Democrat Shenna Bellows by 37%. But the chances of her winning a fifth term in 2020 are not good.